What to Pack for Vacation
By Tim Zimmer

; Updated June 08, 2017
Vacation packing 101: What to take on your break from everyday life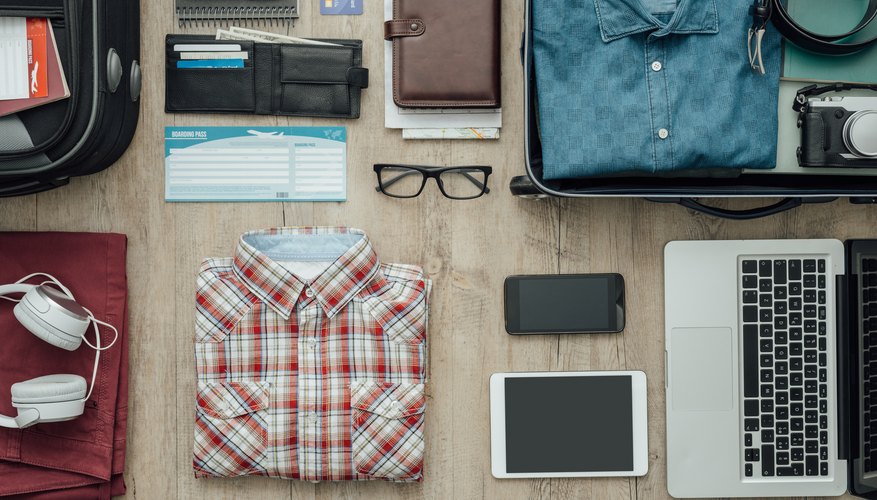 So, you forgot that one item and spoiled your vacation. As you sit back and grumble, you decide that the last thing you'll get wrong when planning your next trip is what to pack. You're not alone. This scenario is all too familiar to millions of vacationers who have left something important behind. To help you remember everything needed on your next getaway, follow a list of things to pack, things not to pack and various packing tips.
Items to pack
A packing list should be divided into five categories: essentials, electronics, attire, toiletries and miscellaneous items. Each category should include items that you simply can't leave home without. Since four of the five categories are self-explanatory, let's go over "essentials." Items in this category include, but aren't limited to:
Forms of identification (such as driver's license, passport and birth certificate)
Wallet/purse, including health insurance information, credit cards, emergency contacts and cash
Transportation ticket (such as an airline boarding pass)
Hotel reservation and itinerary
Cell phone and other essential electronics
Device chargers
Medication
Toothbrush and toothpaste
Contact lenses/glasses (if applicable)
First-aid kit
Things to leave behind
What you leave behind depends on the type and duration of the vacation. There are, however, several items better left at home for safety reasons. They include, but aren't limited to:
Highly flammable liquids
Electrical appliances, such as blenders and coffee makers
Fireworks or pyrotechnics
Homemade, precooked or perishable foods
Candles or incense
Weather and season considerations
The type of weather you'll be encountering ultimately determines what clothing and miscellaneous items to bring. If you're expecting warm weather on a Caribbean cruise, pack sunscreen, a swimsuit, lightweight pants, shorts, T-shirts, sunglasses and a jacket for cool, breezy nights. For cooler weather, a rain jacket, layered clothing, hats and gloves, warm socks and sturdy shoes should top the list. Just know the type of weather you're getting into before making packing choices.
Tips for traveling with luggage
Carry-on luggage
Try to fit as much as you can in a carry-on to avoid problems that arise from checking luggage. When determining the best way to condense items, it's best to follow some tried and true rules. Roll (rather than fold) clothes; pack device chargers in cord organizers; place smaller items in shoes and socks; and pack the heaviest items near the wheels of the suitcase to evenly distribute weight. Additionally, travel with a luggage scale to take the guesswork out of potential weight limits.
Checked luggage
If you plan to supersize your luggage for a long excursion, keep these tips in mind: Bring a collapsible laundry bag to separate dirty laundry; layer your clothes; utilize packaging aids to make the most of open space; pack multi-functional clothes (such as a coat that can be worn in different weather); and use packing cubes to simplify organizing.
Other considerations
Many cruise lines and vacation destinations offer advice on what to pack. Make sure to take their suggestions into consideration when creating a packing list.