How Should Hiking Boots Fit
By Richard Corrigan

; Updated August 11, 2017
Tips for finding the best footwear to have when you're on the trail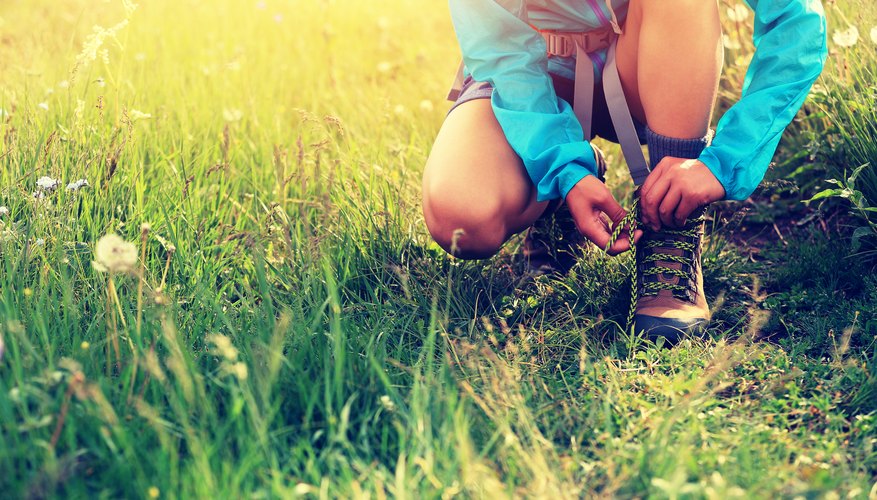 No part of your body takes more punishment on the trail than your feet, which makes a good pair of hiking shoes quite possibly the most important piece of hiking gear you ever buy. No matter the length of your hiking trip, your footwear needs to be comfortable and durable, and the boots should have the tread necessary to handle tricky terrain. Above all, your shoes need to fit just right.
If the shoe fits...
Finding a pair of hiking boots or shoes that fits well is tricky. Ill-fitting footwear will cause blisters and general misery on the trail, and that perfect not-too-tight, not-too-loose fit is hard to come by. Your feet tend to swell a bit during a day of hiking, so the best time to try on hiking boots is at the end of a day after you've done some walking.
Hiking shoes should not be so tight that your feet get hot or your toes get "pinched" inward, but they shouldn't be loose either. To test if a shoe is the right length, put them on unlaced, stand up, and slide your foot as far forward as it will go within the shoe. There should be just enough room at the back of the shoe to slip your index finger inside. Lace up the shoes and try walking around in them, first without socks, and then with socks, to see if they feel comfortable, snug and non-constricting.
Hiking boots vs. trail running shoes
With so many types of hiking shoes on the market, it's easy to feel overwhelmed. The debate between hiking boots and trail running shoes depends on what you feel comfortable in, as well as the length and difficulty of your hike. Trail runners are more breathable, flexible and dry out more quickly, while hiking boots offer better ankle support, are more durable, and better suited to handling difficult terrain. The trade-off is weight. Hiking boots are considerably heavier than trail running shoes, and you'll probably notice that extra weight after a few hours on the trail.
5 tips from experts
Where to buy: Buy your hiking boots in a store that specializes in hiking and outdoor gear, where you can talk to an expert who most likely will understand your needs better than an ordinary shoe salesman. Never buy hiking boots online without trying them on first.


Water resistance: There may be no such thing as a truly waterproof shoe, but you'll want to get as close as possible. You never know when you might have to hike in the rain, stroll through a dewy meadow or wade across a stream. Water resistance is one area where hiking boots truly shine over trail running shoes, but there's still a trade-off: Trail runners dry more quickly if they do get wet. Consider wearing gaiters over your boots for extra water resistance.


Hiking vs. backpacking: The length of your hike is a big deciding factor when you pick out shoes. In general, trail running shoes are more comfortable for short day hikes, but hiking boots have the durability to keep you going on a long backpacking trip.


Break them in: Hiking shoes should fit well right out of the box, but it's still important to break them in before you tackle an extended hiking trip. Wear them around during your everyday activities for a few days, and soften them up with a few short hikes before you tackle a longer trek.


Don't forget socks: As crucial as hiking shoes are, a good pair of socks is just as important for keeping your feet dry, comfortable and blister-free. Quality hiking socks provide cushioning against the punishment of a rocky trail, and most are made either from 100 percent wool or a wool blend, which is breathable in hot conditions and keeps your feet warm when it's cold out. Perhaps most importantly, wool socks keep your feet warm even when they are wet.