What to Pack for Paris
By Amy Curtis

; Updated June 08, 2017
Au revoir, but before you go, here's what to pack for your Paris trip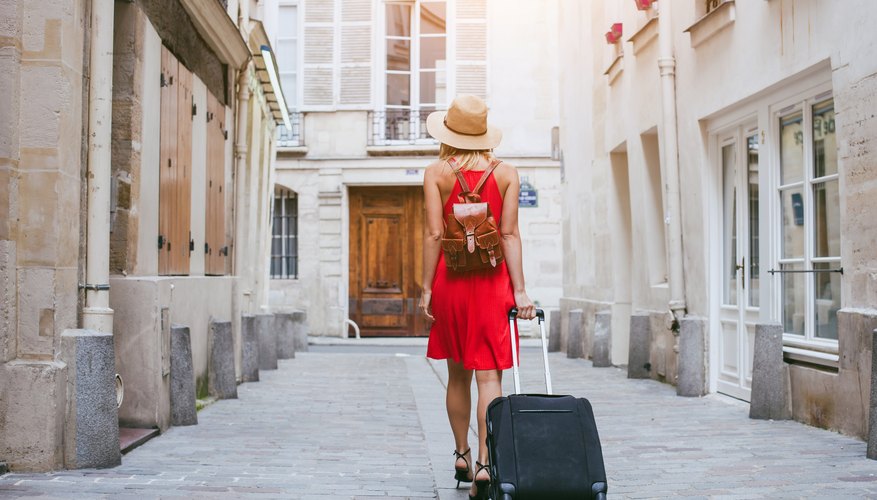 Paris is an exciting, romantic cosmopolitan city that everyone should visit at least once to enjoy its amazing architecture, art, cuisine and fashion. The fashion, though, is what throws some people when they start to pack. What to wear in one of the most fashionable cities in the world? Don't panic; it's not as complicated as it might seem.
Take along your favorite "business casual" outfit
The outfit that inspires confidence in its wearer is the one that will fit in best on the streets of Paris, where the inhabitants dress nicely but not pretentiously. For women, light dresses or skirts are favored. For men, think khakis and a nice shirt. Don't wear graphic tees or anything too flashy. Black clothing is perfect for Paris, but solid colors are acceptable as well, as long as everything is well-made and well-fitting – think simple, but pulled together. Jeans are OK, as long as they're stylish, fit well and are in good condition. When dining out, dress nicely and leave the jeans behind. Men should wear a sports coat to a nice restaurant; women should go for a little black dress or a nice top with tailored slacks.
Outerwear is essential in every season
In winter, think trenchcoat or peacoat. Don't wear fleece; it's too casual for Paris. In all other seasons, a lightweight jacket or sweater will suffice – for women, cashmere is always in style. A travel umbrella is a good idea, compact enough to fit in a carry-on but handy to have in the unpredictable Parisian weather.
Walkable shoes are a must
Paris is a city that requires walking, so comfortable, well-constructed shoes or boots are important. Also bring some nicer shoes to wear out to dinner in the evenings. Ladies: Leave the stilettos at home; even for an evening out, low heels or ballerina flats are perfectly acceptable.
Two things to bid adieu
Do not wear athletic shoes. In general, Europeans, and Parisians in particular, do not wear big clunky white sneakers when walking around town. Likewise, don't bring the sweatpants or tracksuits unless the goal is to stick out like a sore thumb.

Leave the fanny pack behind. You can find cross-body bags suitable for men and women to carry gear comfortably and securely without screaming, "Tourist!"

Make the carry-on count
Wear the bulkiest items, like boots and a coat, and save the lightweight items for the carry-on. Pack the heaviest items in the bottom of the carry-on by the wheels, and conserve space by rolling clothing and packing small things inside shoes. Plan a wardrobe with neutral items that mix and match, so that it's not necessary to pack a separate outfit for every single day. When traveling during winter, think layers over bulky clothing, as Paris weather doesn't typically dip below freezing or see much snow.
Go easy on electronics by bringing items that perform multiple functions, like a phone that doubles as a camera and an adapter that allows for more than one device to be plugged in via USB. Do remember, however, to bring an adapter so you can charge electronics in European outlets. Don't bring a hair dryer because there will already be one in the hotel room, and don't bring a curling iron or straightener, unless you also bring a converter to make them work with European voltage. Save room, if possible, for bringing things home -- a trip to Paris typically involves some shopping.
If there's room for more
Maybe there's room in a checked bag for more items. If that's the case, go ahead and bring those fabulous shoes or the suit that might be perfect for a night on the town. Checking a bag allows for additional electronics, too, so if it's important to bring a really nice camera and all the accoutrements, then by all means, check a bag. Remember, though, that toting that suitcase all over Paris on the way to the hotel will not only be tiresome, but it will also label you right away as a tourist. When traveling through Europe, simpler truly is better, and a carry-on is far less cumbersome than a suitcase.
Other considerations
Scarves are a popular accessory in Paris and are worn by men and women alike. They're also lightweight and don't take up much room in a suitcase. Bring a scarf and plan to buy some in Paris as well – they're excellent souvenirs, in part because they're so portable.
Remember: Paris is a major city. When the stay is a long one, it's still not necessary to pack too much, because you can launder your clothing. Anything forgotten can be purchased, and part of the fun of traveling is shopping in a new place to make discoveries and find fresh favorites.