Do's and Don'ts for One Day in Amsterdam
By Leah Rendon

; Updated June 08, 2017
Making the most of your day in the Netherlands capital city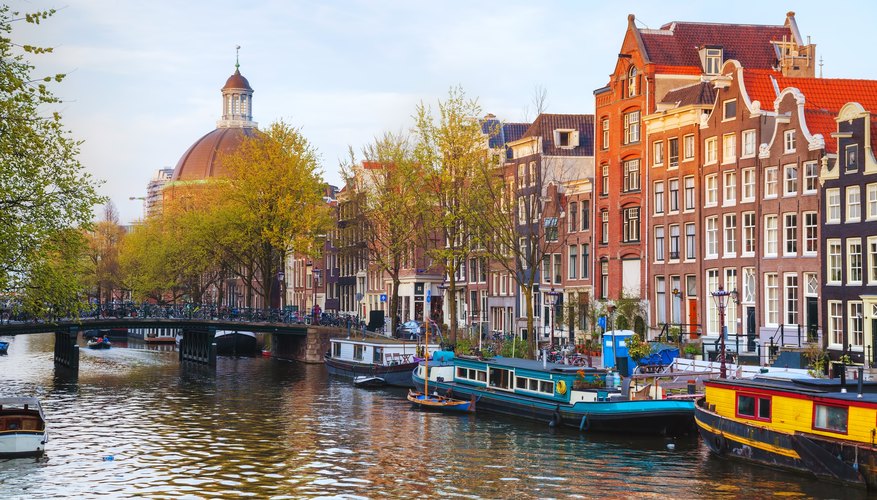 Amsterdam ­– a picturesque city where quaint canals and cozy bridges give way to massive museums and grand squares bustling with crowds ­– is a place that's best explored at a leisurely pace. But you can still visit many landmark attractions in a 24-hour span without sacrificing the city's laid-back spirit. Check out these tips for managing your limited time wisely while also determining which sights are even worthy of your time.
A master at work: The Van Gogh Museum
The Van Gogh Museum celebrates the beloved 19th-century Dutch artist and houses the largest collection of Vincent van Gogh works in the world, including more than 200 paintings, 500 drawings and 700 letters. The popular attraction is least crowded between 9 a.m. and 11 a.m. or after 3 p.m. Avoid long lines by buying tickets for your preferred date and time online. Tickets are available up to four months in advance. On Friday evenings, the museum stays open until 10 p.m., and a party atmosphere takes over the complex, complete with live music and drinks, as well as free guided tours available in Dutch and English.
The Anne Frank House: A somber remembrance
Embrace a moment of quiet reflection as you tour the Anne Frank House, the home and attic where the famed diarist hid from the Nazis during World War II. Purchase your tickets early because tours sell out fast, particularly during weekends and holidays, and only a limited number of tickets are distributed each day. Online tickets are available at least two months in advance. Tickets can be purchased in person, but they don't go on sale until after 3:30 p.m., and it's not uncommon for the wait time to last up to two hours. From 9:00 a.m. to 3:30 p.m., the museum caters only to visitors with prepurchased tickets. Use Live Lines, an online tool available at the I Amsterdam official site, to view anticipated wait times for popular attractions, including the Anne Frank House, throughout the day.
A walk in the park
Covering 45 hectares and dotted with rose gardens, restaurants and bridges, Vondelpark is Amsterdam's most popular park. The space is crowded throughout the year, but you'll find peaceful pockets deep inside the park, away from the hustle and bustle of the city. From May to September, the park's Open Air Theatre stages free live performances, including cabaret acts, concerts and comedy shows. The park is also home to The Bird, a Picasso sculpture at the south end that most visitors unwittingly ignore. An on-site skate rental shop comes in handy on Friday nights when groups of people meet in the park before taking to the city center on roller skates. The park's nearly 2-mile loop serves as one of Amsterdam's most popular running spots.
Brewery tours: Go local
Heineken is synonymous with Amsterdam, so it's understandable that visitors frequently want to tour the famed beer's brewery. But Heineken doesn't even brew in Amsterdam anymore, and the nonfunctioning brewery offers little during its tour. Instead, check out a small local brewing company, such as Brouwerij't IJ, known for its organic ingredients. English and Dutch tours are available every Friday, Saturday and Sunday at 3:30 p.m. and 4 p.m. The tour covers the history of the brewery and includes a free beer. Tickets must be purchased at the on-site bar the day of, but they sell out fast, so get there early. Don't arrive at the brewery too hungry as the bar doesn't serve full meals, although it does offer high-quality, locally made meats and cheeses. During the warm-weather months, the outdoor terrace is open, providing views of the massive, adjacent windmill.
Shopping: Choose unique over generic
Kalverstraat is a pedestrian-only street known for its shopping, but it's also filled with crowds and generic chain stores. For a more unique experience, visit Albert Cuypmarkt, Amsterdam's open-air street market. Open Monday through Saturday from 9 a.m. to 5 p.m., the half-mile-long market features 260 stands, selling everything from clothes and shoes to fresh veggies and stroopwafels, or traditional Dutch waffle cookies. The market features some of the cheapest prices in Amsterdam. Escape the hustle and bustle of the market and take a five-minute walk to the Sarphatipark, a cozy neighborhood park, to dine on your treats alfresco.