What to Pack for Great Wolf Lodge
By Natalie Saar

; Updated August 11, 2017
Make a splash: The things to bring for your water park getaway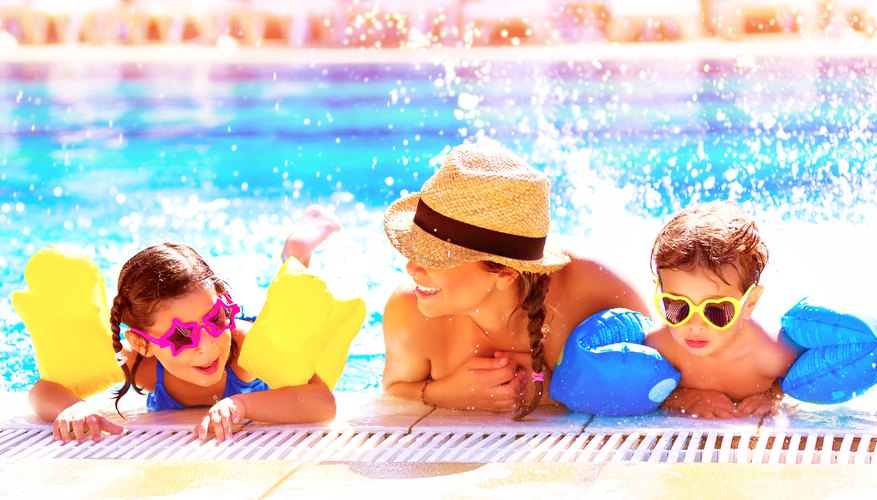 With lodges sprinkled throughout the United States and Canada, the Great Wolf Lodge has something for everyone in the family. Whether the kids want to enjoy the indoor water park and slides, or mom needs a big girl piña colada at the restaurant, the entire family can find it here. So, how do you pack for a place that boasts so many activities for everyone? Start with the basics.
Plan to get wet
The main reason people choose to stay at Great Wolf Lodge is the flexible fun it offers. Parents and kids alike can go between the indoor water park and the hotel room with ease. If baby Johnny needs a nap, dad can take him back to the room, while mom hangs out with little Jane under the water bucket. Because of this, water park attire is essential for a successful trip.
A comfortable swimsuit, water shoes and a cover-up are the first items that should make it into each suitcase. Don't forget the other essential toiletries, like sunblock, aloe vera lotion, shampoo, conditioner and any other necessities. Also, consider bringing a casual outfit or two in case the family wants to go to dinner or explore the surrounding areas.
There are other essentials that need to get packed as well, but these will depend on the age of the children. For example, if young children are on the trip, don't forget baby swim diapers so they can join in the fun and floaties for children who are still learning to swim.
No dressy attire needed
Since visitors spend most of their time in the water, the hotel room, bowling alley, craft area or one of the other many activities Great Wolf Lodge offers, it's not likely that a suit, heels and a dress will be necessary. Packing casual and light is a perk of visiting this place and makes for a carefree family vacay.
The only caveat to this plan is if the group wants to visit the surrounding areas around the lodge as well. For example, if you're visiting the Anaheim Great Wolf Lodge, nearby attractions include Disneyland as well as the beach. Plan ahead to see what places the family may also want to see to help determine if a dressy night on the town is in the cards.
Weather is no object
One of the biggest perks to visiting Great Wolf Lodge is that the weather will never hinder a memorable time, since everything is indoors. At outdoor parks, it's not uncommon for the park to be open seasonally or close due to inclement weather, but this is a place you can visit year-round. However, if exploring the surrounding area is something your family wants to do, then double-check the forecast during the time of your visit. This will help inform the decision as to which places to visit outside of Great Wolf Lodge.
Ready for anything
Since there are so many Great Wolf Lodge establishments, it's possible for many families to drive to them, saving on airfare and time. Driving also provides the flexibility to pack a few more bags with food, snacks and even some fun water toys, which will help the family save money. Consider packing easy meals and snacks in a bag or ice chest, such as peanut butter and jelly sandwiches along with some fruit. Depending on which room you reserve, it may contain a mini-fridge and microwave, which means you can enjoy simple in-room popcorn movie nights after a long day of going down the water slides. Keep in mind that coolers are allowed only in the rooms, though, and not in the water park area.