How to Pack a Carry-on Bag for a Week
By Jenny Green

; Updated June 08, 2017
Bright ideas for living a week out of your carry-on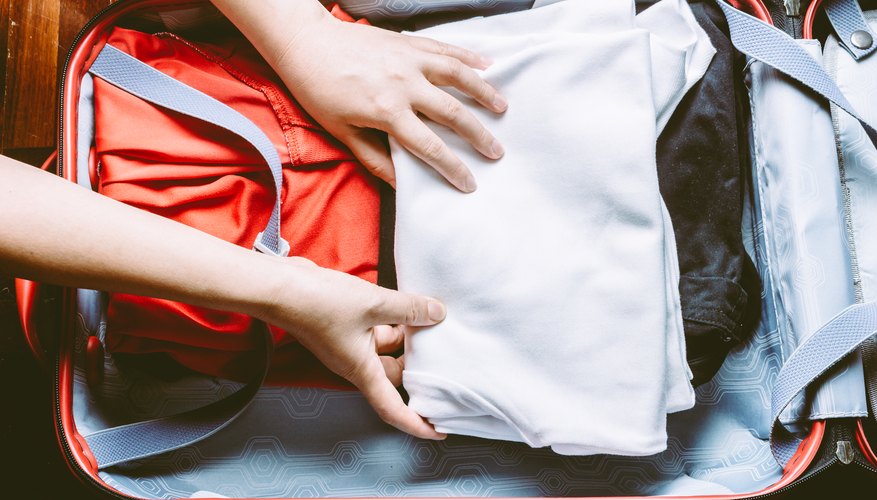 Whatever the weather at the vacation spot, a carry-on bag can hold all the clothes and accessories needed for a week-long vacation. Traveling light usually means traveling easy. If you only have a carry-on and you've checked in online before your flight, you can go straight to security at the airport. What's more, on arrival, there's no waiting around at baggage claim or wrestling large suitcases into taxis.
It's a shoe-in
Shoes are one of the bulkiest items to take on vacation. A pair of hiking boots could fill one-quarter to a third of a carry-on bag all by themselves. Two pairs of shoes are likely all that are required for most vacation activities: a pair for walking and a pair for relaxing, such as sandals or flip-flops. Wear the largest shoes or boots on the plane or train and pack the smaller pair.
Sugar-coat the pill
A coat or jacket of some kind is an essential for most vacations, even if it's only for the odd chilly evening in the tropics. As with shoes, it makes sense to wear the jacket while traveling rather than pack it, and if you choose the right kind, it won't cramp your vacation style. A reversible jacket allows for two looks when dressing up for the evening, and a jacket with detachable hood and sleeves doubles as a raincoat.
Tip
Travel pants with detachable legs that also can function as shorts are available.
So long sarong
Sarongs were made for vacations, and not only those in warm climates. These simple strips of cloth fold up small to fit in carry-on bags, yet they can function as long skirts, short skirts, beach dresses and shawls. Whenever a quick cover-up is needed for religious or cultural reasons, the sarong hides shoulders or knees, and when the cold penetrates coats and hats, a sarong is a welcome second layer for wrapping up. Men can use a sarong as a handy bag, beach mat, towel or light blanket.
It's a material world
Clothes for carry-on-only traveling should be thin and light, yet suited to the destination's climate. Pick man-made fiber mixes that wick sweat from the skin to keep the wearer cool and comfortable in hot weather. For a frosty or snowy vacation, throw in some thermal underwear. They aren't glamorous, but thermals provide an extra layer and reduce the need for extra clothes. Avoid pure cotton and linen vacation wear. Both fabrics crease easily and take a long time to dry.
What to leave
Traveling with only a carry-on bag is as much about what to leave as it is what to pack. The Transportation Security Administration allows passengers to carry liquids, gels, aerosols or creams onto planes if they're in containers no larger than 3.4 ounces. The containers must be placed in a clear, 1-quart bag, and only one bag is allowed per passenger. It may be more convenient to use the hotel's shower toiletries than pack travel-sized bottles of shampoo, conditioner and so on, and to buy sunscreen, moisturizer and other bulk liquids at the destination.
Books for reading, guidebooks and maps are bulky items that have no place in a carry-on bag. An e-reader, tablet or smartphone holds hundreds of e-books, and it only takes a few clicks to download even more.