What to Pack for Thailand
By Jenny Green

; Updated June 08, 2017
All the things you'll need for your time in Thailand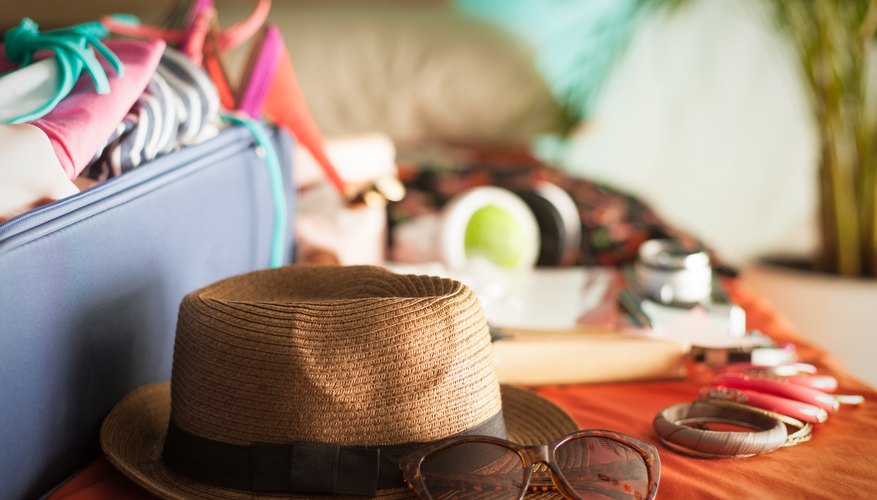 Keeping it light, casual and not too revealing is the key to packing for a trip to Thailand. The weather for most of the year is hot and sticky, though in the northern parts of the country temperatures turn cooler in winter. Dressing for hot weather doesn't mean baring all, however. Thai people are accommodating, but showing too much skin can cause embarrassment outside the most popular tourist areas. And don't forget travel accessories like adapters to help the visit go smoothly.
Weather and seasons
Packing for the season helps avoid over-packing or forgetting something important. Thailand's climate is tropical across most of the country, with three seasons. Summer begins in March and lasts until May. In Bangkok and the southern beach resort areas summer temperatures average 84 to 86 degrees F, while in the northern areas, including Chiang Mai, temperatures are cooler. June through October is monsoon season, when heavy rainfall can last for hours across Thailand. Winter runs November through February and, in many places, is the sunniest time of the year. In Bangkok, winter temperatures average 78.8 degrees F and are the same or slightly higher in the south. Northern Thailand sees winter temperatures drop as low as 68 degrees F and, in mountainous areas, down to 35.6 degrees F at night.
Thailand vacation essentials
Certain essential items make a Thailand vacation a breeze, even in high humidity. Taking off shoes before entering temples, mosques, homes and many cafes and restaurants is the norm in Thailand, so holding up the line with shoelaces and buckles is a bad idea. Pack slip-on sandals, preferably plastic in anticipation of rain showers. Flip-flops are fine for beach vacations, but something sturdier is better for walking – and closed-toe sandals are needed for temple visits.
A light raincoat and a warm sweater or hoodie are essential. Even outside the June-to-October rainy season, the odd deluge isn't uncommon, and going from warm humidity into cold air conditioning on buses and in shops and restaurants can be unpleasant. If a carry-on bag is all you're bringing, a thin coat won't take up much space, but wear a bulky sweater on the flight.
For general vacation clothes, pack breathable items like loose cotton, linen or rayon tops and shirts, along with harem pants and unfitted dresses and skirts. Clothing that covers the shoulders and knees fulfills a double purpose: protecting against the sun's rays and meeting temple entrance requirements. Avoid that lobster-nose effect with a wide-brimmed hat.
What to leave behind
The TSA Liquids Rule limits bottle size for carry-ons to 3.4 ounces. So, leave sunscreen and other toiletries behind, because, aside from more limited brand availability and higher prices, almost anything available back home can be purchased in Thailand. Heavy cotton items like denim jeans are also best left at home; they're too warm and bulky for Thailand's climate. Polyester clothing is another no-no for travelers who want to stay cool and fresh.
Toiletries and bulky Items
Checked luggage isn't subject to the TSA Liquids Rule, which means that vacationers who check their suitcases can bring whatever size bottle they prefer of favorite toiletries.
Hiking shoes or sandals and good quality rain gear are a must if plans include venturing into Thailand's wilder parts. The country's landscape is beautiful and rewarding to those who make the effort to see it, but the weather can be unpredictable. A dry, safe walking track can turn into a muddy stream in minutes.
Travel accessories
Travel accessories worth taking along on a trip to Thailand include converters or adapters, mosquito repellent and travel medications. Many power outlets in Thailand are the familiar U.S. style that take plugs with two flat blades, but some are built for the European style plugs that have two rounded blades, so take a travel adapter just in case. Check that your electronics work on Thailand's 220-volt power supply, too. If they don't, pack a voltage adapter.
Mosquitoes are common throughout Thailand's urban areas and countryside. If you have a favorite brand of mosquito repellent that works for you, bring it along, because you might not be able to find it in Thai stores. The same applies to travel medications like antidiarrheals and electrolyte powders for upset stomach.