What to Wear to a Country Concert
By Judith K. Tingley

; Updated August 11, 2017
Favorite country western fashions for your listening pleasure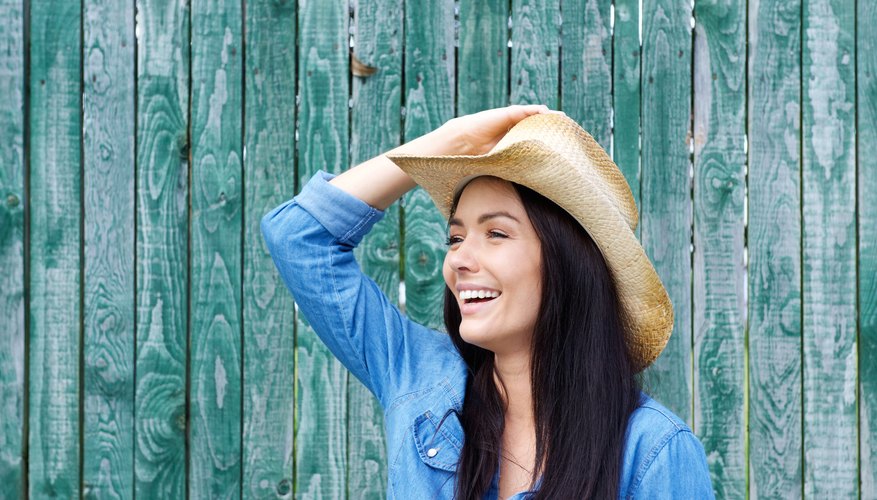 Country music ain't what it used to be and neither is country style. The country music family tree has strong roots and many varied branches – something you can take into consideration when you choose whether to dress down or gussy up.
What's the venue? Who's performing?
Appropriate and stylish attire for any kind of concert – be it country, jazz, or classical – has a lot to do with both the venue and type of performance. Is it a national recording artist playing an arena? A local act in an intimate setting? Is it a weathered veteran of the road such as Willie Nelson, wielding his guitar with rugged integrity? Or, perhaps a progressive band with traditional roots and punk attitude?
No matter your own personal preferences, all that really matters is that you love the music, look forward to a good time and want to look sharp while staying comfortable. Because good times require comfort.
A princess in leather and lace
Country girls have overcome the misleading stereotypes of Daisy Dukes with halter tops and dowdy, ruffled dresses. They're often just as edgy and chic as city girls, and city girls have even followed the fashion lead of their country counterparts.
Make a fashion statement with a bold floral wrap-dress topped by a 10-gallon hat. Or do a gingham blouse toughened up with flared leather shorts and a contrasting leather belt. The ultimate cowgirl chic is, of course, a white lace dress and leather boots. That Stevie-Nicks-goes-country look will win 'em over every time.
These boots are made for dancing
Whether indoors or out, if there's even a speck of dance space, you'll find 'em kicking their feet up to country. And that means just one thing: boots. An average boot heel is just the right height for executing tricky dance steps without tripping all over yourself or your partner. Boot soles should be smooth without being slippery, with just enough traction to avoid sliding across the room. Remember, you're dancing, not hiking. You want to glide easily. There are attractive boots on the market in all price ranges – some in unusual colors and chic designer styles.
Hair – flow it, show it
Hair has been a big part of country style, all the way back to the days of big, big hair. The best thing about today's casual styles – long and short – is that they can more easily accommodate accessories like flowers and, of course, cowboy hats. And just about any hairdo nowadays is much easier to maintain than the beehives of the 50s and 60s, when top-heavy dancers had to be more mindful of their balance than their dance steps!
Cool summer country
Outdoor country music festivals happen everywhere in the summer – and not just in the South. If you're headed for an outdoor festival on a hot summer day, remember the essentials: sunblock, trendy – yet reliably UV-resistant – shades and a wide-brimmed hat. Wear comfortable shoes, of course: either sandals or ankle-high, Western-look, booties. Both boots and booties tend to have pointed toes, so make sure they cramp neither your style nor your tootsies.
Try a cool cotton sundress with an asymmetrical hem for a bit of edge. Accessorize with bold-colored bangles. Or, if jeans are more your style and it isn't too hot out, pull on some jean-style leggings and top with a lacy tunic and feather earrings.
Men in black – and other colors
Johnny Cash, so quintessentially country, was known as "The Man in Black." Black has never gone out of fashion for the many country guys who rock those black T-shirts and jeans – but if that's been your go-to concert uniform, be bold and make a change. A classic semi-casual jacket, tucked-in checked shirt and jeans, paired with a tooled belt equals country cool. Boots can tilt the total effect toward traditional, while red sneakers would add an unexpected pop of color and youthful zest. And don't forget the ever-popular rough 'n' ready look: untucked plaid shirt, rugged jeans, 10-gallon hat and an unmistakable don't-mess-with-me air.