What to Wear in Paris
By Ashley Friedman

; Updated August 11, 2017
Chic, comfortable clothing to wear in fashion-forward Paris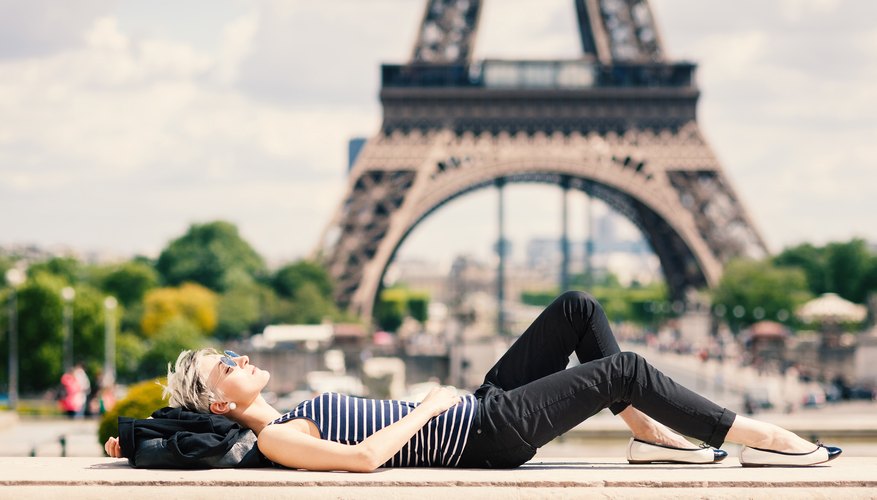 After only a few moments on its slate gray boulevards, you'll realize that the city of Paris has earned its reputation as the world capital of chicness. Both men and women in Paris seem to have an unerring sense of style, and even a trip to the corner store requires a little more sartorial effort than leggings and sneakers. But don't fret. Whether you're going on a short trip or preparing for a long Parisian stay, these tips on what to bring can help ensure that you look chic, fresh and stylish without dragging your entire closet across the Atlantic.
What to bring
Black. When in doubt, wear black. While Parisians don't always eschew color, black basics like dresses, sweaters, jeans, shoes and T-shirts can go a long way to streamlining your travel wardrobe and helping it go effortlessly from day to night. This can be especially helpful if you're hoping to pack light and stretch your wardrobe.

Comfortable dressy shoes. Presumably you'll be walking a lot, but sneakers tend to be frowned upon in Paris. Instead, pack your most comfortable upscale footwear. Loafers, oxfords, flat boots or nice sandals are all good options and can take you from a metro to a museum to a nice dinner.

Scarves. The French love scarves, and for good reason. A simple patterned scarf can dress up the most basic of outfits. If you find yourself repeating styles (white T-shirt, jeans, boots, black cardigan), tying on a vibrant scarf can quickly elevate your look.

Outer layer. Even in the summertime, cool evenings are possible in Paris. Ward off the chill with a chic outer layer that goes with everything. A denim or leather jacket or a sleek streamlined trench can help outdoors in the cooler months of the year, and a simple black cardigan can be a lifesaver in a chilly museum.

What to leave behind
Sweatpants. In fact, unless you're planning to hit the gym or go for a run, leave any athletic clothing behind. Dressing too casually is not well-received in Paris, so skip the sweats in favor of jeans, slacks or some chic black tights.

Ski jackets. Like athletic wear, puffy ski jackets can be viewed as too casual in Paris. If you're traveling to the City of Light during the fall or winter, swap out your ski jacket for a peacoat, wool trench or other heavyweight coat.

Seasonal and weather considerations
Paris is chilly in the fall and spring and can be very cold in the winter. If you're traveling during these times, plan to pack layers of clothing and a somewhat heavyweight outerwear garment. Layering is key when traveling, so pack stuff you can mix and match depending on the day. Remember an umbrella and some waterproof footwear. Paris is a walking town, and you don't want a little rain to stop your enjoyment of the city.
Packing considerations
While Parisians place a high premium on style, they also value minimalism, and a new outfit every day is not required. Bring a few things that you can wash and wear again, or mix tops and bottoms to create new outfits without dragging a ton of luggage. Think of your trip as an opportunity to get in touch with your inner minimalist.
Make it fit. Even with minimalism in mind, you might be challenged to fit everything in a carry-on. Packing cubes go a long way to condensing your clothing items and keeping them organized. You can also fold everything into flat rectangles and then stack them standing up on their ends in your suitcase or bag, rather than stacking them flat on top of each other.
Room for more. If you don't mind traveling with a larger check-in bag, you can afford to take your nicest outerwear and a pair of good, flat boots, which amps up your chic factor. Especially if you are traveling in the cooler months, you'll likely keep your coat on when walking around or taking in a museum, so bring the nicest one you have. Travel umbrellas are compact and light and fit easily in a nook or cranny in your luggage, and their compactness is a boon when walking through museums and other attractions.