What to Wear to an Art Show
By Judith K. Tingley

; Updated August 11, 2017
Creative license: putting together your look for an art show outing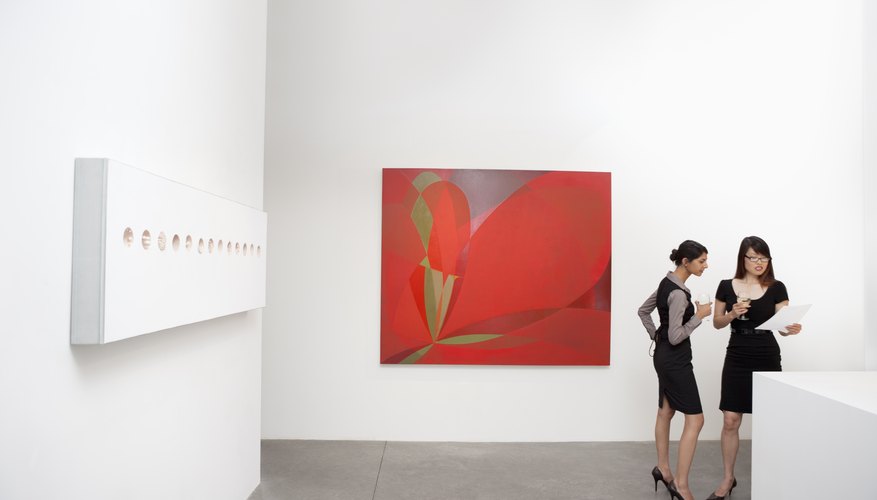 There are as many stylish looks to wear to art shows as there are types of art. Whether ritzy or ditzy, here are some suggestions.
Different cloaks for different folks
What an art show visitor chooses to wear depends a lot on what kind of show it is. To be frank, appropriate style is as wide-ranging as are styles of art, and there are several types of galleries, museums and art shows that are all worth attending.
Don't forget to google ahead
If there's one occasion when a traveler needs to know ahead of time what clothing to bring along, it's an art show. Appropriate clothing can range from jeans and a tank top to an oh-so-sophisticated little black dress. No one wants to travel any distance and then find out they're probably going to stick out like a sore thumb.
So what to wear to any particular show? It's helpful if you're already familiar with the gallery and the sort of artists it tends to look for. If you're not, take the time to find out something about it. Google the gallery and see if there are shots of previous shows and their attendees. That should give at least some idea of what to expect.
Private galleries
Private galleries are usually for-profit spaces. They can be huge, such as The Tim Faulkner Gallery in Louisville, KY. This gallery is a neighborhood fixture in the Portland area of the city; Tim Faulkner hosts art shows and yes, there is always plenty of art to look at. But besides that, the gallery hosts many other types of events such as concerts, poetry slams, performance art, even dances and events to benefit the community. The neighborhood is distinctly laid-back, and just about any sort of apparel goes, from glitter to goth. So, if the art show in question is a neighborhood affair, be aware of what sort of neighborhood it is.
Other private galleries rent a storefront space and are so tiny, they might not be noticed first time around. But oh, what wonders they can contain! For example, the Firecats Project Gallery in Chicago's emerging Bucktown neighborhood produces stunning shows, huge in concept, usually featuring one artist at a time using all available space in the room. The owner could not be more affable and welcoming. Bucktown is becoming quite a funky, artsy neighborhood, and clothing is totally low-key with little pops of whimsy. There's usually a neighborhood like this in every city. Find out if the targeted show is being held in one of them.
Then there are Brooklyn and Brooklyn-wannabe galleries where there seem to be more fashionistas than art pieces. You might need an invitation to attend an opening reception at one of these. Never mind the pretentious pretenders. Yes, dress up, but don't dress ostentatiously. Don't compete with the art for the viewers' attention.
There are also little neighborhood galleries in small towns that feature local folk artists. For instance, even in the small town of Sturgis, MI, there's The Open Door Gallery on the main street where artists can display their creations. These sorts of small town galleries often are in close touch with their communities and interact with art education programs, sometimes offering lessons right in the gallery itself. Dress as you would for any main street walking tour; casual is fine, pants and shirt or sweater are fine, but try not to freak out the natives. These folks are kind and creative and earnest. Don't go all Lady Gaga on them.
Public galleries
Public galleries are by their very nature open to all, though sometimes there's a small fee or suggested donation to enter. Institutions such as universities, libraries, town buildings, schools and even churches can be used to exhibit art, both exhibitions of contemporary artists and sometimes special traveling exhibitions. There's no need to be formal, but do wear a nice outfit, the sort of dress or even pantsuit you'd wear to a play or a concert. Men, wear a suit or a respectable cords and sweater and/or jacket outfit.
Art festivals
Art festivals can inject a lot of fun into the art show scene. There are tons of art festivals across the U.S., with many outdoor shows from spring to summer, indoor holiday-themed shows, and "pop-ups" where the show is held in a vacant retail space for a limited time. The quality of art at these festivals varies wildly, from paint-by-number level to genuine artistic expression. Almost every festival artist must pay for his or her "booth space," and costs can range from a few dollars to several hundred. In some of the more prestigious festivals, potential exhibitors must send in a non-refundable fee for their application to be "juried" (that is, all applications are vetted for artistic merit, and not all are accepted).
Artists set up booths where they display their work, and visitors are free to wander around at will. Often at the outdoor festivals there are food trucks and ice cream wagons where browsers can revitalize themselves. Do note that people bearing food that drips, plops or squirts should be very careful around the art that the exhibitors worked so hard on!
Opening receptions
If the visitor is fortunate enough to be invited to an opening reception, she will want to dress up a bit. She might decide on a simple but stylish dress (again, without upstaging either the artist or the art itself). Much of the time will be spent standing around chatting or circling the artist's work for much of the time, so it's best to wear a pair of cute mid-heel pumps. It's perfectly okay to approach the artist (if she isn't involved in another conversation) and tell her what is appealing about her work. This is not the time, however, for a prolonged conversation or to offer "constructive criticism."
Have a wonderful time at the show. It's a great opportunity to meet and chat with other artists and art-lovers. Attend as many art shows as you like: Gallery hopping can become downright addictive!