What to Wear in Dubai
By J. C. Thomas

; Updated August 11, 2017
Packing a versatile wardrobe for a visit to the UAE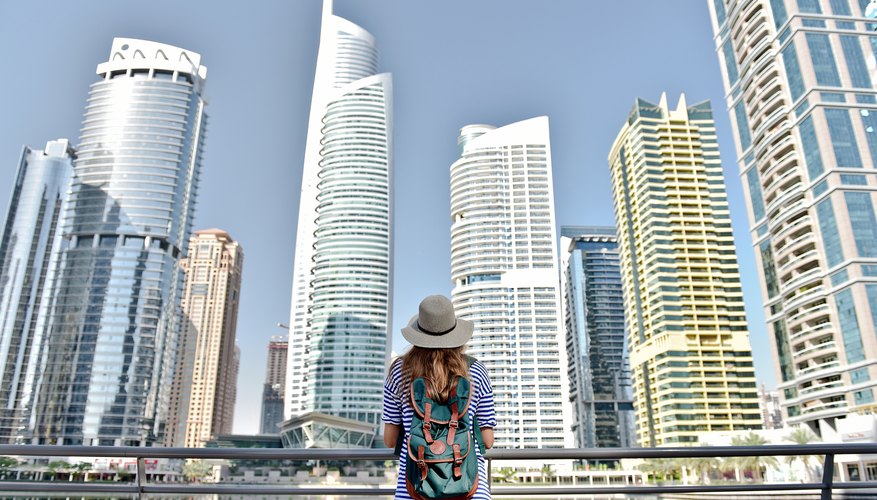 The two most important factors to bear in mind when packing for a trip to Dubai are the climate and the culture. High temperatures year-round, with frigid indoor air-conditioning as their counterpoint, call for garments up to the tricky task of keeping you cool and comfortable. The conservative culture of the United Arab Emirates must be considered in the context of Dubai's noticeable big-city cosmopolitanism, challenging Western visitors to keep respectfully covered up, but in style. Strike the right balance, and you'll be up there with the savviest of trendy travelers.
Know before you go: cultural considerations
Although the UAE is a conservative Muslim country, Dubai is relatively progressive and is accustomed to welcoming Western tourists. As a general rule, both men and women are expected to keep their skin covered from the shoulders down to the knees while in public places. Hotels, resorts, beaches and bars/nightclubs where alcohol is served are exceptions to this guideline. Carelessly violating clothing conventions is not illegal, but it is considered extremely disrespectful.
What to wear
At the beach and pool: Typical Western-style swimsuits, including bikinis, are acceptable to wear at hotel and resort pools as well as public beaches. The exception is thong-style bikini bottoms. Flip-flops or sandals are essential for stepping on super-hot sand and pool decks. Bring an opaque cover-up, such as a sundress, long sarong, caftan or T-shirt, for walking to and from the pool or beach. If that walk involves public spaces, or a stop at a beachfront restaurant, abide by the shoulders-to-knees rule.
At the resort: While on resort property, you should generally dress in a slightly more conservative version of your regular style (e.g., keep cleavage covered). At bars and nightclubs, which tend to be located inside resorts, you can also wear styles similar to those you would wear at home. Regular clientele at such venues tend to dress up, and designer labels are ubiquitous, so don't hesitate to make your own fashion statement.
Tip
For women, a light wrap, silk scarf or pashmina is an invaluable accessory for a trip to Dubai. It can be a headscarf (mandatory when visiting religious sites), it can cover shoulders and décolletage in an instant, and it's equally handy for shading you from the sun and keeping you comfortable under blasting a/c. And in the event of a sudden sandstorm, it makes a useful shield for your face.
At the shopping mall: Shopping malls in Dubai have dress codes, which are posted on signs and enforced if necessary by security guides. Stick to the shoulders-to-knees rule, which also works for most other public places. Ideal outfits for women include maxi dresses with sleeves, maxi skirts with T-shirts or three-quarter sleeve blouses, and capri or full-length pants in a looser style. A thin cardigan or button-down shirt is a useful extra layer when the air conditioning is on full blast. Men can wear pants or knee-length (but not shorter) shorts, with almost any type of shirt.
On a desert safari: If you're going on a desert safari or any other outdoor adventure, clothes that protect you from the elements are essential, as are a hat and sunglasses. Clothing made from special SPF-rated fabrics is ideal; otherwise, choose a long-sleeved T-shirt with capri pants or long pants if you can stand them in the heat. Short sleeves and longer shorts are also suitable, but bring an extra layer if you'll be out after sunset when temperatures drop quickly.
What to leave behind
Unless you're hitting up a bar or nightclub, leave any revealing clothing at home. This means any clothes that show cleavage, are especially tight, have short hemlines or are see-through. Men must forgo muscle tanks and short shorts.
Also leave out of your luggage any super-casual clothing. Dubai is no place to look sloppy. Ripped or worn-out items, cheap-looking souvenir shirts, trucker caps and any too-loud or tacky designs would leave you very much under-dressed for any Dubai setting.
Seasonal considerations
Dubai is hot year-round, with the average temperature peaking at 104 degrees F in July and August, but reaching as high as 120 at times. December to March is the milder season, but even then, average lows only dip to around 72 degrees F. This relative consistency in climate means your suitcase contents will be similar no matter when you visit. Consider, however, that during the hottest months you are likely to spend more time inside, and during cooler months, you'll be more apt to enjoy outdoor activities, and will want to dress accordingly.
Carry-on vs. checked luggage
Sticking with lightweight summer clothes makes it easy to pack light, so bringing only a carry-on sized suitcase to Dubai is feasible. To aid in minimalism, bring only versatile clothing. For women, an ideal garment is a maxi or midi-length dress with short sleeves that is modest enough for public places, cool for the outdoors and summery enough in style to blend in at the beach. Mix the look up with different scarves and jewelry rather than bulkier layers. Men can downsize with only neutral-colored shirts and pants or shorts that pair up in numerous combinations. Save space by selecting sandals that are equally appropriate for the beach, resort, mall and restaurants.