What to Wear in Italy
By Amy Curtis

; Updated August 11, 2017
Classy, casual and completely comfortable clothing for getting around Italy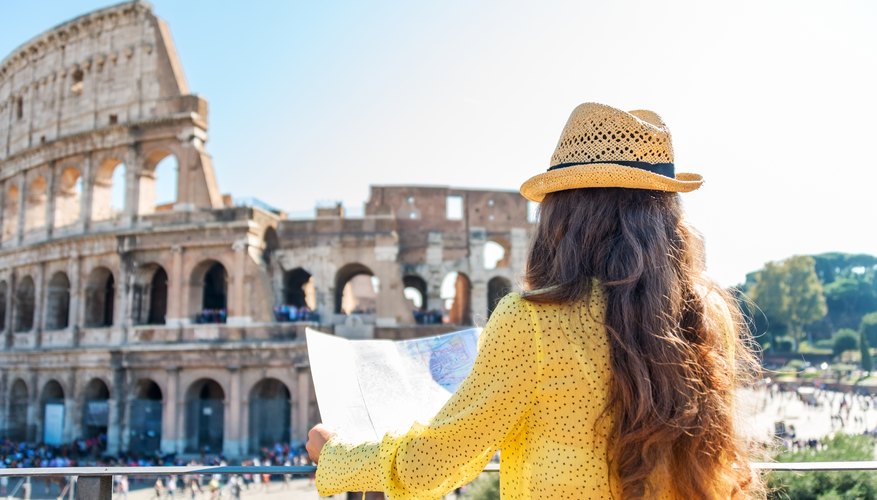 A trip to Italy should definitely be on every traveler's bucket list. The countryside is beautiful, the historical sites are abundant, the cathedrals are awe-inspiring and the artwork is beyond compare. Not only that, but Italians are friendly and welcoming, and the local cuisine is exquisite. When it's time to visit Italy, deciding what to wear is easy.
Three things to wear
Dress comfortably, but well. Italians are fashion conscious and dress simply but nicely. Follow their lead, and dress in clothes that aren't fancy, but probably more formal than what you'd usually wear on vacation. Just choose a few stylish basics that mix and match well and then accessorize with scarves, jewelry or ties to dress things up when it's time to go out.

Bring a light jacket, no matter what the season. In winter, it will be cold, and layers will be important. However, even in summer when the heat outside is blazing, it will be chilly inside cathedrals and museums. In cathedrals, women will need to cover their arms anyway, so a pashmina, cardigan or jacket will serve the dual purpose of providing warmth and modesty.

Comfortable walking shoes are essential. No matter the Italian destination, it's fair to say there will be a lot of walking. Good leather walking shoes or boots are ideal, as long as they're well broken in before the trip, but any shoes that can comfortably make it through a full day of walking are fine. If sneakers are the shoes of choice, bring along a pair of nicer shoes to wear to a restaurant. Wearing sneakers out to dinner is a faux pas in Italy.

Tip
Even though it's important to wear nicer shoes in the evening, it's inadvisable for women to wear high heels. Yes, Italian women look fabulous in theirs, and yes, there are beautiful shoes to buy and take home, but high heels and cobblestones are a bad combination. Twisted ankles ruin trips.
Two things to leave at home
Leave the shorts behind. If Italians do wear shorts, they're typically very long, falling below the knee. They're not khaki or denim, either, but more like trousers that have been shortened. Women can wear capri pants with a nice top, but men should probably stick to pants.
* Don't carry a backpack or fanny pack. A messenger bag or crossbody satchel is the best bet for toting things around Italy, because backpacks and fanny packs scream "tourist." Even if standing out in a crowd isn't a problem, it's never a good idea to advertise tourist status to nearby pickpockets.

Tip
In that crossbody bag, pack some tissues and a small bottle of hand sanitizer. Most bathrooms in Italy are well-stocked, but some are lacking. It's always better to be prepared.
Tips for traveling with a carry-on
Most of the time, it's better to bring just a carry-on when traveling through Europe. Because there's plenty of walking, and because it's better to be as unencumbered as possible, minimal luggage just makes sense. To save room in the carry-on, limit shoes to two pairs: one for walking, one for evenings. Wear the bulkiest pair on the plane, and pack the other in the bottom of the carry-on, near the wheels. To make the most of every nook and cranny, store small items in the packed shoes. Roll clothes to further economize space, and in the winter, choose layers instead of bulky items that take up too much room.
What to bring if there's extra room
Checking a bag provides extra space for things that otherwise may have been left behind. If bringing a nice camera is important, for instance, it might be a good idea to make room by checking a bag. A checked bag is also good for packing those favorite – but unnecessary – shoes that would look so amazing for an evening out. Ultimately, though, it's a better idea to conserve space and take a bag that's easy to tote through the streets from the airport.
Other considerations
The weather in Italy varies from region to region, so it's wise to check the local weather reports before starting to pack. The climate in the north is fairly harsh, with winter temperatures that regularly fall below freezing and summer highs in the 80s. In central Italy, the weather is milder, and low temperatures in winter stay in the upper 30s or low 40s, while summer temperatures are only a couple of degrees higher than they are in the north. Southern Italy and the islands have extremely mild winters, during which the thermometer never dips too far below 50 degrees F. The summers in the south are comparable to the summers in the rest of the country.
What does this mean for packing? If the itinerary takes you north in the winter, pack plenty of layers. If the trip falls in the summer, plan on heat, no matter where your Italian adventure takes you.
Tip
In most of Italy, it's sunny even when it's cold, so sunglasses are very important. In summer, sunblock is equally vital, a hat with a brim is a good idea and a refillable water bottle is a must. It's not necessary to bring these items from home, but make sure to purchase them upon arrival to keep from suffering in the heat.