What to Wear in Miami
By Joanne Thomas

; Updated August 11, 2017
Florida fashion do's and don'ts when you're in Miami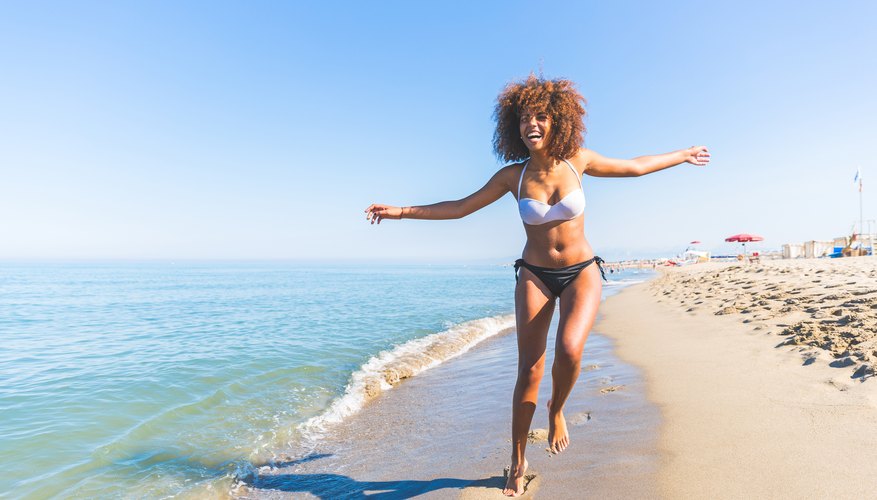 A sizzling blend of beach city and fashion hub, Miami exudes a style all of its own. It's tropical without being kitschy, sexy but not trashy, and in looks and lifestyle the city has a vibrancy that entices its many visitors from the moment they arrive.
Miami locals dare to bare on the beach, embrace dinner and drinks as a nightly opportunity to make a fashion statement, and flaunt their assets while dancing all night long. Curating outfits to wear while visiting Miami doesn't mean imitating a local, however, but embracing the sartorial energy of the place. Get it right and you'll be dressed to perfection for every occasion, activity and place, and feel so on-point that there will be nowhere else you'd rather be.
What to wear: the essentials
Packing a suitcase for a Miami vacation is quite straightforward: swimsuit, summer clothes, something casual, something comfy, sandals, sun hat, sunglasses. It's the styles of these essentials that make all the difference. Don't hesitate to put together outfits that are a little sexier, dressier and more trendy that those you might wear at home. And do be aware that the tropical sun makes the perfect spotlight for the brightest and boldest of prints. Select the following essentials with this in mind:
For the beaches and pool: You'll rarely show more skin than when in a swimsuit, but in Miami you can go as skimpy as you dare and nobody will bat an eyelid. Bring a few items that can go from the pool or sand to the bar or restaurant, such as a wrap-style skirt or flowing, sheer caftan for women, and a T-shirt that coordinates with board shorts for men. When heading to South Beach, bring a cover-up that doubles as a suitable outfit for perusing art museums or strolling and photographing the Art Deco district, as they're all adjacent to the sand.
For a lazy day at the resort: When selecting resort wear for a Miami trip, think casual clothing, elevated. An ideal outfit for women would be silky palazzo pants and a loose-fitting camisole, or a breezy maxi dress in a tropical print. If flowing isn't your thing, substitute a shorter-length sleeveless shift in a patterned fabric. For men, smarter shorts and polo shirts are a classic country club-inspired combination, and Hawaiian shirts can work as long as you avoid offensively loud prints and shiny polyester.
For sightseeing: A long day on your feet in the sun calls for something cool and comfortable, but that doesn't mean sacrificing style. Seersucker or pastel cotton shorts with a plain white T and clean, classic sneakers is a formula fit for men and women of diverse ages and personal styles. Be sure to add a wide-brimmed hat.
For a night on the town: The dress code at sit-down restaurants in Miami tends to be fancy but not formal. Even if you're just out for drinks, change out of your beach clothes and put a little thought into your outfit. Add jewelry and heels to a plainer dress, or combine slim-fitting capris with a pretty top. Men can stop short of wearing a full suit, but a crisp button-down with or without a tie is a good choice.
What to leave behind
Dark, heavy denim doesn't really belong in a Miami-bound suitcase, nor do scruffy cut-off shorts. Anything sloppy, such as too-baggy T-shirts, saggy shorts and well-worn sweatpants, will make you stand out in a negative way. Also out of place is overly stiff formal wear, so eschew any items you might wear to a business meeting, as well as somber designs such as pinstripes.
Seasonal considerations
Miami is sunny year-round, with the hottest temperatures (from 76 to 90 degrees F) from June to September, and milder winters (ranging from the low 60s to high 70s). Summer is also the rainiest time, with short but frequent storms heavy enough to drench your clothes. This doesn't mean a rain jacket belongs in your suitcase, but quick-drying clothes are a sensible summer choice. Otherwise, what you wear will not vary much from season to season.
In cooler months add a lightweight cardigan, kimono-style wrap or long-sleeved blouse for evenings out. Trade one or two pairs of shorts, or short skirts/dresses, for long ones. When packing for hotter seasons, light colors and natural fibers are your friends. Linen is perfect, but only if you're willing to iron it before heading out.
Carry-on vs. checked luggage
Those who want to pack light are in luck, because warm-weather clothes usually fold up small. Focus on versatility. Pack a summer dress that can double as a beach cover-up and also be dressed up at night with jewelry. For men, select a thin chambray shirt that pairs with a bare chest and board shorts at the pool bar, or when ironed and buttoned, with crisp khakis and loafers. Bring items that overlap as resort wear and sightseeing clothes. Streamline your shoe choices. An example: Flat sandals in a metallic leather are equally appropriate for pool days, shopping on Ocean Drive and sipping Cuban coffee in Little Havana.
If you're checking luggage or driving and have plenty of space, bring as many outfits as you expect to have outings. You'll always look clean, fresh and presentable, with the perfect shoes for every ensemble and activity. Another bonus: room in your luggage for purchases from the great boutiques of Lincoln Road or Wynwood Walls.