What to Wear Skydiving
By Kathryn Walsh

; Updated August 11, 2017
The best clothes to accessorize with a parachute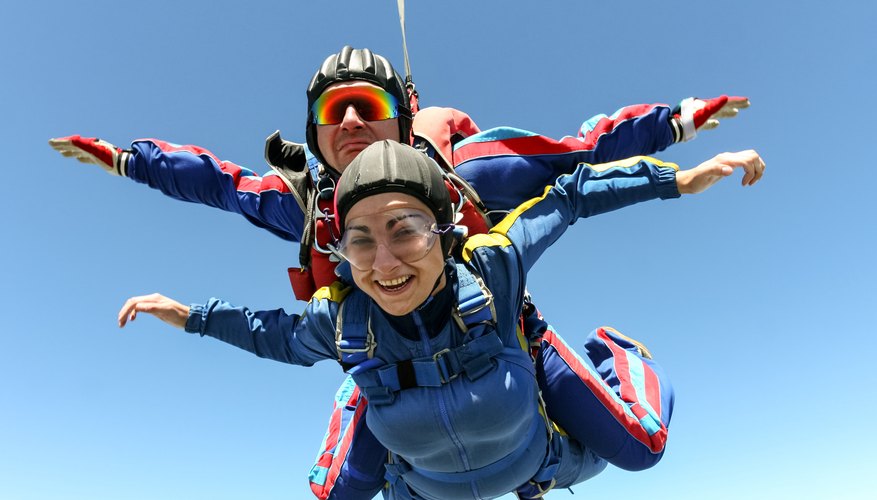 As with all aspects of skydiving, the number one consideration when choosing a jump outfit should always be safety. Number two on the list? Comfort. When you're suspended thousands of feet above the earth, your focus should be on wonder, not wedgies. How your clothes look doesn't matter with skydiving, because they'll be covered by a flight suit. Skydiving doesn't require any special clothing, so if you're planning to take your first jump while on vacation, you won't need to devote extra room in your suitcase for proper gear.
Do wear: lightweight pants or long shorts
Let the weather dictate whether you wear pants or shorts. Either choice is totally safe and comfortable for skydiving. The key is to pick a pair that won't pinch or slide, since you won't be able to adjust them mid-jump. Any bottom that you would wear to exercise in would make a good option, but walking shorts, leggings or thin cotton pants are workable, too.
Don't wear: Jeans
Truthfully, some jumpers wear jeans without issue, but avoid wearing them unless it's your only option. You'll be strapped into a harness that loops between your legs, and jeans can bunch and chafe.
Tip
Choose your undergarments carefully. A good rule of thumb is that if you would be comfortable wearing it to the gym, you can probably wear it to skydive. Wear undergarments that won't fall down, pinch or poke.
Do wear: light top layers
A simple T-shirt is fine for skydiving. Remember, your goal is to be comfortable. Choose a crew neck or V-neck shirt that is neither super loose or super tight. A hood, voluminous collar or drawstring around your neck can be distracting and can block the view for you and a tandem instructor. Bring a long-sleeved T-shirt or thin pullover sweater to the jump site in case it's cold.
Don't wear: a dress or skirt
Despite the fact that you'll be wearing a flight suit over your clothes, skydiving instructors don't recommend that women wear dresses or skirts when jumping.
Do wear: sneakers
When you jump out of a plane 14,000 feet above the ground, the last thought you want to entertain is, Did my shoe just come off? And the unsuspecting people walking around 14,000 feet below don't want to be hit with a fast-moving clog. So for obvious reasons, wear only shoes that will stay firmly on your feet no matter what. A pair of basic, snug-fitting sneakers is the best option. Don't wear boots or shoes with built-in heels, spikes or any other bells and whistles.
Tip
Most skydiving venues in the United States let jumpers start at an altitude of no higher than 14,000 feet, but a few offer HALO (high altitude, low opening) jumps from an altitude of as high as 30,000 feet. These jumps require special equipment and safety requirements, so the company organizing your HALO jump should inform you of specific clothing guidelines.
What about weather?
Weather is a major factor in skydiving. But while temperature and precipitation affect your ability to jump, they shouldn't affect your clothing choices. That's because you won't be allowed to jump if the day is especially cold, rainy, windy or snowy. If instructors give you the go-ahead to skydive, you can be sure the weather is mild enough to make the trip a safe one. So dress in clothing that's comfortable for the day's forecast, bring a jacket or sweater to the site in case you get cold, and enjoy your big adventure.