What to Wear Skiing
By Jessica Ozar

; Updated June 08, 2017
Best dressed challenges when it's time to hit the slopes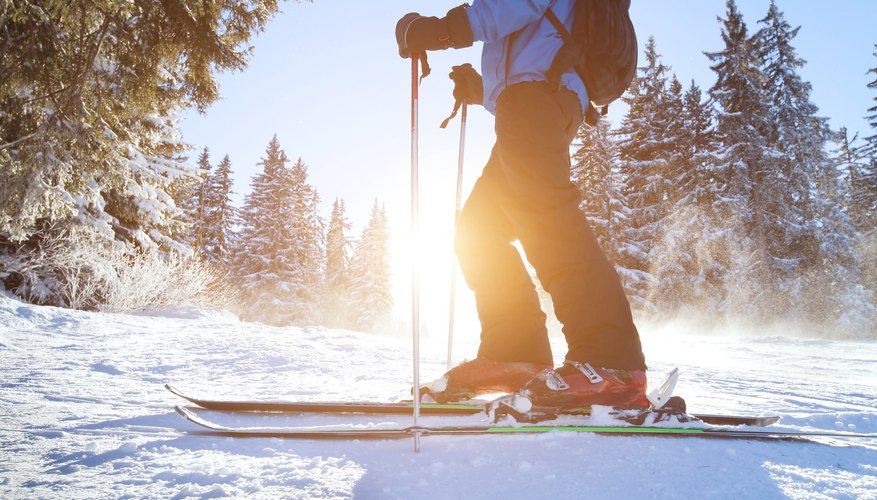 When the snow is fresh, skiing can seem like the best sport in the world. But without proper attire, that fantasy could easily turn into a miserably cold vacation. Find out what to wear while skiing and make that fantasy a reality.
What to wear skiing
Layer up. When skiing in winter, start with a base layer that will wick away moisture. Even though it's cold, skiing works up a sweat. A layer of thermal underwear will keep you dry. Pick wool, polyester or silk for shirts and pants. Then, add a shirt or jacket that will keep the warmth in and the cold out. Fleece and wool are good options for this layer. Finally, wear a waterproof external layer on top and bottom, such as a ski jacket and ski pants.

While helmets are often both breathable and warm, bring a hat to wear when not on the slopes. Many skiers also wear goggles instead of sunglasses to avoid glares and windburn when coming down the mountain. Find a good pair of gloves that wet snow cannot penetrate and wear wool socks to keep toes warm and toasty in ski boots.
Sunscreen is important in all seasons. If the ski lodge is at higher elevations, the sun will be stronger, even when it's cloudy. Wear sunscreen on any exposed skin.

What to leave behind
Leave the scarf, neck covers and ski masks at home. Instead, wear a jacket that zips up and covers your neck.

Do not wear jeans or cotton. First-time skiers often spend a lot of time on the ground as they get used to the sport. These fabrics are heavier when wet and they take a long time to dry, which is very uncomfortable in cold weather.

Seasonal considerations
Skiing in midwinter requires different clothing than skiing in late spring. While it still might be chilly in late April, wearing fewer layers will be more comfortable. When the temperatures are between 30 and 40 degrees F, plan for one underlayer rather than two. Again, wear an outer layer to prevent wetness. Sunglasses may be better than goggles because they are lighter weight.
Special occasion considerations
Many ski towns have both upscale and casual restaurants along with an active nightlife. Bring at least one fancier outfit for these purposes, such as a button-down shirt and slacks, or a dress or skirt and blouse. Don't forget to bring a coat for layering.
Carry-on or checked luggage
Skiing requires many specific types of clothing, but it's possible to only use carry-on luggage. Plan to rent most major equipment, including skis, a helmet and boots. Carry a coat and wear the bulkier items on the plane. Because layering is best when skiing, it may not always be possible to pack everything into a carry-on bag. Be prepared to pay extra if the airline charges for checked luggage.