What to Wear for Mardi Gras
By Meg Jernigan

; Updated August 11, 2017
Beyond the beads: dressing up for New Orleans' big party and parades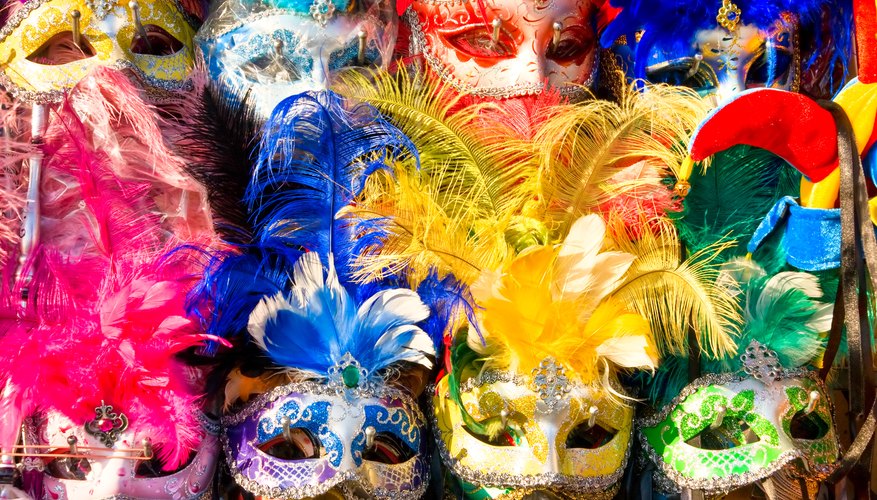 Carnival season begins on January 6, the Feast of the Epiphany, and runs through Fat Tuesday. New Orleans locals celebrate every day of the season, but the biggest parades and the fanciest balls happen on the days leading up to Ash Wednesday. Tailor your wardrobe for the events you'll be attending, whether it's a raucous parade or an elegant evening out.
What to wear to the parades
Unless you're fortunate enough to have a hotel room overlooking a parade route, pack comfortable shoes. The main event can last as long as three hours, and the festivities sponsored by the larger krewes that organize the parades last all day. If you plan to be out all day, wear layers that you can shed as the day progresses and put back on as night falls. Choose clothing made from performance fabric, like nylon and polyester blends, that breathes well and dries quickly. Stop by the Mask Mart at the French Market for a one-of-a-kind mask. You'll be both comfortable and fashionable as you jump up and down, imploring float riders to throw something your way.
What to wear to the balls
Your invitation to a Mardi Gras ball might include the words "costume de rigueur" or "black tie," letting you know what type of attire is expected. Costume de rigueur means, for a man, white tie and tails and, for a woman, a floor-length gown of any color but white, unless she's a debutante. Black tie requires tuxedos for men and formal gowns for women. At some balls, members of the military are asked to wear their dress uniform. Others request that the color gold be reserved for the hosting krewe's royalty.
What don't I need for Mardi Gras?
Even though Mardi Gras happens in winter, the need for cold weather outerwear is rare in New Orleans. Instead, pack a waterproof jacket that can do double duty in chilly and rainy weather. Leave the umbrella at home – they're a nuisance in crowds. Unless you're going to one of the elegant balls or have dinner reservations at a four-star restaurant, leave the dress shoes and high heels at home. If you don't, you'll be bruised, and they'll be battered by the end of the day.
Mardi Gras weather
Historically, temperatures in New Orleans during Mardi Gras season are in the 50s, 60s and 70s. They rarely dip lower, though an ice storm in the 1800s holds the record, at 38 degrees, for the coldest temperature. Two dates hold the record for the warmest festival, a relatively moderate 83 degrees when compared to the city's hot, humid summer. New Orleans is surrounded by water, so fog is a possibility. Revelers may need a cap and a jacket for light rain during the course of the festival.
Mardi Gras packing tips
Pack light if you're arriving in New Orleans by plane, train or bus. Depending on where your hotel is, you may be able to walk there from the Amtrak or Greyhound station. The airport, on the other hand, is 15 miles from the French Quarter.
If you feel the need for checked luggage, or if you're driving, pack a costume to wear to the parades. Anything goes, but if you're attending one of the family-friendly events, wear a costume that's fun, but appropriate, for younger revelers.
Purchase a few packing cubes to use inside your luggage. Pack your underwear in one of these light, flexible containers and toiletries in another.
Leave the fleece at home. It might seem like a logical choice for a cool morning, but it doesn't compress well and will take up room in your luggage that you might need for the nice blouse you plan to wear to dinner in the French Quarter.
If you're flying to New Orleans, remember the Transportation Security Administration's 3-1-1 rule for carry-on luggage. Pack 3 ounces or less of liquids or gels in small containers, and limit yourself to one 1-quart clear plastic bag to hold them.