What to Wear in Florida
By Ashley Friedman

; Updated August 11, 2017
Fashionable in Florida: Keeping comfortable in the Sunshine State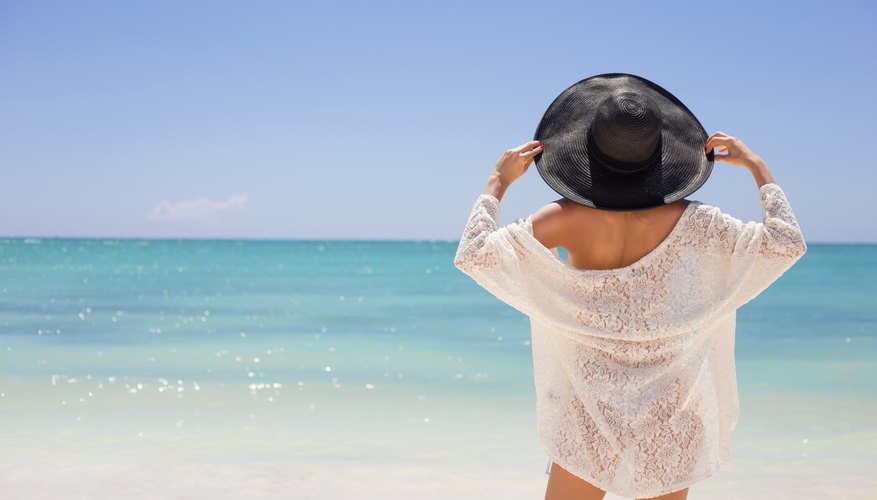 Florida has earned its nickname. Abundant, year-round sunshine makes it one of the most popular places to visit, especially in the winter months. Though sunshine and warm temperatures are desirable, Florida also has a subtropical climate which means storms, high humidity and some pretty intense heat. Pack correctly and you'll be comfortable, no matter the weather.
Bring: Comfortable shoes
Florida gets humid in the spring and summer. Sneakers or boots can make feet sweat, and the sudden tropical storms can even ruin footwear. Bring comfortable shoes like sandals or flip-flops for the days when sneakers are just too much coverage. Actually, bring two pairs.
Bring: Lightweight garments
Even though not every day is humid, Florida's climate is reliably steamy. Lightweight fabrics like cotton, linen and crepe de chine breathe beautifully in warm weather and can ensure comfort throughout the day.
Bring: A light jacket
Thundershowers and tropical storms are almost guaranteed on a visit to Florida, especially during hurricane season. Bring a light jacket or warm hooded sweatshirt to throw on when the weather gets nasty. It can also come in handy on a windy beach day or in the evening after the sun goes down.
Bring: A bathing suit
The beaches in Florida are some of the most beautiful in the United States, and due to its position on the Gulf of Mexico, the Sunshine State has some of the best warm ocean water in the country. Whether you're dying to hit the beach or prefer to lounge by a pool, don't forget to pack something to wear in the water.
Bring: Sunglasses
Gotta have them, especially if you're driving.
What to leave behind
Heavy knits. Yes, there's a chance of a chill or rain, but in the humidity, wearing wool feels like wearing a warm wet blanket. You're better off bringing a light jacket and a few layering pieces than lugging around bulky sweaters.
Tons of wires. Before leaving, find out what sort of chargers your electronic devices need and pare down to the smallest number of cords necessary. This will make packing easier and will help prevent leaving an errant charger or cord behind when it's time to head home.
Carry-on vs. checked luggage
If flying, taking a carry-on is ideal. If you know that your toiletries are TSA approved, try to fit everything needed for the trip into a bag that will stuff into the overhead. With the exception of formal wear, most clothing can be rolled up and flattened for easier packing. Traveling with a carry-on means having to pare down to the essentials, but ultimately it will save bag-check fees and time at the arrival gate.
Other considerations
Beyond clothes and electronics, don't forget to bring sunscreen, aloe vera and any other first-aid treatments necessary for sunburn. The sun in Florida is strong, and when frolicking in the waves, it's easy to forget how reflective the water can be. Avoid paying exorbitant prices for toiletries at shops in tourist areas. Pack your own.