What to Wear on a Motorcycle
By Kathryn Walsh

; Updated August 11, 2017
Great gear for a safe, stylish ride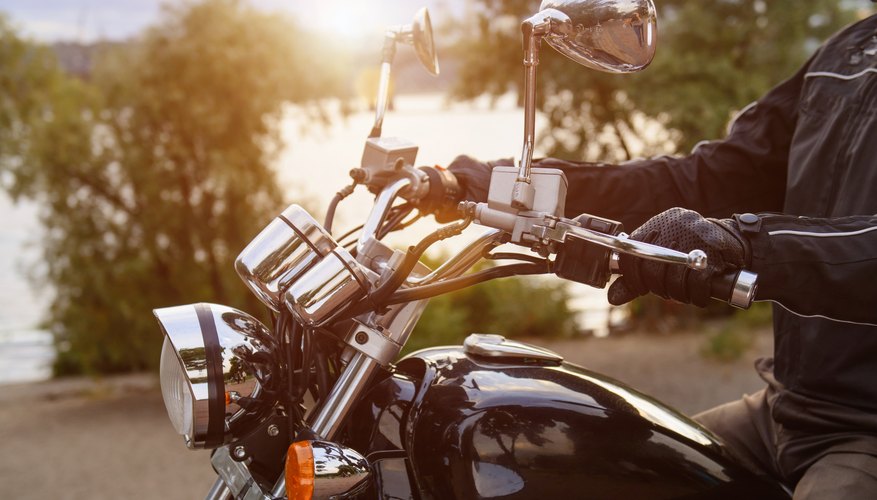 Big thrills come with big risks sometimes. That's certainly true of riding a motorcycle, whether you're the driver or a passenger. Even a skilled driver riding a safe bike on a dry day can crash. When that happens, the right protective gear can mean the difference between walking away and getting seriously hurt. So forget those riders you see cruising down the highway in shorts and sandals. Don the safe gear that serious riders wear, and you'll be ready to ride from Key West to Seattle in comfortable style.
Wear: pants and a jacket
Although the day may be hot, wear long pants and a jacket anyway. If anything goes wrong, your skin will thank you. Cover up with durable fabrics, like leather. Ideally, your jacket will be specifically made for motorcyclists. For optimal safety, you should also wear motorcycle body armor under your jacket. Body armor should be CE-rated, which means it meets European safety standards. American companies unofficially use the same standards.
Tip
Planning a motorcycle jaunt on your next vacation? If you'll be renting a bike, the company you rent from may include a lot of the essential accessories, like a helmet and gloves, as part of the rental package. Check what's included before packing for your trip. You can save a lot of suitcase space if you opt to leave those items behind and pick up rental versions when you collect your rented bike.
Don't wear: a dress or skirt
Oh, the potential road rash. The idea of riding in a leather jacket and flowy skirt may sound romantic and cool, but it's so dangerous. Save the fashion for later. On a motorcycle, pants really are your only safe option.
Wear: the right helmet
There are tons of types and styles of helmets on the market, so if you're a newbie rider looking for a first helmet, engage the help of an expert at your local motorcycle gear shop. You'll also need professional help determining the size and shape of your head, so you can get a helmet that fits perfectly.
If you're taking your first ride, you can probably rent a helmet from a tour company or local gear shop. However, it needs to fit snugly in order to be adequately protective. The staff at the rental shop should have a wide variety of helmets for you to try on, and should be knowledgeable enough to help you determine which one is right for you.
Don't wear: head-to-toe dark clothing
Cars are bigger than bikes, so the onus is on you to make yourself as visible as possible to car drivers. If you're planning to ride during any conditions other than bright sunshine, choose a jacket with reflective stripes, or rent a helmet that has reflective patches on it.
Wear: motorcycle boots
The boots that have been adopted by the cool and stylish still count as protective gear in the motorcycling world. You want sturdy, solid boots that don't twist and bend easily, because they need to keep your feet and ankles stable in a crash. The right boots also have non-slip soles so they stay in place on the pedals. Look for boots that extend at least to the ankles and ties tightly to stay securely on the foot.
Wear: gloves
Gloves tick a lot of safety-related boxes. They protect your hands from sun and wind, help you keep a firm grip on the handles even when your palms sweat and keep you warm on chilly days – a seriously good thing when you're flying down the road at 65 miles per hour. Choose gloves that completely cover your hands and extend past the cuffs of your jacket, so no skin is exposed in the gap.