What to Wear to a Rock Concert
By Kathy Adams

; Updated August 11, 2017
Trendy, traditional or totally unique: Rocking your concert outfit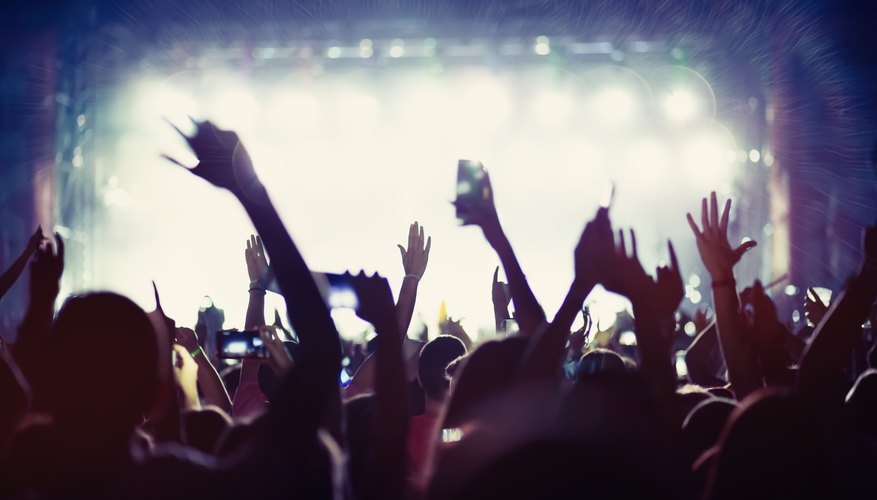 Dressing for a rock concert is all about showing off your unique sense of style while keeping comfortable, too. Find your funkiest band t-shirt, tight jeans and Converse kicks for a look that works well no matter who you're going to see.
Rock these clothing items
If rock-concert apparel had its own style name, it would be comfy chic. Rock concerts mean being on your feet for hours, which may include a lot of walking or dancing the night away. No matter what your outfit choice or gender, comfortable shoes are a must. Pair your favorite kicks, such as the ever classic black Converse All Stars or some Vans, with skirts, jeans or leggings. If you're comfy on your feet for hours in flats, those can work well too, preventing your feet from getting too hot.
Go for the timeless rock look with jeans or jeggings, a comfy t-shirt or tank top (band apparel optional) and a rock-worthy jacket such as a biker jacket, worn denim or a military/marching-band style jacket that's lightweight.
Boho-chic style works like a breeze and is perfect for outdoor hot-weather events such as Coachella. A flowy Bohemian dress paired with a floppy hat and sunglasses rounds out the look for an outdoor summertime event; wear the same dress to an indoor event too, to help you keep cool as the music heats up your dancing.
Leave these in the closet
Even if the concert happens in winter, leave the heavy sweater at home, especially if you plan to dance or if the concert is standing-room only. Venues packed with people can get quite hot in a hurry. Layering may work well on a hike outdoors, but it's less than ideal at a rock concert because you'll have to carry your cast-off clothing items for the rest of the evening.
Even if your fave rock artist wears Doc Martens, you may want to leave yours at home, unless you're used to wearing them for hours at a time on your feet. If the concert is in a large venue, you'll have to walk quite a distance from your car to the front door before even getting into the arena. Your seat may be a five-minute walk from the entry area, and that's a lot of time on your feet before the show even begins. The same applies for stiletto heels or brand-new shoes of any sort. Sore feet will make a concert experience less than enjoyable in a hurry.
Leave your best duds at home, as well. Cups of beer and other beverages seem to spill regularly at concerts, especially onto people not drinking said beverages. It's bad enough smelling like stale beer all night, but even worse if it's on a brand new expensive top you've never worn before.
Sweat happens, too, and it knows no age or gender limits. Wear breathable fabrics that dry quickly and that won't easily stain. Cotton and other natural fabrics are always a great choice, as they tend to allow more airflow than most man-made materials.
Whether to consider the weather
Weather issues are also worth paying attention to, for both outdoor and indoor events. If the concert takes place outside, note the forecast and dress accordingly. Some events at campgrounds or on fields can get quite muddy – think Woodstock. Wear old shoes that offer solid footing and that won't come off easily if you know you're in for a mud puddle or three. Your outfit should also be one that can handle some mud; no dry-clean-only outfits.
If rain is expected for an outdoor event and the concert will take place rain or shine, bring a rain poncho. Umbrellas may or may not be allowed, depending upon the venue, as these may block the view of other patrons. Check the venue's website for what is and is not allowed.
Bring a bottle of water, or an empty, refillable water bottle, to outdoor events that allow this. Sitting outdoors for hours on end can lead to dehydration, so it's important to hydrate yourself before, during and after the show. Check the venue's website to determine whether water stations will be available.
If the concert takes place on a snowy day, wear shoes or comfy boots that can handle it. Skip the flats or sandals unless a friend can drop you off at the venue door. Wear a lightweight coat to keep you warm from car to venue – something that can be easily managed during the event, rather than a puffy ski jacket.