What to Wear to the Kentucky Derby
By Judith K. Tingley

; Updated June 08, 2017
Mint juleps, jockeys and jaunty hats: Inspiration for your Kentucky Derby outfit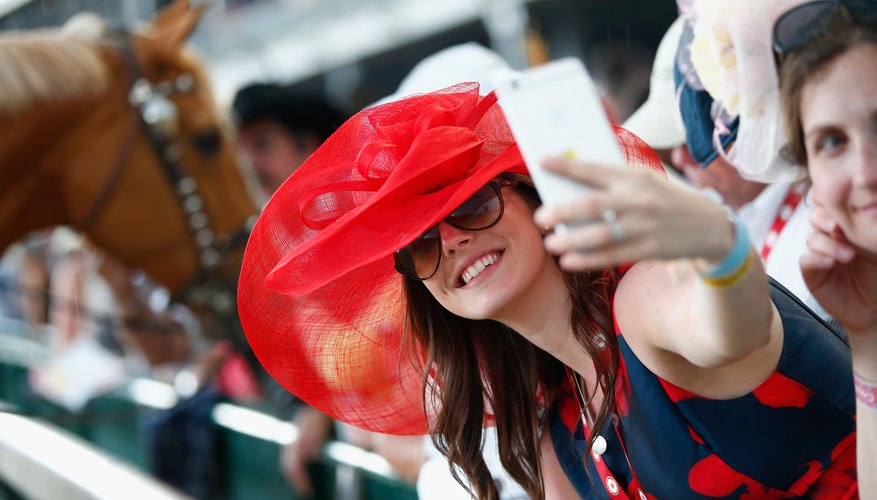 The Kentucky Derby isn't just one day or just one race or just one party; it's Louisville's way of welcoming springtime with something special for everyone.
Sounds like a plan
If you want to attend the events surrounding the Kentucky Derby – especially the race itself – make plans as soon as possible. Louisville is clogged with tourists for two weeks straight during the Derby festivities, some of whom have made their reservations a year in advance.
Tip: Consider seeking out a local B&B where the host can provide tips that only insiders know.
Where to go, what to do and what to wear
Thunder Over Louisville: Don't miss this opening event of the festival that is one of the biggest fireworks displays in the world. Seriously. It's a spectacular show, and every year the organizers work their tails off to make it even better. The fireworks are preceded by an air show featuring scores of planes performing thrilling acrobatic stunts and formations. Clothing is strictly casual, but not sloppy. Since the fireworks take place in the evening, take a light sweater or jacket and tie it around your waist in order to look chic until it's actually needed.
Tip: If Louisville's AAA baseball team, the Bats, is having a home game at Slugger Field, reserve seats, preferably along the third baseline. For the price of tickets, you'll get great baseball followed by one of the best views of Thunder Over Louisville in town. And without the crowds.
The Great Balloon Fest: This is a series of hot-air balloon events held over the weekend, with the Great Balloon Race as the crowning event. The race started back in 1973 with only seven balloons, but has grown to become one of the festival's largest and most popular events. After all, there's nothing quite as enlivening as the sight of hot-air balloons traversing a clear blue sky. Join in the cheery, colorful event by wearing a bright flowery blouse and modest shorts or capris.
The Kentucky Derby Pegasus Parade: The parade is an old and cherished tradition with floats, music, marching bands, celebrities and inflated balloon characters – in other words, just what a person would expect in a very special parade. Pegasus is, of course, the winged white horse from Greek mythology, and he's the star of the show. All over town, there are beautiful horse statues that have been painted by local artists. See how many you can spot. There are also many real horses prancing and strutting, and they are perfectly beautiful creatures, too. Those cheering on the sidelines along the parade route dress in everything from totally casual to over-the-top costumed, as if ready to step right into the parade themselves. Pick whatever feels comfortable; just about anything seems to go here and fits right in.
Tip: A Pegasus pin can be ordered online and taken along in a small purse. It's cheap and can be used for free admission to several derby events.
The Kentucky Derby itself
The Derby is one of the most crowded, diverse, eccentric, colorful, exciting events in the U.S. And yes, women are expected to wear a voluminous hat complete with an array of blooms and a dress that looks like it's ready for a party but can still withstand the dust and dander flying around Churchill Downs. What about looking breezy and beautiful in a full-skirted, wrinkle-resistant frock and some pretty walking shoes, like wedges, that give a little extra height without the discomfort of heels? Skip the sandals to avoid dusty toes. As for the gentlemen, take this opportunity to wear an outfit that shows off the real you, whatever that might be. Go bold!
Tip: If an enormous flowery hat seems to be just too much to carry off, try wearing a fascinator, an ornamental headpiece that isn't quite a hat, but is still truly impressive. A fascinator typically includes feathers, flowers and/or beads attached to the hair by a comb or headband.
Pack according to plan
The astute traveler will plan which events to attend, decide the best outfits to wear to each and pack accordingly. The truly visionary traveler will leave at least one necessary article out and purchase it while in Louisville. (Suggestion: Buy the hat, including a hatbox.) Whatever happens, do not crush your party dress, or consider purchasing that, too, while shopping in the city.
Louisvillians are in general an easygoing bunch, and it's okay to be casual for most of the outdoor events except the Derby itself, but do make an effort to be nicely put together. Tracksuits and ripped T-shirts simply do not show respect to the Louisville hosts who are putting on such a great show for their visitors. If plans include fancy restaurants, bring appropriately formal clothing, but bear in mind that Louisville has a multitude of moderately priced restaurants of distinction representing many national and regional cuisines where the atmosphere is somewhat more relaxed.
Tip: Louisville's fried chicken is some of the best anywhere. Try Shirley Mae's Café on S. Clay Street for scrumptious, crunchy chicken, plus a mind-boggling variety of sides and desserts.
What to pack when you're heading home
The first step of planning the trip home is packing right for the trip in. If flying, bring along an empty carry-on bag. If driving, leave half of the backseat empty. This is truly planning ahead intelligently, because no one comes back from Louisville without at least a few treasures. It's a marvelous shopping city, and a walk along Bardstown Road in the Highlands neighborhood tempts the visitor with many chic boutiques, galleries filled with work by local artists and artisans, bakeries and homemade candy shops, antique co-ops, record stores, bookstores and other enchanting places. Here is where the Derby-bound visitor can find a glorious hat just in time for the big event, as well as Derby memorabilia galore. Just one note of warning: During Derby season, with 1.5 million folks celebrating all over the city, driving in town may not be the best idea. Louisville has an excellent public transportation system, and strolling through neighborhoods like Old Louisville is so much more pleasant than driving.
Enjoy the visit. Louisville is one of the world's friendliest cities and welcomes visitors with open arms!