New Year's Eve Outfits
By Kathryn Walsh

; Updated December 19, 2017
Stylish, easy-going attire to ring out the old and ring in the new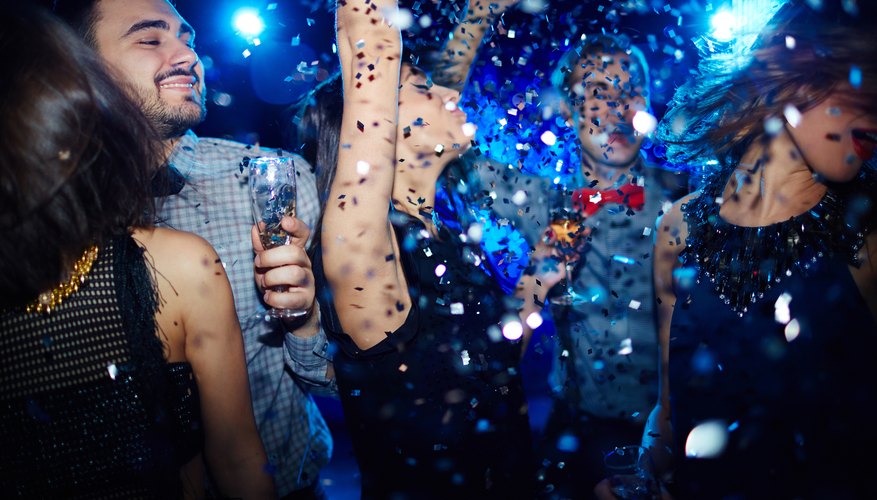 Whether it's a ballgown or that one stain-free pair of PJs, your New Year's Eve outfit should be at least a little bit special. The big night can be long and cold, especially if you're toasting the new year in New York City or a ski chalet. Aim to incorporate some glitz and glam into your ensemble, balanced with just enough warmth to make it all the way to midnight, and beyond, in comfort.
Must have: an unfussy outfit
Focus on having fun and finding someone to kiss at midnight, not adjusting your clothes. Wear black pants or dark jeans and a slim dress shirt or a sparkly top. Want to go a little more glam? Add a tailored blazer or leather jacket. A knee-length sequined dress or classic little black dress are also timeless New Year's choices, appropriate for virtually any type of celebration.
Must have: a festive accent
New Year's Eve is a much-photographed event, so when you're grinning into the camera with your partner or pals, you don't want to look out of place. Plus, the night just feels like it's charged with energy when you're wearing something special. Think: metallic bow ties for men, sequined headbands and red lipstick for women, and oversized New Year's glasses and party hats for all.
Must have: easy, portable layers
Unless you're ringing in the New Year from your couch, your holiday plans will probably take you through a wide range of temperatures. You want to be warm enough on the way to your destination, cool and comfortable while you're in a crowded room of people, and then warm again when you spill out into that first burst of January air. Aim for layers that you can easily adjust as the temperature changes.
Wear a sequined cardigan over your party dress or wrap a pashmina around your shoulders. Bring along a big, chunky scarf to wrap around your neck, face and shoulders as you walk from the car to the party.
Tip
New Year's Eve celebrations tend to involve wine, crowds, messy food and lots of sweating, so wearing light colors sometimes backfires. You'll look photo-ready if you wear black, gray or navy clothes and dress up your outfit with colorful or metallic accessories.
Leave behind: bulky coats
Unless your New Year's plans involve watching the ball drop in Times Square or some other outdoor activity, your best bet is to leave big puffy coats at home or in your hotel room. (If you're driving, bring it and leave it in the car, just in case you get stranded somewhere.) Leaving it behind means you won't have to lug it around or get stuck in a long coat-check line after midnight.
Tip
New shoes and New Year's don't mix. Wear shoes that you know are comfortable enough to allow you to stand, walk and dance for hours.
Leave behind: uncomfortable undergarments
Start the new year as you intend to continue it: in comfortable underwear. In a dark bar or crowded party, no one's going to be able to tell if you're wearing cotton briefs or organ-squishing shapewear.
New Year's Eve considerations
If you're traveling for New Year's, suitcase space may be at a premium. Think about choosing an outfit that you can wear to a nice dinner or a show, too, so you don't have to pack multiple dressy outfits. But keep in mind that bars, clubs and parties tend to be very hot and crowded on New Year's Eve. By the end of the night, your outfit may be too sweaty to wear again without a wash.