What to Wear in Puerto Rico
By Jodi "Jato" Thornton

; Updated August 11, 2017
Tropical trends: fun and functional clothing for a Puerto Rico getaway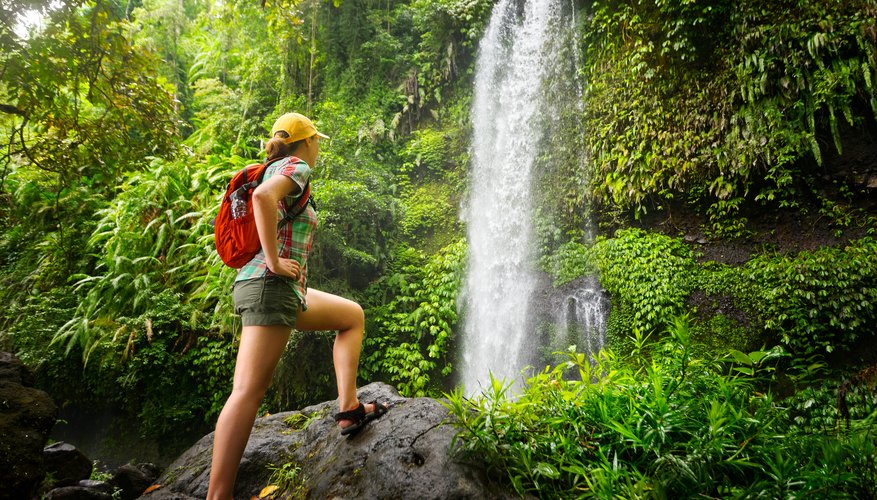 A trip to Puerto Rico holds all the excitement of getting away to an exotic island destination without having to hassle with a passport. It's a commonwealth of the United States, which also means that the official currency there is the dollar, eliminating the need to exchange money when your plane lands. American mainland fashion is also perfectly acceptable in Puerto Rico, making it easy to pack for your trip.
Dress for the weather
Overall, Puerto Rico has a mild tropical climate suited for shorts and short-sleeved tops any day of the year. Light colors and quick-drying breathable fabrics provide comfort in a climate that can reach into the 90s. Combined with humidity of 65 to 79 percent, temperatures might feel as hot as 112 degrees F or hotter according to the heat index. In San Juan, you can count on the temperature never dipping below 65 degrees with about 56 inches of rain annually.
If you're planning to hike in the El Yunque Caribbean National Forest, you might want to bring pants with zip-off legs, a fleece hoodie and breathable rain gear with taped seams. Pico del Este in the forest gets more than 174 inches of rain per year, and temperatures dip into the 50s from January through March.
Dress for the beach
Feel perfectly comfortable wearing the same things for a Puerto Rican beach that you'd wear for a day at a resort beach in the lower 48 states. It's perfectly acceptable to walk from the beach to the street or to your nearby hotel in your swimwear, but you'll fit in and look fabulous if you cover up with a stunning sarong, oversized shirt or sundress. Accessorize with fashionable flip-flops, oversized hat and sunglasses. Pack at least two swimsuits if you plan to spend a lot of time at the beach, or visit one of the many beachwear shops and swim boutiques in San Juan to dress in the latest fashion.
Dress for a night out
Unless you're planning simply to snuggle into your hotel room after the sun goes down, you'll want to pack for nights on the town. Puerto Rico's rich nightlife includes nightclubs and upscale restaurants, so pack a nice cocktail dress or two and a set of versatile high heels. Tuck in some sassy flats that will fit in your purse to change into when your feet get tired. Men should wear slacks with a collared shirt such as a tropical print shirt, camp shirt or traditional guayabera. Top off your outfit with a pava hat or Panama fedora for some extra panache.
Flying to Puerto Rico
With lightweight comfortable clothing forming the bulk of your wardrobe, it's easy to pack what you need in carry-on luggage. Avoid bringing bulky items like coats or too many pairs of shoes. Wear your dressy heels or dress shoes on the plane and use the extra space in your carry-on for sandals and athletic shoes. Clothing item prices in Puerto Rico run from about the same to about seven percent less than you'd pay for similar items in Miami, so if you're planning to upgrade or add to your wardrobe, leave room in your carry-on for extra items on your return trip.