What to Wear in the Snow
By Kathryn Walsh

; Updated August 11, 2017
Baby, it's cold outside. The best snow gear to keep warm and comfortable.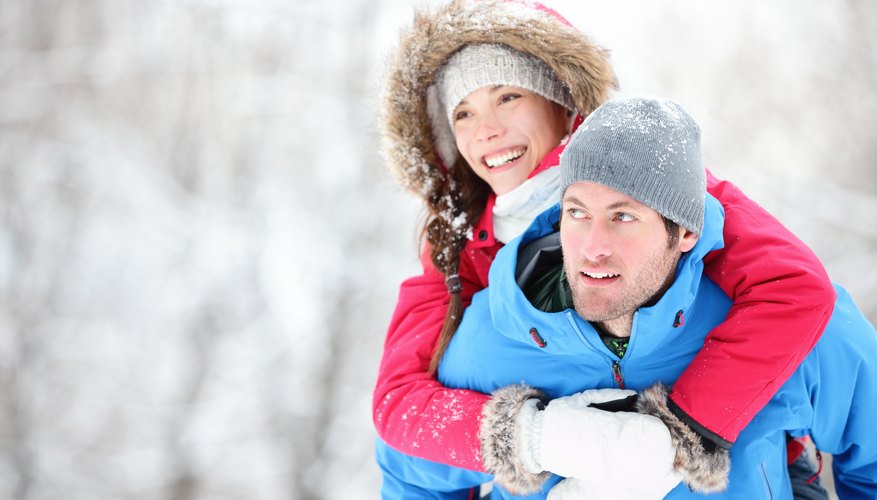 In the movie "White Christmas," Rosemary Clooney sings, "I want to wash my hands, my face and hair with snow." Clearly, she had never actually felt snow. It's cold! Like, really, really cold. It's also beautiful, and incredibly fun to play in, provided you're wearing clothes that are built to keep you cozy and dry. So before you hit the slopes in Tahoe or take a wintertime tour of Québec City, stock up on warm, waterproof gear.
Start with: a warm, dry base layer
In case your outer layer lets any snow get through to your skin, wear a base layer of clothes that are designed to stay dry. Opt for woolen long underwear, fleece or synthetic fabrics. On really icy days, or if you're not planning to wear snow pants, layer long underwear under a pair of warm pants.
Then add: winter shells
Function matters more than fashion when it comes to snow gear, so nix your stylish-but-impractical peacoat or other jacket. Wear insulated pants and a coat made of waterproof material. Typically, parkas and snow pants fit the bill. You can find appropriate protective shells from ski shops and online retailers that serve skiers and snowboarders. If you're planning to attempt any winter sports, you may prefer overall-style pants, which won't fall down if you do.
Pull on: snow boots
Boots that weren't designed specifically for snow probably won't keep your feet warm and dry. Choose fully waterproofed snow boots that go at least to your ankles, or preferably to mid-calf. Wear them with thin wool or synthetic socks.
Finish with: waterproof or water-resistant accessories
Gloves, a hat and a neck protector are all essentials for snowy places. If you're just planning to walk around in the snow, pieces made of fleece should suit you fine. You may prefer mittens over gloves, because they'll keep your hands warmer. But if dexterity is your primary concern, choose gloves. For snow sports, wear insulated waterproof gloves, and choose a neck gaiter instead of a scarf. It will keep your neck and chin warm without budging or unfurling.
Don't bother with: anything cotton
If you're just strolling from your hotel to a museum down the street, you can certainly wear jeans in comfort. But if your plans involve actually making contact with snow, or being out in the stuff for an extended period of time, avoid all things cotton. When it gets wet, it stays wet for a long time, and it feels heavy and cold.
Don't bother with: anything that needs adjusting
A skirt that rides up, pants that slip down or anything that tends to itch is a bad choice to wear in the snow. Once you have on all your gear, getting access to your innermost layers of clothing is hard to do, at least without pulling off your gloves and exposing your fingers to the cold air. Wear clothes that will stay put and stay comfortable.
Traveling with snow gear
Snow boots don't fold well, and one warm parka can take up half a standard suitcase. Packing for a snowy trip requires some creativity, and it may mean paring down the rest of your wardrobe to make more room for your cold weather essentials.
First, fold and roll all of your smaller pieces, like undergarments and T-shirts, and stuff them into your boots to maximize space. Place your boots into your suitcase first.
Next, invest in space-saving bags, which help you condense your bulky pieces into smaller cubes. (Vacuum-seal bags get really small, but without your trusty vacuum in your hotel room, you may not be able to fit your winter gear back into your suitcase at the end of the trip.) If it's cold in your home city, save suitcase space by wearing your parka to the airport and stuff it into the overhead compartment for the flight.