What to Wear to a Music Festival
By Judith K. Tingley

; Updated August 11, 2017
Jazz Fest to Coachella: Get your groove on with comfy, classy clothing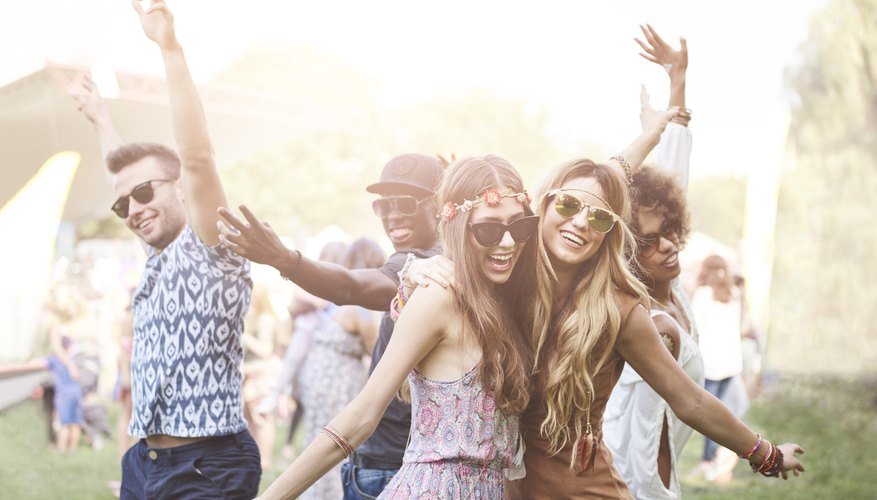 Heading for a music festival this year? Not even the press of crowds and unpredictable weather can derail a determined fashionista!
It's a music festival, not a runway
A music festival is congested, filled with hot and sweaty people. The weather can be steaming hot in the daytime and freezing cold at night. The true fashion maven understands that a large part of style is dressing appropriately for the occasion. and a music festival calls for casual, practical attire with enough zip to stand out in the crowd.
Stay compact
Staying "compact" means to occupy as little space as possible, because the less space a person occupies, the easier it is to navigate through crowds. This gives the ladies a reason to wear cute little t-shirts and shorts if they wish. Keep the t-shirts a little on the loose side; a slightly loose fit is simply more comfortable. Denim is a good choice for shorts, again for comfort's sake but also because denim is easy to clean quickly if necessary. The shorts should be long enough to allow for bending over gracefully and sitting on damp grass without fear. Full-length light-weight trousers are, of course, another option to consider; just don't wear a pair long enough for you or others to trip over.
Stick to light colors; they're cooler – way, way cooler than the folks walking around dressed all in black and soaking in sweat. Try out a pretty pastel or neutral pattern for your shirt; stray stains and splatters are less noticeable on a pattern. A bit of colorful embroidery on the shorts will make them special, especially if hand-sewn.
No matter how hot it is, take along a light jacket because it will get cold at night. Even in the desert. Guaranteed.
Don't wear jumpsuits, rompers, leotards or any clothing that forces you to partially disrobe in order to use the port-a-potty, Using a port-a-potty is enough trouble as it is.
Accessories can make the outfit
Even the thickest hair cannot protect your scalp from sunburn after several hours under the rays. Be both pretty and practical in a soft, colorful scarf. A large square scarf can be folded in half and worn as a triangle tied in back or tied in front and tucked in for a turban effect. Or go for a slightly zany I Love Lucy look by tying it on top.
Don't forget sunglasses that provide optimal UV protection. There are a lot of styles to choose from, so go as wild as you want.
Stay clear of heavy, clunky jewelry that will weigh you down or might get caught in something.
Men behaving stylishly
Guys may tell you they're just there for the music. Of course, the music is the main reason for the festival in the first place, but it doesn't hurt to look good, either. First, let's talk about shorts. Shorts that end mid-thigh, right at the leg's most muscular point, are the most flattering for most men – board shorts and mid-calf pants make men look shorter than they really are and emphasize the thinnest part of the leg.
Bold, printed shirts look great with both shorts and jeans. They can even be worn unbuttoned, as long as the abs on display are up for it.
These shoes are made for slogging
Never underestimate the importance of practical shoes, especially at a multi-day music festival during which these shoes will be walking, running and possibly getting stomped on.
Practical shoes, however, do not have to be frumpy shoes. There is a wide variety of sharp footwear that can be successfully worn throughout the rainiest, muddiest festival imaginable. Make sure they have sufficient arch support. Make sure they fit and stay comfortable for hours at a time; do not wear a new pair of shoes to a festival. Sandals can work, especially old favorites like Birkenstocks. Waterproof sneakers are a great idea, too. Flip-flops are not a good idea at all. Wear socks and bring an extra pair – unless you like the feel of dank, drenched socks squishing around inside your shoes.
Little things mean a lot
No one calls them fanny packs any more. They are now respectable and are known as money belts. Whatever they're called, wear one up front so it will be easy to reach into but not so easy for others. It should be big enough to hold not only cash but any other small, flattish items that need to be instantly accessible.
It's best to wear a cross-body bag too, for all the extras that won't fit into the money belt. These bags are back in fashion again, and we love them. They're practical, secure and come in a dizzying array of colors, styles and sizes. Pick the right size to hold everything required, keeping in mind that as the day gets longer, the weight will get heavier.
Either the money belt or the cross-body bag or both should be waterproof for those essentials that can't bear getting wet.
A very large part of being a festival fashionista is keeping fresh. A person could be wearing the classiest outfit from the classiest designer and still be fashion-backward if she's sweaty and smelly and bedraggled. So be sure to take along cleansing essentials.
"No-rinse" cleansing products are absolutely essential. For example, disposable no-rinse bathing towelettes come in packages of eight and unfold to a size large enough to swipe a person clean. There are several brands available. Please note that these are products made for adults and are infinitely superior to baby-wipes. No-rinse shampoo products are also widely available. Many of these are "dry shampoos" but these can leave a residue of dandruff-like flecks clinging to the user's hair – not attractive. Instead, try a liquid, no-rinse shampoo. It lathers and leaves hair clean with no residue. All that's required is a small towel to remove the lather.
It's in the bag
Be thankful that AA batteries still exist and can be used to recharge cell phones via an "instant cell phone charger" made for various models by the Energizer company. Even so, expect the cell phone to fail at some point. Stay calm. People survived for thousands of years without them. You can, too.
Bring an LED light source, just a little one to find friends, keys, the contents of your money belt, or the closest port-a-potty.
Just to be on the safe side, pack one of those tiny first-aid kits that can be found in most pharmacies.
Don't forget the sunscreen, and remember that it's really all about the music. Enjoy!