What to Wear on a Road Trip
By Kathryn Walsh

; Updated August 11, 2017
A map for comfort and style when you're traveling by car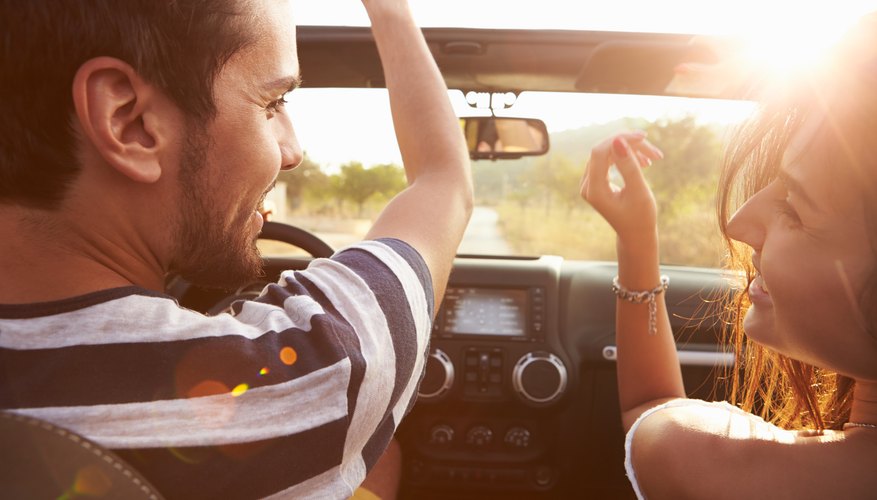 Create a playlist of Motown hits and power ballads, stock up on trail mix and do some back stretches: It's road trip time. Whether you're on a mission to take the most efficient route to the Grand Canyon or you're planning to set out on the open road with nothing but time, dressing for comfort should be your first objective. Even traffic jams and snoring road trip partners can't ruin your good time, as long as you're dressed to enjoy the ride.
Wear: sneakers or slip-ons
Save the flip-flops for the hotel pool and the dress shoes for your first night out on a new town. For the drive itself, comfortable closed-toe shoes are best, for a few reasons. For one, your toes will stay cozy and warm, even if those foot-level vents are blasting cold air. This is a safety consideration, too. Shoes with heels don't give you great control and maneuverability with the pedals, and flip-flops can get wedged under pedals or floor mats.
Skip: anything tight
If your jeans cut into your waist when you sit down for a minute, imagine how you'll feel after eight hours in the car. Before pulling on any piece of clothing, ask yourself how it will feel by the end of the day. If the answer is anything other than "just as comfortable as when I put it on," leave it at home or pack it in your suitcase to wear on non-driving days.
The same goes for itchy undergarments, tops that always ride up or bottoms that always roll down.
Tip
Be vigilant about sunscreen. You may be in a car, but you're still in the path of the sun's rays. Reapply at every rest stop, focusing on the side of your body that's closest to the car door. If you're the one driving, ward off the headaches and wrinkles caused by squinting by wearing sunglasses.
Wear: wrinkle-resistant casual pieces
By the end of a long day in the car, you may feel rumpled and ragged, but you don't have to show it. Wear casual, easy pieces in fabrics that resist wrinkling, such as wool or polyester and other synthetics. Drawstring pants with a wrap top or short-sleeved polo shirt, a long sundress or leggings and a tunic are all comfortable options that don't look like gym wear.
Skip: your dress-to-impress ensemble
Who would you rather dazzle with your trendiest or most flattering outfit—strangers at gas stations across the country or your friends? If it's the latter, save that perfectly tailored shirt or those new designer jeans for the days when you'll actually be out seeing attractions and taking lots of photos. On driving days, prioritize comfort. You can always toss on a motorcycle or denim jacket before posing for roadside shots.
Wear: a zip-front sweatshirt or sweater
Pulling on a pullover top when you're riding in a car is awkward at best. Doing it when you're the driver? That's downright dangerous. Even in the height of summer, you may get cold in the air-conditioned car or at chilly roadside restaurants, so it's wise to bring a warm layering piece that you can maneuver in and out of while seated.
Tip
It may be sunny and warm where you start out, but you can find yourself in an entirely different climate by nightfall. Spare some trunk space for a warm coat, boots, gloves, an umbrella and some extra food and water, just so you're ready for anything.