What to Wear Canoeing
By Meg Jernigan

; Updated August 11, 2017
The best clothes and personal gear for a canoe outing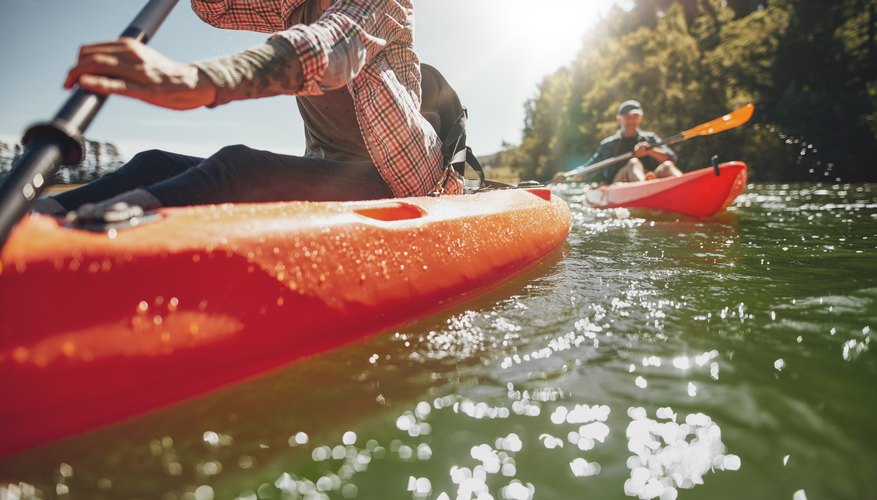 You realize, as you launch your canoe and waves ripple against your ankles, that maybe your brand new Jimmy Choo slip-ons weren't the best footwear choice. You decide to make a better plan next time. Just be sure, when that day comes, to take more than air temperature into account. Keep in mind that you may be spending time in the water, too.
Must-wear canoe trip clothing
Clothing: Comfortable clothes are fine for recreational summer canoeing on flat water. Choose fabrics that dry quickly, like synthetic blends, and layer them so that you can add or subtract clothing as the weather changes. A wet suit and splash jacket keep paddlers warm and dry in the winter. If you don't own a wet suit, choose wool clothing that will keep you warm even it if gets wet.
Shoes: Shoes get wet and dirty when you launch the canoe or portage around an obstacle. An old pair of sneakers or a pair of river shoes are the best choices. When it's cold, consider neoprene booties. Whichever you choose, make sure that your shoes lace tightly or strap firmly so they won't slip off and leave you barefoot if you go overboard or get stuck in the mud.
Sun protection: Remember that there's little protection from the sun when you're on the water, unless you're paddling a shady stream. Wear a ball cap or broad-brimmed hat with a strap that will stay on your head on windy days. Add a layer of sunscreen, and reapply it as the day progresses, or if you get wet. Some fabrics are better at blocking UV rays than others, but don't buy anything that's a tight fit; stretching will decrease its effectiveness. Most sporting goods stores sell sun protection clothing, but you needn't select function over form. Designer clothing lines sell T-shirts, swimwear and sundresses.
Leave these at home
Jewelry: Leave the bracelets, necklaces and rings at home. They may snag on something and keep you scrambling to extricate yourself, or they may slip off and sink to the bottom. If you must wear a watch or a fitness tracker, choose a water-resistant model with a synthetic band that can withstand splashing from paddles or a quick dunk in the water if you capsize.
Cotton: "Cotton kills" is an adage used in the outdoor community. Once cotton gets wet, it takes a long time to dry and may leave you cold, exposing you to hypothermia. It's also not a good choice as part of your base layer because it doesn't wick perspiration away from your body. Steer clear of cotton-polyester blends and some synthetics like rayon, TENCEL and viscose.
Cold weather paddling
Layering is even more important in cold or inclement weather. Start with a base layer made of fabric that will wick away perspiration. Top with a layer of comfortable, warm, lightweight clothing. The outermost layer should offer protection from the elements. It doesn't have to be big or bulky, it just needs to keep rain away and act as a windbreaker.
Other considerations for paddlers
Carry a personal flotation device, even if you're a good swimmer. They're not all bulky orange life vests anymore. Sleek versions made in multiple colors are fashionable and safe.
Wear a loud whistle when paddling alone in case there's a need to signal for help. Sound carries better across water.
Rain pants keep you dry when it's wet outside, and waterproof gloves help grip the paddles. Just make sure they're tight-fitting and won't slip.