What to Wear to a Bar
By Kathryn Walsh

; Updated August 11, 2017
Stand out or blend in? Choosing the right style when you go out for a drink.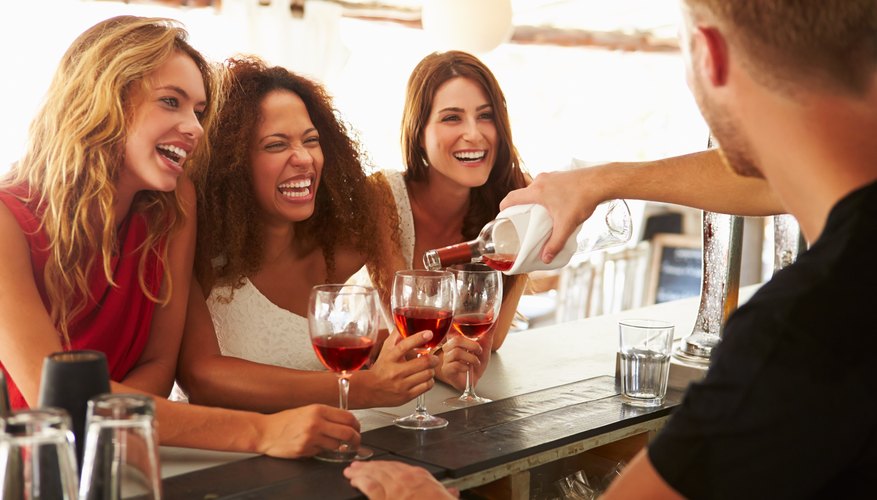 Last call to pick out the perfect bar; it's time to hit the town. Or, if you prefer to venture off the beaten path, maybe it's time to hit the tiny, centuries-old pub on the outskirts of Dublin. Wherever you're going and whatever you're sipping, dressing up for a bar visit requires achieving the perfect mix of comfort and style.
Watch the weather
Before you pick your perfect bar-hopping outfit, check the forecast. If you plan to sample a bunch of bars but the night promises to be rainy or snowy, that'll affect your outerwear and footwear decisions. If it does look like it's going to be a wet or cold night, stick with flat, non-slip shoes and bring a warm coat. After a few drinks, your body might not feel cold when you step outside, but you should still have warm things on hand to keep yourself safe and comfortable.
Wear: jeans
They're a bar-going staple for a reason. Stow your cash, ID and a phone in your pockets and make a style statement at the same time. Opt for dark, skinny jeans if you want to look classy and polished, or wear ripped and slouchy jeans to get that just-off-the-beach thing going. Frankly, any pair of jeans that you love and feel great in is a good choice for a bar.
Tip
If you're going to a swanky nightclub, make sure to check the dress code first. Some such spots have strict rules about jeans, hats, message T-shirts and other style statements. Clubs in major cities tend to be the strictest.
Wear: a top you love
Rather than focusing on the specific type of top that's suitable for going out (should you dress up with a collared shirt or sequins, or go casual in the perfect slouchy white T-shirt?), reach for the one shirt that makes you feel the most attractive and comfortable. Unless you're going to a nightclub with a strict dress code, you can make your own call about what type of shirt to wear. Just make it something that makes you feel great.
Skip: lots of layers
Unless you're drinking hot toddies in a ski bar, you probably don't need to bundle up. In fact, bars tend to be warm, thanks to all the people sharing one confined (and usually poorly ventilated) space. Avoid wearing sweaters on top of shirts on top of tank tops unless you tend to run cold.
Tip
Trying out a new hot spot for the first time? Get a sense of its vibe and general dress code by checking its online reviews on popular sites like Yelp. Scroll through photos to see how previous visitors have dressed for the place.
Wear: comfortable shoes
Reality check: no one's looking at your shoes in a bar. In fact, unless you're literally dancing on the bar itself, few people will be able to see your shoes. Most bars are dark. Crowds obscure the floor view even more. And although you may have a vision of curling up in a corner booth, there may be no available seating in your chosen establishment. Choose shoes that you can comfortably stand in for hours, like loafers or ballet flats. If you want to wear heels for extra height, make them wedges with plenty of support.
Skip: a huge purse
Ladies, that massive tote may hold everything you need to keep your life running during the day, but at night it's just a hazard. If your purse is obtrusive enough to knock drinks out of other people's hands, it's too big. Carry your wallet like a clutch or transfer your cash, phone and lipstick into a smaller cross-body bag.
Tip
Amp up your look if it's a special occasion, like New Year's Eve. A sparkly cocktail dress or a dress shirt, blazer and jeans fits the bill.
Wear: a bold accessory
Going out should be fun! Take a chance and jazz up your normal look with something special. It might be a bold lipstick, a sequined headband or a piece of studded jewelry. Granted, this is harder to pull off for guys. But if you've always wanted to sport a fedora or try suspenders, a night at a bar is the perfect time to take a risk, especially if you're far from home.