Where to Park in Miami Beach
By Eric Mohrman

; Updated August 11, 2017
Pick the best place to park for Miami Beach playtime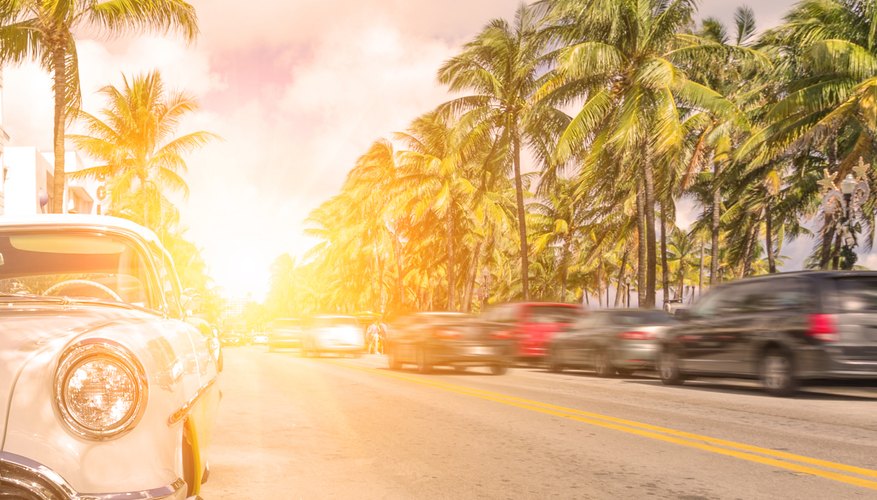 A bustling resort city with tons of restaurants, bars, nightclubs, shopping, entertainment – not to mention the Atlantic shoreline, the wild South Beach neighborhood and the famous Art Deco Historic District – Miami Beach attracts hordes of locals and tourists every day. It's a separate city from Miami, located on a barrier island just across the Biscayne Bay from the most populous city in Florida.
Because Miami beach is so busy and such a developed urban setting, predictably, parking can be a pain. And the traffic is usually crawling, with countless pedestrians wandering around and even dashing out across the street with some regularity.
Don't get stuck driving around searching aimlessly, hoping to luck out while losing valuable leisure time. And who wants to end up hoofing it 14 blocks to their destination in 90 degrees and 90 percent humidity?
So, here's what you need to know before you go by car to Miami Beach.
Staying at a Miami Beach hotel?
If so, some have parking available – but for an extra fee. Also, it's usually not self-parking; you'll have to drop off and pick up your vehicle with a valet. Ask a customer service representative from your hotel ahead about its parking situation. The convenience is probably worth the extra cost.
The commercial area of Miami Beach is highly walkable. If you're not going too far and you can handle the heat, leave your car parked at the hotel during your trip. Plus, there are four trolley routes that run all around South Beach, Middle Beach and North Beach. They're free, they come by about every 10 to 15 minutes, and they start early in the morning and run till midnight daily.
You probably need to take your car out only if you're heading over to Miami or exploring other places beyond Miami Beach.
Metered street parking
There's metered street parking throughout Miami Beach, but it's not nearly enough for all the vehicles. If you happen to come across a spot near your destination, and you need to park for only a few hours or less, it's a quick and easy option. Depending on where you are, rates range from $1 per hour in North Beach up to $4 per hour in South Beach. Keep an eye on the posted time limits though, which vary.
Public parking lots and garages
Generally speaking, the city-owned lots and garages are the cleanest and cheapest in Miami Beach, so opt for them over private ones. Garages or covered lots are highly recommended, as the interior of a vehicle gets insanely hot very quickly in the South Florida sun.
The Miami Beach Parking Department is the largest provider of public parking in the city. It operates 66 surface lots and 10 garages, and there's bound to be one close to your destination. Find a full list of locations and rates on the City of Miami Beach website. Many city lots and garages cost only $1 per hour, and many have discounted flat rates for full-day parking.
Just to give you a few ideas, below are the four largest city garages or lots in Miami Beach's three main zones. If the highest capacity options are close to where you want to be, head straight to them for the best chance of finding available spots when you get there.
South Beach:
17th Street and Pennsylvania Avenue Garage (1,490 spots)
16th Street and Collins Avenue Garage (820 spaces)
City Hall Garage at 18th Street and Meridian Avenue (667 spots)
7th Street and Collins Avenue Garage (659 spaces)
Middle Beach:
42nd Street and Sheridan Avenue Garage (633 spots)
46th Street and Collins Avenue Lot (452 spaces)
42nd Street and Royal Palm Avenue Lot (199 spots)
53rd Street and Collins Avenue Lot (143 spaces)
North Beach:
72nd Street and Collins Avenue Lot (313 spots)
75th Street and Collins Avenue Lot (111 spaces)
80th Street and Collins Avenue Lot (100 spots)
83rd Street and Collins Avenue Lot (100 spots)
A word of caution...
Miami Beach is known for its particularly aggressive, quick-to-pounce towing. So much so that there was even a reality TV show about it that ran for four seasons. Don't try to sneak into a private lot, don't park in a non-spot even for just a minute or two, and don't park in a business' lot and leave your car there to run into a different business. Even if you patronize the business whose lot you parked in, if you're spotted heading elsewhere, you're likely to get towed.