Why Is Chicago Called the Windy City?
By Christine Bartsch

; Updated August 11, 2017
All about Chicago's stormy nickname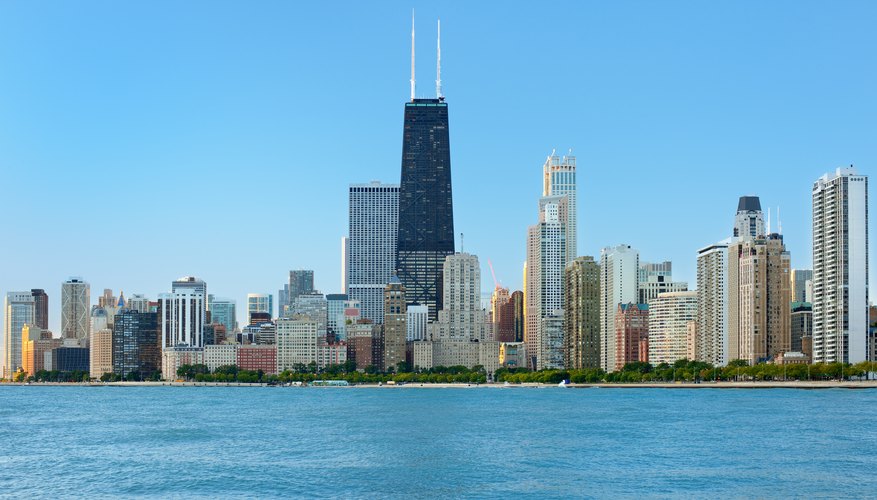 Does Chicago's most famous nickname have you bracing for brisk breezes blowing off Lake Michigan? Never fear. With wind speeds averaging between eight to 10 mph, Chi-Town doesn't even rank in the top 10 of the United States' windiest cities. So why is Illinois' largest metropolis nicknamed the Windy City? The blustery origins of this moniker may just surprise you. Read on to discover the nickname's century-old history and how Chicago continues to embrace the epithet.
The Windy City's stormy origin story
The conflict over the provenance of Chicago's Windy City nickname might just be fiercer than any gales gusting through Chi-Town. Some attribute this tempestuous title to the speed and frequency of the winds that whip through the city. Another popular tale attributes the nickname to Chicago politicians' reputations as wind bags filled with hot air. Historical evidence suggests that both stories may have some truth in them.
Evidence shows that the term Windy City was already in use as early as the mid- to late-18th century. Documentation of the moniker's usage has been discovered as early as 1885, in reference to Chicago's lake gales. These facts serve as proof positive for supporters of the meteorological anecdote.
Those who prefer the political origin story cite an 1890 article written by Charles Dana, the editor of the New York Sun. At that time, both New York and Chicago were in contention to play host to the 1893 World's Fair. Hoping to sway readers to support New York's bid over Chicago, Dana's article advised, "Don't pay any attention to the nonsensical claims of that windy city. Its people could not build a World's Fair even if they won it."
Aside from the Dana story, Chicago – as the largest metropolis in the Midwest – often played host to political conventions in the late 1800s. Stories also persist that Chicago's politicians from that era were known as long-winded. Given the timeline, it's quite possible that Charles Dana was the first to give a less-than-flattering twist to Chi-Town's blustery nickname.
However it came about, Chicago and its residents have embraced the Windy City moniker. Today, tourists and citizens celebrate the contested nickname by frequenting eponymous businesses and attending one of several Windy City events.
Taste and play in the Windy City
Fuel up to battle the breezes with a meal at the Windy City Café, on Chicago Avenue just off the Kennedy Expressway. The restaurant serves a selection of classic diner dishes, from pancakes to burgers for breakfast, brunch and lunch.
If you're craving a treat, swing by Windy City Sweets on Broadway in Boystown – less than a mile from Wrigley Field. The candy store offers more than 1,200 varieties of treats, from hand-crafted chocolates and classic candies to ice cream and sorbet.
Once your taste buds are sated, see the city on foot, by bus or on a river cruise hosted by Windy City Connection. The destination management company offers a wide range of half- and full-day tours that immerse you in Chicago's storied history while giving you the chance to see the sights.
For a bit of culture, take in a show at the Windy City Playhouse. The lobby bar offers wine, beer and specialty cocktails to enjoy, before and after the performance if you stay to mingle with the artists.
Celebrate in the Windy City
The Windy City nickname also endures as the name of several major events held in Chicago. Celebrated annually each July, the Windy City Smokeout attracts the top pitmasters from across the country for a three-day festival that includes country music, beer and BBQ.
On the third Saturday in August, delve into Caribbean and West Indian culture at the Windy City Carnival, which features exotic cuisine, colorful crafts and parades of masqueraders. August also plays host to the annual Windy City Rubber Duck Derby fundraiser for Special Olympics Illinois. Adopt a single duck or a whole flock for a chance to win a grand prize; then watch them race down the Chicago River, or enjoy family entertainment at the Wrigley Building.
Wind down from summer in early September at the Windy City Wine Festival. Each admission comes with a tasting glass and tickets to sample 20 of the more than 300 local, national and international wines served up at this two-day event. While you're imbibing, enjoy live music, cooking demonstrations and signature dishes from top Chicago restaurants.