Why Do They Call New Orleans the Big Easy?
By Kathryn Walsh

; Updated August 11, 2017
All about New Orleans' favorite nickname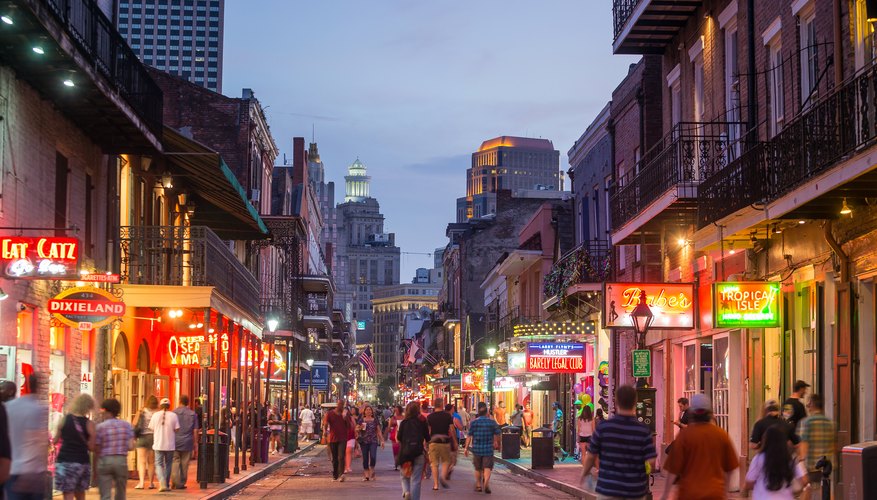 The beignets are hot, the drinks are cold and the parades are legendary. New Orleans has more than earned its reputation as a party town with a heritage and vibe unlike that of any other U.S. city, and its nickname is a reflection of its laid-back spirit. But although the nickname is now synonymous with New Orleans, "the Big Easy" dates back to only the early 1970s, when a local columnist was inspired by the moniker of another famous big city.
Betty Guillaud and the Big Apple
It was New York City, with its notorious fast pace and 24/7 action, that inspired the coining of the Big Easy. A columnist named Betty Guillaud, who wrote for local newspapers The States-Item and The Times-Picayune, first used the term in a column sometime in the early '70s. The exact date and text of the piece have been lost to history, but the name stuck. Guillaud said that she used the phrase around the same time that "the Big Apple" became a widely used nickname for New York City. The Big Easy was a play on the phrase, reflecting the laid-back and more fun-focused atmosphere of New Orleans.
Although Guillaud popularized the term, she wasn't the first to use it. The city is said to have once been home to a jazz club called Big Easy Hall, and there may have been multiple clubs that used that name in New Orleans' earlier days. But it was Guillaud's work that cemented the name into the consciousness of city residents and tourists alike.
Tip
Want to get in the New Orleans state of mind before your trip? Check out "The Big Easy," a 1986 cop movie starring Dennis Quaid and filmed in New Orleans, or the short-lived mid-1990s TV show of the same name.
Having big fun in the Big Easy
Sometimes visitors anticipate that going to New Orleans, with its reputation for being party central, will be like entering a never-ending frat party. But the city has tons to offer beyond beads and beers.
Because music is a huge part of the fabric of New Orleans, your visit is not complete until you hear some live jazz. The city is full of cool, quirky venues like The Spotted Cat Music Club, Preservation Hall and Tipitina's Uptown. The Big Easy is also a great city for tours. An experienced local guide can give you insight into the colorful, murky history of New Orleans and introduce you to off-the-beaten-path spots and delicious food that you might not otherwise find.
You might even witness a "second line," or impromptu parade that usually trails behind a band. Second lines are commonly organized on Sunday afternoons around the French Quarter. Scope out the scene and join in if you want to, but be respectful and take your cues from other members of the group. Don't join a second line if it's being led by a hearse. This tradition is often done as part of a funeral service, and it's disrespectful for tourists to participate. Feel free to watch, though.
All that being said, you may want to partake in the party scene. Drinking in public is allowed, so you don't have to sneak a flask. Bars offer plastic to-go cups so you can take your daiquiri or hurricane out to the street. And while Bourbon Street is a must-see for many tourists, know that it's a little like New York's Times Square: You only need to spend a little time there to get the idea, and it's usually overrun with tourists. Plan to move on to other parts of the French Quarter pretty quickly.