How to Wear Dresses in the Winter
By Kathryn Walsh

; Updated August 11, 2017
What to pack for dressy occasions when it's cold outside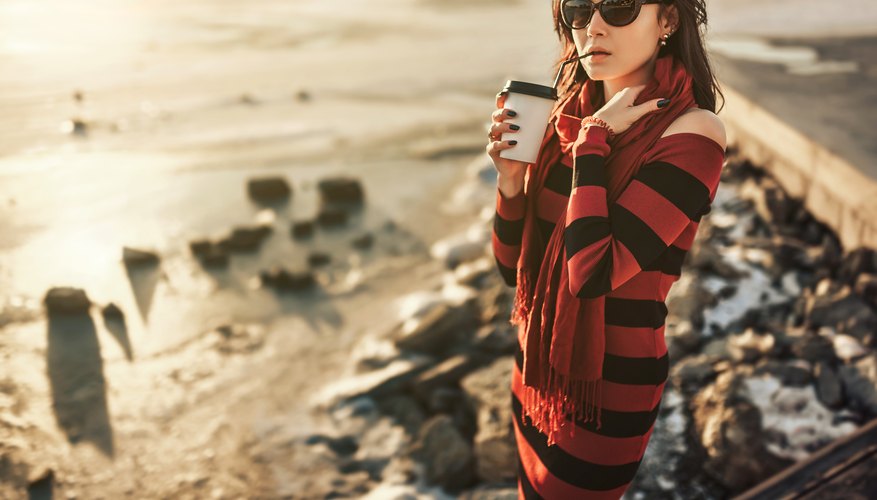 Your visions of exploring Paris on a romantic, twinkly winter night probably don't include stopping to Google "signs of frostbite." But if you'd still like to wear a fabulous dress out to dinner on a snowy night in London or are headed to a New Year's Eve wedding in Boston, fleece-lined pants are definitely not your only choice. Rock a frock without sacrificing comfort by embracing stylish and deceptively functional layers.
Start with: warm undergarments
Long underwear will ruin the line of a slim dress, but cold wind blowing up under your hem is a supremely unpleasant sensation. For an extra layer of protection, pull on a pair of snug slip shorts. If your dress has a neckline that provides plenty of coverage, consider wearing a thin wool camisole underneath for warmth. Find one at a store that sells camping or skiing gear.
Add: the right dress
Style-wise, you can wear any dress that you feel confident in. Some women make a bold fashion statement by wearing bright, flimsy sundresses with tights and sweaters in winter. But for most of us, winter calls for wool and other thick fabrics. (If that seems too boring to you, look for a dress with feminine accents like sequins or lace.) A dress that hits at the knee or below is the warmest option, although you may be willing to shiver a little in exchange for showing off your legs in a mini.
When you're traveling in winter, packing is an important factor in dress selection. Luckily, thick winter fabrics also tend to be some of the most wrinkle-resistant options. Wool, cashmere and polyester, in particular, tend to pack well.
Stow dresses in a garment bag if you're driving to your destination and have plenty of trunk space. If you're flying light, pack a dress inside a plastic dry-cleaning bag. Let some air into the bag and tie it closed. (The air provides a little cushioning to prevent wrinkles.) Pack the rest of your suitcase and add the dress on top, folding it over once or twice to make it fit.
Top with: a sweater or coat
A puffy parka looks wrong over a dress. Wear a wool pea coat, a long dress coat or a leather or suede motorcycle-style jacket over your dress instead.
If you're planning a ski or snowboarding trip that makes it necessary to bring a parka, you may not have suitcase space to spare for a second coat. A long dressy sweater may be enough to keep you warm. Think a sequined wrap sweater or a draped wool cardigan. You can wear it again with jeans for dinners and sightseeing.
Finish with: cozy accessories
Tights are a lifesaver when you're dressing up in winter. Skin-tone panty hose tend to look a little old-fashioned and fusty, so instead choose opaque tights in black or gray. Some women make a bolder choice, wearing tights in bright colors or textured patterns.
Heels aren't the most practical choice if your destination is currently snowy or has been recently snowy, because slush, puddles or ice. Opt for heeled ankle booties or tall boots that hit below the knee. (Tall boots take up more suitcase space, but you can get a lot of use out of flat boots in black or brown.) Wear one pair of wool socks under the boots.
Finish your outfit with a wool or fleece cap, a chunky scarf and a pair of gloves. If you're concerned about messing up your hair, skip the hat and wear ear warmers instead. Swipe on some hydrating lip balm under your lipstick to prevent chapping.