How to Get From London to Amsterdam
By Emily Zemler

; Updated August 11, 2017
Quick and leisurely connections between the UK and the Netherlands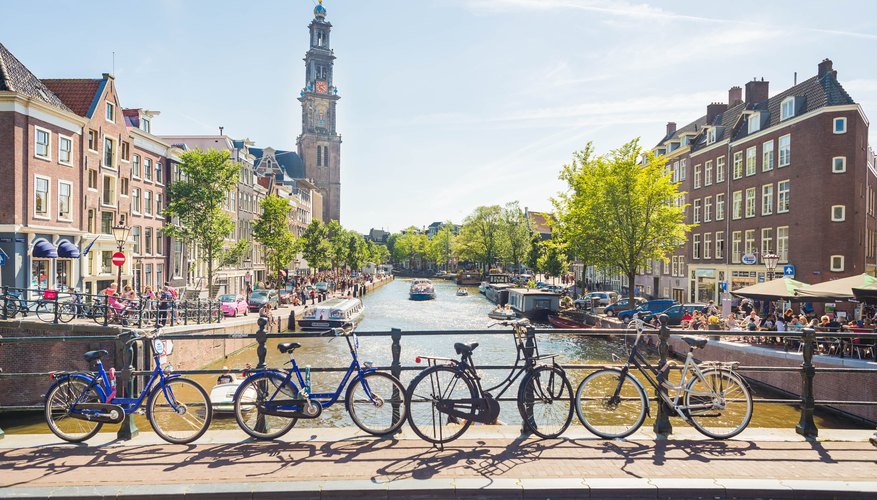 One of the benefits of touring Europe is the proximity of so many countries and the ease of traveling between them. Bodies of water are no obstacle. In as little as an hour from London, tourists can skip across the North Sea to traverse the picturesque canals of Amsterdam and explore the history of the Netherlands. How you travel from the U.K. depends on how quickly you want to arrive in the Dutch city – and, perhaps, how much luggage you're bringing along. Travelers can book flights, trains or ferries, all of which will deliver you to Amsterdam from London within a day. Here is a guide to the best options.
Quick trip by plane
A flight from one of London's airports to Amsterdam Airport Schiphol takes less an hour in the air, making it the quickest travel option. Several airlines – including easyJet, British Airways, KLM and Iberia – offer direct flights throughout the day from London City Airport, London Gatwick Airport, London Stansted Airport and Heathrow Airport. Round-trip flights can be found for as low as $35 (approximately 29 euros), depending on the airline and time of year.
Passengers arriving at Schiphol from the UK are required to pass through EU immigration and must show a valid passport upon entry. No visa is required for U.S. travelers intending to stay less than three months.
Commuter trains are the easiest way to get from Amsterdam Airport Schiphol into the central part of the city. Purchase a ticket at one of the automated ticketing machines throughout the station using a credit or debit card. It's also possible to take a bus from Schiphol Plaza or hail a taxi into the city. The train is the fastest ground transportation option, taking less than 30 minutes door to door.
Be sure to check for flight delays before leaving for the airport, and always allow enough time for check-in and security lines.
Ride the rails through Brussels
Eurostar offers service between London's St Pancras International station and Amsterdam's Centraal station. Currently there is no direct service between the two cities; the trip requires a train transfer at Brussels-Midi/Zuid. The journey between London and Brussels is two hours, while the journey between Brussels and Amsterdam is an additional hour and 52 minutes. One-way tickets on the Eurostar to Amsterdam from London start at around $68 (approximately 57 euros).
Travelers should arrive at St Pancras International at least 30 minutes before departure and must go through security and immigration there. All travelers need a valid passport. Centraal Station is located walking distance from several of Amsterdam's attractions and hotels. Those with large luggage can take one of the trams or hop in a taxi or Uber. The train is a longer journey than an airplane but requires less time traveling before and after and is a good way to avoid crowded airports.
Leisurely journey by boat
While it's not possible to take a boat directly from central London into Amsterdam, passengers with a leisurely agenda can book a ferry boat from Harwich International Port. Take a train from London's Liverpool Street station to Harwich and board one of the Stena Line ferries, which leave twice per day.
One ferry, the Stena Britannica, sails at 9 a.m. and arrives in Amsterdam at 5:15 p.m., offering travelers a chance to see the sights during the daytime journey. The other ferry, the Stena Hollandica, departs at 11 p.m. and arrives in Amsterdam at 8 a.m. For the overnight ferry, it is required to book a cabin; however, a cabin is optional during the daytime ferry. The ferries both feature restaurants, bars, shops, an Internet room and a cinema.
Drive to the Harwich port and book a single ticket with a car for $78 one-way (about 66 euros), or select a Dutchflyer Rail and Sail ticket, which includes transfer from London to Harwich, for $72 one-way (61 euros). Overnight cabins start at $45 (38 euros).
Ferries arrive at the Hook of Holland Port in the Netherlands, located near The Hague. Take a train from the nearby station into Amsterdam. Train tickets can be purchased at one of the automated ticketing machines in the station using a credit or debit card. Be sure to check the train schedule in advance, although it's not necessary to book a ticket ahead of time. Travelers with a car can continue on once disembarking from the ferry.
The ferry is the longest travel option, which is something to consider. It's best for those on a leisurely journey, rather than those with limited time to spend in Amsterdam.