How to Get to Palawan
By Brenna Swanston

; Updated September 26, 2017
Making the overseas trek to Palawan Island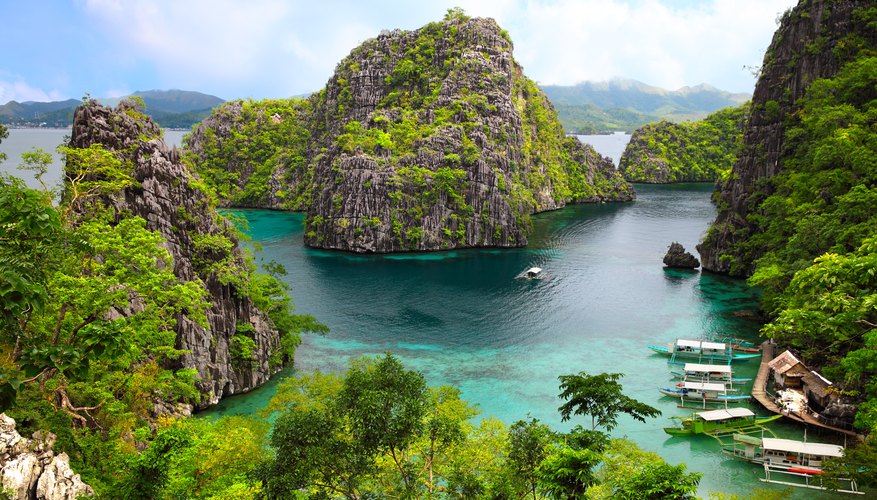 Palawan is the least-populated region of the Philippines, hosting pristine landscapes and untouched, abundant wildlife both on land and in the sea. Palawan Island offers a tropical paradise; you just have to find your way there. The island is accessible by plane from airports in Manila and Busuanga. You can also reach the island by ship from Manila and Coron, but be prepared for a long journey.
Traveling by air
First things first: getting to the Philippines. The flight time to Manila varies depending on the starting point – from Los Angeles, for example, it's possible to get there in 17 hours, whereas from New York City, it's going to take more like 22 hours.
Once in Manila, Philippines AirAsia and Philippine Airlines fly to Puerto Princesa City, Palawan, every day. The flight lasts about an hour and 15 minutes. Flights costs range from $65 (about 3,277 Philippine pesos) on Philippines AirAsia to $162 (about 8,167 Philippine pesos) on Philippine Airlines.
Philippine Airlines operates flights to Puerto Princesa from Busuanga (with a one-hour flight time), but those flights happen less frequently and cost more. Flights are scheduled about three times a week, with prices around $400 (20,164 Philippine pesos).
Traveling by sea
Ships to Palawan leave less frequently and take much longer than flights, but they can be much cheaper, costing as low as $24 (1,210 Philippine pesos) in the summers.
Superferry offers trips from Manila to Puerto Princesa every Thursday; the return trip to Manila is every Saturday. The trip takes between 18 and 22 hours, and it includes a stopover at Coron. For travelers just looking for a ferry ride from Coron, the ship leaves for Puerto Princesa every Friday and returns to Coron each Saturday.
Since the trip is so long and ferries only make the trek weekly, sailing from the mainland to Palawan is most worth it if you plan on staying for at least a week.
Best time to travel
Palawan basically has two seasons: a wet season and a dry season. September is the area's rainiest month, while February is usually the driest. Palawan does deal with monsoons from October to April in the northeast and April to August in the southwest, but the sea is usually calm between April and June.
Then again, the sea's calmest time is also one of Palawan's hottest: Temperatures average 80 degrees F, and humidity runs extremely high. March to May also tends to draw the most tourists to the Philippines, so Palawan is usually packed with visitors around that time.
To that end, the best season for travel to Palawan depends on preference. If you prefer crowds over risk for monsoons, March to June might be the best time to visit. But if a little monsoon sounds better than a lot of tourists, December might be a better time of year to visit.
Holiday price spikes
It's worth noting that because the Philippines is a predominantly Roman Catholic country, the days surrounding Christmas and Easter are popular for travel. Prices for accommodations tend to spike around those holidays, and hotels can book up quickly. If you're traveling to the Philippines around winter or spring, be prepared to shell out some extra cash for lodging during Christmas and Easter weeks, and reserve your rooms well in advance.