About Weather in Colorado Springs
By Teo Spengler

; Updated August 11, 2017
Plenty of sunshine, plenty of snow in Colorado Springs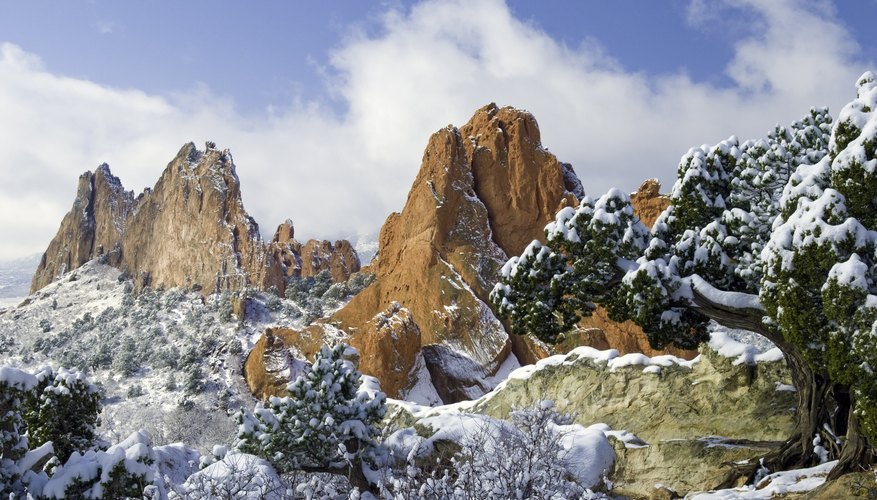 Colorado Springs' natural beauty is a real drawing card. Backed by towering red sandstone formations and Pikes Peak, the inspiration for the song "America the Beautiful," the city offers rich hiking and biking options and other outdoor activities. You'll enjoy a different adventure in "Olympic City USA" depending on when you arrive. Better read up on the city's climate and how to dress for it before you start packing.
Seasons in the sun
You'll find sunny days in Colorado Springs, some 243 of them every single year. Summers are generally packed with sunny, warm days, with temperatures topping out in the 80s or even the 90s. Nighttime temperatures sink into the 60s.
June through August is Colorado Springs' high tourist season, as folks rush in to enjoy the great weather and outdoor fun. Room rates are high, and you aren't likely to have Pikes Peak to yourself.
Autumn blazes
Fall temperatures cool off a bit, so plan for temperatures between 50 and 70 degrees F. September and October have their own siren song: fall foliage. Trees in the surrounding hills turn fiery colors, making for great photos. Crowds thin, and prices drop.
White winters
You'll still find some mild, clear days in winter, but average temperatures dip noticeably, with highs in the 40s and lows in the high teens. Colorado Springs gets 68 inches of snow every year, most in winter. Skiing isn't all that great in Colorado Springs, but you have noteworthy ski resorts nearby, like Vail and Aspen. This is definitely low season, and you'll find plenty of hotel rooms at rock-bottom prices in the hotels that don't close for the season.
April flowers and May showers
Spring ushers in good weather again to Colorado Springs, with high temperatures in the 60s. This is great hiking and biking weather, and whitewater rafting is popular as the streams fill with snow-melt. This is one of the greatest seasons to visit since hotels are open but prices are low. The only exception is that week in May when the Air Force Academy holds its graduation ceremony. Many people arrive to celebrate with the graduates, so book May hotel rooms a month in advance.
Adjusting to the Rocky Mountain high
The city of Colorado Springs itself, at over 6,000 feet above sea level, is probably at a higher altitude than your home city. The average elevation of tourist attractions is about 7,000 feet, and Pikes Peak area mountains can rise to 14,000 feet.
All this high terrain can give you altitude sickness, so be aware of any odd symptoms including headaches, shortness of breath, nausea and fatigue. You can minimize the problem by following these guidelines:
Don't go over 7,000 feet the first day or two of your visit.
When you are going to higher altitudes, go slowly and let your body adjust.
Hydrate with plenty of fluids, but stay away from alcohol.
Forget about exercising strenuously the first few days.
Reduce consumption of salty foods.
Packing for the peaks
What to bring with you to Colorado Springs? You'll need sun protection like sunglasses, sunscreen and a hat with a brim. Otherwise, bring clothes that you can layer. In summer, bring sleeveless or short-sleeve tops, light sweaters or hoodies, shorts and pants. In spring or fall, add heavier sweaters, warmer pants, and gloves and hats. In winter, pack a warm winter coat and waterproof boots.