How to Get to Singapore
By Michael Baker

; Updated August 11, 2017
Arrive safely in Singapore–in comfort and style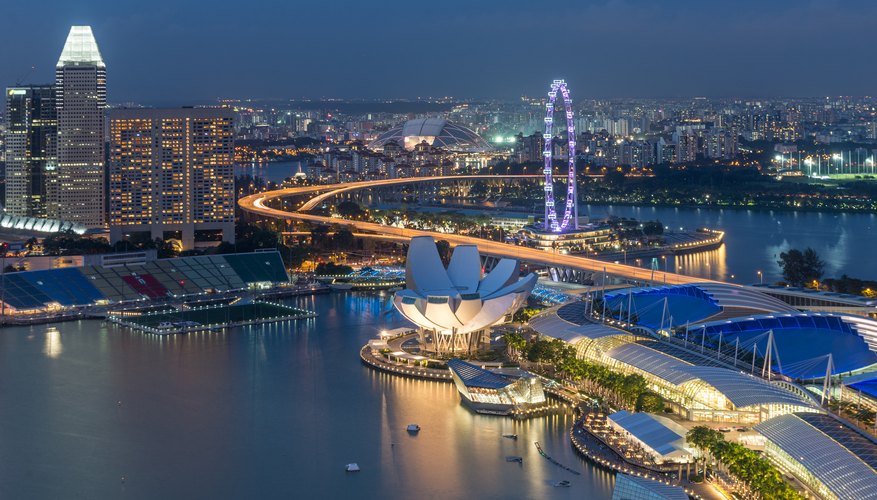 Westerners often refer to Singapore as "Asia 101," referring to its wide use of English and immaculate modern infrastructure. Even so, there's nothing basic about traveling halfway around the world. Singapore is an epicenter of Asian commerce and tourism, so you have no shortage of options for getting there, but you'll want to find the best one to make the long journey as comfortable and stress-free as possible.
Entry requirements
If you are a citizen of the United States, Canada, the United Kingdom, Australia or New Zealand, you won't need a visa to enter Singapore. Only your passport is required. You'll also need proof that you won't be staying permanently – your return flight information, for example. Review the list of prohibited items listed by Singapore's Immigration and Checkpoints Authority. While you'll see the usual suspects, such as firearms or fireworks, you'll also find that you can't bring in chewing tobacco, electronic cigarettes, pornography, pirated videos and chewing gum. Singapore's drug laws are notoriously severe, so don't even think about bringing in illegal narcotics. If you take any prescription drugs, bring a note from your doctor proving that you need them.
Flying in
Singapore has one airport: Chiangi International Airport, about 12 miles from the city center. More than 100 international airlines serve Singapore, though nonstop flights from the United States are limited. United Airlines and Singapore Airlines both fly direct between San Francisco and Singapore. Clocking in at about 17 hours, these are among the longest flights in the world. Otherwise, you'll have at least one stopover on your journey. Because Singapore is near the equator, its weather is generally the same year-round, though you're more likely to experience flight-delaying storms during its monsoon seasons. Those generally run from June to September and from December through early January.
Enduring the flight
Spending 18 to 25 hours on a plane could drain you before your vacation begins. Clearly, if you have the funds for a first- or business-class seat with lie-flat seats, the journey will be easier, but those fares can be prohibitively expensive. Several airlines offer "premium economy" seating that offers a bit more space and extra amenities, which are a much cheaper option to add comfort to the long flight to Singapore. Alternatively, consider booking a flight that connects through a destination with stopover fares. Turkish Airlines, for example, lets you book travel with a long layover in Istanbul and even provides a day tour from the airport to explore the city before you continue to Singapore. It will make your overall journey longer, but it gives you a long period to stretch, escape the recycled airplane cabin air and get rejuvenated by exploring a new city.
Leaving the airport
Once you arrive, you'll have several options to get to the city. At about $2.50, the 36/36A public bus is your cheapest option and takes about an hour. A taxi is twice as fast and will cost between $20 and $40. You can pay for the taxi with a credit card via a kiosk at the airport. Singapore's Mass Rapid Transit line also connects to the airport, but keep in mind that it's not a dedicated airport train, so you won't find special accommodations for luggage storage. In addition, check with your hotel to see whether they offer any shuttle transfers from the airport.
Other transportation options
While flying is your best way to get to Singapore if it's your primary destination, you have other options if it's to be a part of a larger exploration of Southeast Asia. Several cruises, ranging in accommodations from basic to luxury, make stops in Singapore, and its Marina Bay Cruise Centre hosts some of the largest cruise ships in the world. You also can get to Singapore by train through neighboring Malaysia and beyond. It's even one the the stops available on the iconic Orient Express.