About Weather in Richmond, Virginia
By Eric Mohrman

; Updated August 11, 2017
Weathering the weather in Virginia's capital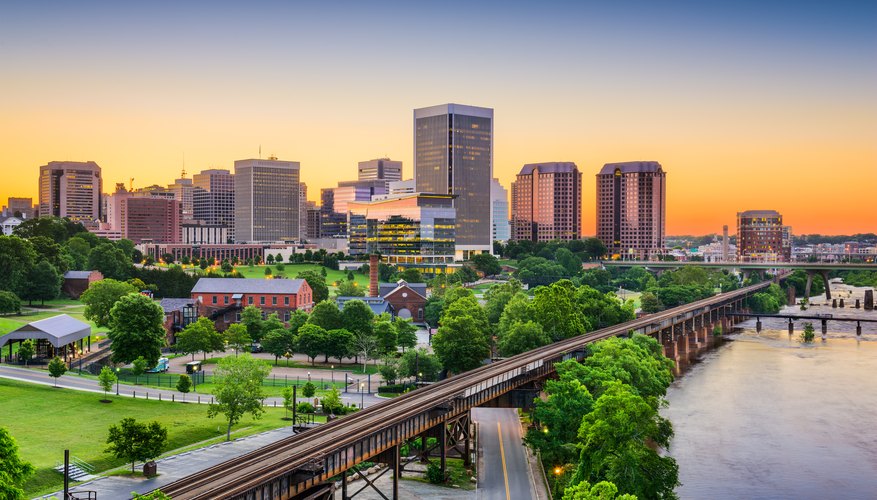 Weather is the great wild card on any trip. It can, of course, have a significant impact on your ability to enjoy yourself, especially if you aren't properly prepared. And when visiting Richmond, Va. and exploring its funky neighborhoods, cultural attractions, historical sites, parks and other destinations, you're likely to find yourself outdoors frequently. When the weather's not so friendly, head to popular indoor attractions like the Virginia Museum of Fine Arts, the Virginia Capitol Building and the White House and Museum of the Confederacy. Hit up the area's outdoor attractions like Maymont, Lewis Ginter Botanical Garden and the Hollywood Cemetery when it's nice out.
Summer heat and humidity
For the more meteorological-minded among you, Richmond, like most of the Mid-Atlantic and Southeast U.S. regions, has a humid subtropical climate, the main defining characteristics of which are hot, humid summers and mildly cold winters. So if you're venturing to Richmond at the height of travel season – during the summer – you're in for heat and humidity. Expect temperatures during the day to peak in the high 80s to low 90s, with average lows in the mid to upper 60s; July is typically the hottest month. Being somewhat inland, it's not quite as oppressive in Richmond as areas of Virginia closer to the Atlantic Ocean and Chesapeake Bay, but the difference is minimal.
Precipitation is spread out relatively evenly throughout the year, with slightly more rain during the summer. Richmond sees an average of just over 4 inches of rain per month during June, July and August, with rain falling on roughly one-third of summer days.
What to pack: To minimize discomfort from the heat, pack cool clothing made of natural, breathable fabrics in light colors. Sunglasses and a brimmed hat are good ideas, and don't forget the sunscreen. Take along an umbrella, as you're bound to encounter rain; however, it generally doesn't last too long. While mosquitoes aren't so bad in downtown's most built-up parts, bring along bug spray if you'll be out in more suburban or rural surrounding areas.
Autumn variations
Fall is a fairly temperate time to visit Richmond, with some beautiful weather – not to mention the fall foliage that's in its prime in October. September tends to feel a bit more like summer than autumn, though, with highs often hitting the low 80s, some lingering humidity and also continuing peak rainfall levels.
Average highs drop to 71 and 61 degrees F in October and November, respectively. Low temperatures average 60, 48 and 39 degrees F through each of the fall months. As you can see, there's some considerable month-to-month variation through the fall, so the month you're traveling does matter. The humidity is gone by the time October rolls around, and rainfall drops off to some of its lowest points in the year for the rest of the season. Still, expect some rain any time of year in Richmond.
What to pack: The key to packing for an autumn trip to this city is being prepared for both ends of the temperature spectrum. You're likely to encounter some hot or warm days, especially earlier in the fall, but the nights and early mornings are often chilly to cold. There might be times you'll want to change outfits for the temperature swings, and it's helpful to bring along layers like sweaters or sweatshirts that you can add or remove as needed.
Winter chill but little snow
Winter is cold in Richmond, though certainly not as cold as many other places, thanks to its humid subtropical climate. Expect high temperatures in the upper 40s to low 50s and average lows in the upper 20s to low 30s, with January being the coldest month. Walking around during the day might not feel like a day at the beach, but it shouldn't be unbearable unless you're on the cold-sensitive side.
Don't be surprised by a little rain, and there may be some frost, too. You might see a little snow, though most of it tends to fall further west in the state than Richmond, particularly in the mountain region. Encountering a blizzard or even significant accumulation is highly improbable.
What to pack: Pack bundling-up supplies for a wintertime trip. A warm coat is a must, and if you're out in the early mornings or evenings, you'll definitely appreciate add-ons like gloves, a scarf and a hat or earmuffs. But there's no need to add the heft of boots to your suitcase.
Spring warming trends
A springtime journey to Richmond is similar to one in the fall in that there will probably be some daily weather variations to account for. Like in the fall, there's significant month-to-month variation through the spring.
The average high is 60 degrees F in March, 70 degrees F in April and 78 degrees F in May. The humidity often starts reappearing in May, as well. As for the average lows, they're 37 degrees F in March, 46 degrees F in April and 55 degrees F in May. Again, rain falls sporadically year-round, on about one-third of spring days in Richmond.
What to pack: Preparing for a trip in spring requires packing clothes for warm and cold weather. Lean a little toward cold-weather packing in March, a balance in April and a bit more hot weather in May. Layers you can carry around are a smart idea for times you'll be out for extended periods.