A Guide to Hop-On, Hop-Off in Stockholm
By Brenna Swanston

; Updated September 26, 2017
Hopping around Stockholm by bus or boat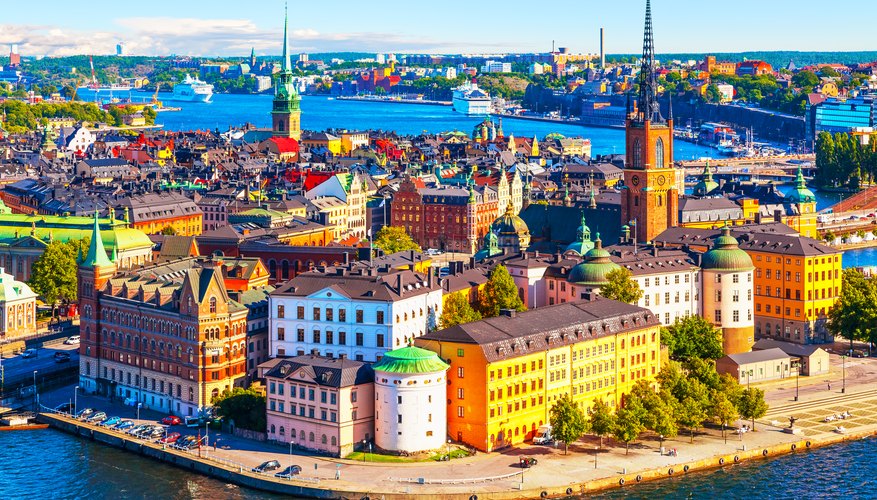 There's a lot to figure out about exploring a new city – how to get around, which sights to hit, where to spend money, what to eat. For travelers visiting Stockholm, a hop-on, hop-off tour can actually resolve most of those questions, providing a means of transportation and a collection of expert tour guides all in one. Stockholm visitors can make their trip their own with hop-on, hop-off tours via both bus and boat.
Buy a Stockholm Pass
The Stockholm Pass includes entry to dozens of Stockholm attractions as well as access to both bus and boat tours.
The hop-on, hop-off tours included with the pass operate through Hop-On Hop-Off Stockholm and City Sightseeing Worldwide. The buses run year-round and stop at 24 attractions, including the Royal Palace, Old Town, City Hall, Grona Lund and Skansen. The boats, which run from April 29 through Sept. 3, allow sights of the city via its canals, lakes and rivers. The boats also stop at the Royal Palace and Grona Lund, as well as the Vasa Museum and Stadsgardskajen cruise terminal.
Stockholm Pass holders have unlimited access to these tours for as many contiguous days as their pass is valid. Passes are priced as follows:
One-day adult: 595 kronor (about $73)

One-day child: 298 kronor ($37)

Two-day adult: 795 kronor ($98)

Two-day child: 398 kronor ($49)

Three-day adult: 995 kronor ($123)

Three-day child: 498 kronor ($61)

Five-day adult: 1,295 kronor ($160)

Five-day child: 648 kronor ($80)

The pass's value increases as pass holders hit more attractions. If you use a hop-on, hop-off tour to hit Fotografiska, the Skansen Open-Air Museum and Junibacken, expect to drop 869 kronor (about $107) that day without the pass. To visit all those attractions with a one-day Stockholm pass, you'd spend only 595 kronor ($73).
Tip
Keep an eye out for seasonal promotions, which temporarily slash the pass prices.
Book through Stromma
Stromma Stockholm also offers its own hop-on, hop-off deals, which include the City Sightseeing Worldwide buses as well as Stromma's own buses. You can buy combo passes similar to the Stockholm Pass or bus- and boat-only passes.
By bus. Buy tour passes through Stromma for 24 to 72 hours, during which you can use the hop-on, hop-off buses as much as you want. Save 10 percent by booking online. Tour passes bought online start as follows:
24 hours: 270 kronor (about $33)

24 hours with pickup from the cruise harbor: 270 kronor ($33)

72 hours: 315 kronor ($39)
By boat. Stromma also offers hop-on, hop-off boat tours:
24 hours: 180 kronor (about $22)

72 hours: 225 kronor ($28)
Time your touring
The major hop-on, hop-off bus companies start their routes at 10 a.m. and end between 4 and 5 p.m., depending on the time of year. The buses come every 15 to 60 minutes, also depending on the time of year, with the most frequency in June and July and the least from the end of September through April. This schedule corresponds with tourist crowds in Stockholm, so visitors won't have to worry about waiting too long for the next bus should one reach capacity.
When to go
As with many European cities, the summer months bring the most crowds and highest prices to Stockholm, and for good reason: It's the warmest time of year, and daylight can last up to 24 hours.
The weather is cooler in the spring and fall, and that's when the crowds thin and room rates decrease. Keep in mind, though, that the hop-on, hop-off boat tours run only from the end of April to the beginning of September, so if you visit earlier in spring or later in fall, you'll miss out on the opportunity to see Stockholm by water.