How to Get Around Seattle
By Jodi "Jato" Thornton

; Updated August 11, 2017
The 10 best ways to get around Seattle on vacation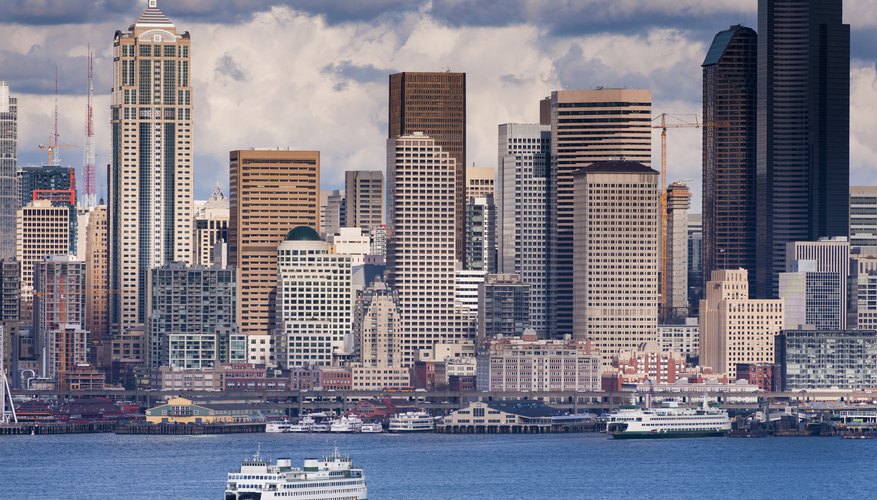 Getting stuck in traffic can be frustrating when you're commuting to work, but it can work your last nerve when you're trying to have a relaxing vacation. Seattle's wealth of transportation options lets you ditch the car keys whenever you visit, even during Seattle's famous rainy season that runs from October through early April. Kick back, look out the window and enjoy the ride on some of the Emerald City's best ways to get from here to there.
1. Travel light
Grab light rail at the Sea-Tac airport to head into the heart of the city. Link light rail lets you head as far north as the University of Washington Husky Stadium. Hop off at Rainier Beach, Beacon Hill or other popular destinations in the heart of the city. If you've got extra time on your hands on your return flight, a station at Angle Lake past the airport lets you while away time in scenic surroundings where you can swim, picnic or take a stroll.
2. Hop on, hop off
See Seattle's signature downtown destinations, including the Space Needle, Pioneer Square and Pike Place Market, on a hop-on-hop-off trolley tour. Emerald City Trolley has an app to make it easy to find the trolley stop closest to your location. Trolleys stop every 20 minutes every day from Memorial Day through Labor Day between 9 a.m. and 6 p.m.
3. Write your own ferry tale
Board a ferry and set off on an adventure to nearby islands. Step off the ferry in Winslow in Bainbridge Island and enjoy a seaside village vibe. Check out local shops and wineries or take a foot ferry to Port Orchard to explore antique shops and historic buildings. Both locations roll out warm-weather water sports. Return to the city at dusk to see Seattle's skyline glow in the reflection of the setting sun.
4. Rise above it
Community Transit's extensive bus system has 45 double-decker buses that run routes between Seattle and Everett 25 miles north. There's room for more than 40 people on the enclosed upper level, meaning you can enjoy unobstructed views of the city, the sound and mountains while traveling to your destination during any weather.
5. Ride the rails
Although it's commuter-oriented, the Sounder train can be a good way to take a day trip into the city if you're staying in outlying areas like Everett or Lakewood. The train heads into the city on weekday mornings and returns again in late afternoon.
6. Hit the streets
Four Seattle streetcar lines run between downtown Seattle and surrounding areas. Head to Capitol Hill, Lake Union Park, the Chinatown-International District, Seattle Aquarium, Pike Place Market and other downtown attractions on the modern streetcars.
7. Take a pass
A regional transit day pass lets you enjoy unlimited rides on system buses, trains and ferries. You can load up to 12 days of regional day passes onto an ORCA card that you can register online to protect you from loss or theft of your passes.
8. Grab an Uber
Uber has three flat rate zones in the Seattle area when traveling to or from Sea-Tac Airport. Flat fares range from $65 in downtown Bellevue or Seattle to $85 in Redmond. SUV and Uber Black rates are higher, up to $105 for a downtown Redmond-to-Sea-Tac trip.
9. Use pedal power
Get around the city by bicycle for as little as $1 per half hour. LimeBike has bright green and yellow bicycles, and Spin's are bright orange. Both companies have apps to help you locate their bikes and pay online. You can end your ride anywhere by pushing down the electronic lock on the bike's rear wheel.
Helmets are mandatory, and you'll need to provide your own or risk getting a ticket. Bring a rain poncho to stay dry in the rain. The bikes have fenders to help prevent road spray.
Tip
If you don't want to pedal uphill, stay north of University Street where the terrain is relatively flat. Use public transit to navigate steep terrain south of University Street.
10. Ride an icon
In downtown Seattle, ride the historic monorail that runs between Westlake Center to Seattle Center to visit attractions like the Space Needle, Pacific Science Center and Pike Place Market. The monorail only accepts cash, but tickets are inexpensive at $2.25 per person or less.