How to Get to Mackinac Island
By Emily Zemler

; Updated August 11, 2017
Choosing how to escape to Michigan's gem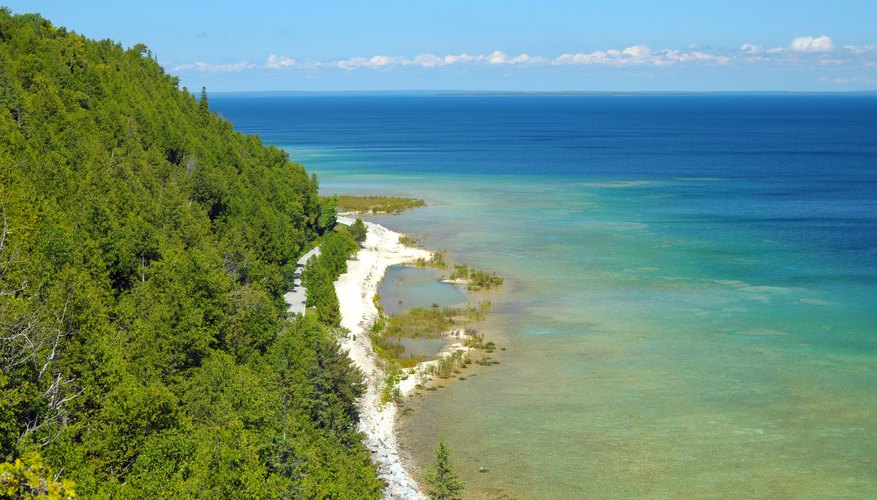 Mackinac Island is a quaint, historic vacation destination located in Michigan in Lake Huron, right at the eastern end of the Straits of Mackinac. It's most popular during the summer. In fact, many of the resorts and amenities shut down during the winter. Cars are not allowed on Mackinac Island and most travel there is done by foot, bicycle or horse. That means it's not possible to drive to Mackinac Island, and travelers will need to select one of the available transportation options.
Via ferry
Most travelers drive to either Mackinaw City or St. Ignace and board a ferryboat. Two lines run from both ports. Book the Shepler's Ferry or the Star Line Ferry, which run daily from May to October. Ferry journeys from both locations take approximately 16 to 18 minutes.
Star Line Ferry offers Hydro-Jet, Catamaran and Classic Ferry services. An adult round-trip ticket on the Catamaran or on the Hydro-Jet, a super-fast boat, costs $26. Adult round-trip tickets on the Historic Classic Mackinac Island Ferries are $19. These run on a limited schedule, so check the times online in advance. If you're leaving your car secured overnight at the Mackinaw City port, you'll pay $5 per day for self-parking and $10 per night for valet parking. It isn't necessary to book tickets or parking in advance, but Star Line Ferry does recommend arriving at least 15 minutes early. It's important to note that the ferries run only between November and April if weather permits.
Shepler's Ferry, which charges $26 for an adult round-trip ticket, is a more traditional ferry service that has been in operation for over 70 years. The ferry has parking available at both Mackinaw City and St. Ignace ports for a fee, with rates varying based on type of parking and number of nights. Pets travel for free. Ferries are limited during the spring and fall, so you're encouraged to check the schedule before making travel plans. The ferry service does not run between November and March.
The Arnold Line ferry is available during part of the winter. The ferries run daily until the water freezes over in January or February. Be sure to check the schedule online for updates on their service.
Via plane
There are limited flights available to Mackinac Island for those who prefer to fly. Great Lakes Air provides six-seat passenger charter service from the Pellston, Michigan, airport to Mackinac Island year-round. Unlike the ferryboats, Great Lakes Air does not stop service in the winter, making it the best option for travel during colder months. The airport is 12 miles south of Mackinac Island and connects to flights from Detroit, Chicago and Minneapolis airports via Northwest Airlines. It's advisable to book your flights well in advance and to check with the airline regarding how much luggage you can bring on board. Flights between Pellston and Mackinac Island on Great Lakes Air begin at $21 per person.
Via snowmobile
For a few weeks each year, it's possible to reach Mackinac Island on a snowmobile. Usually in the month of February the water between Mackinac Island and St. Ignace freezes over and creates an ice bridge. The ice can remain strong enough to support a crossing for as long as two months, or as few as four days. If you can get your hands on a snowmobile, you'll have free crossing and a once in a lifetime experience.