About Weather in Big Bear
By Leah Rendon

; Updated August 11, 2017
From sunshine to snowfall: planning for your Southern California mountain getaway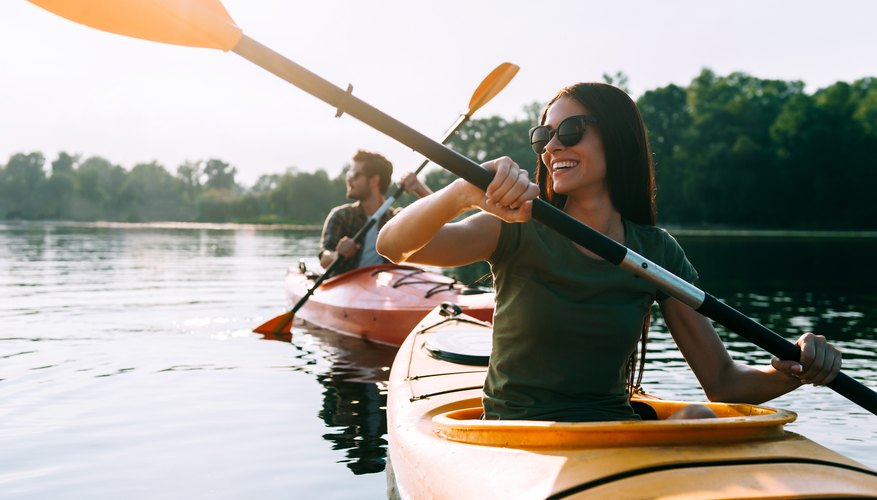 When the bright lights and bustling lifestyle of Los Angeles become overwhelming, you'll find a peaceful retreat just two hours northeast in the cozy resort town of Big Bear. Nestled at 7,000 feet in the heart of the San Bernardino Mountains and surrounded by a dense alpine forest, this quaint village sits along the shores of a sparkling fresh water lake with more than 22 miles of shoreline. A variety of outdoor activities, including snow sports in the winter and water activities in the summer, make the town a year-round destination. Learn all about Big Bear's diverse weather conditions and arrive prepared for your vacation, no matter the time of year.
Seasonal conditions
Big Bear offers more than 320 days of sunshine annually, particularly during the summer when daytime temperatures reach the high 70s before dipping into the mid-40s at night. Mild temps continue into the fall with highs hovering across the 60s and lows dropping to the mid-30s. Big Bear also receives about 120 inches of snow annually, with most falling during the winter accompanied with highs in the mid-40s and lows in the mid-20s. January and February also see the most rainfall, averaging more than 4 inches each month. The mercury starts to rise during the spring with temps reaching the low 70s and falling to the low 40s in the evening.
Peak seasons and battling crowds
Big Bear experiences peak seasons during the winter and summer: from the third week of December to the third week of February, and from July 1 through Labor Day weekend. Cabins and campgrounds fill up fast during these periods, so book early. The area's two ski resorts, Bear Mountain and Snow Summit, are also particularly crowded during the winter but you'll beat the crowds by arriving on the slopes first thing in the morning.
Exploring the great outdoors year-round
A flurry of kayaks, parasails, paddleboards, jet skis and wakeboards dot the waters of Big Bear Lake in summer. Book a public cruise or a private boat as the lake offers the best viewing spot for the town's famed 4th of July fireworks show.
Soak up colorful fall foliage each autumn as you hike or mountain bike through the San Bernardino National Forest. Held every weekend from early September through October, Big Bear's annual Oktoberfest draws big crowds in search of brew, brats and live music.
Big Bear's winter ski season usually runs from November through March, although snow levels vary each year. Bear Mountain entertains snowboarders with its terrain park, while Snow Summit offers the unique experience of night skiing. Save money by buying a pass and lift ticket ahead of time online.
Enjoy a bike ride along the lake as the wildflowers bloom during the spring. The lake is open for fishing year-round, but springtime offers the best conditions for catching rainbow trout and bass.
What to pack for each season
Khakis, short-sleeve shirts and a light sweater should keep you warm during mild fall and spring days, although a heavy coat is usually needed during the brisk evenings. Snow boots, ski jackets, knitted hats and gloves are all strongly suggested for the cold winters. If you plan on hitting the slopes, you'll also need ski pants, but ski boots, googles, skis and snowboards are available for rent from the resorts. Shorts, cotton t-shirts, sandals and a swimsuit come in handy during warm summer days around the lake, but a pair of jeans and a light jacket are often needed at night. With Big Bear's frequent sunshine (remember: 320 days a year), sunblock, lip balm and sunglasses are a year-round necessity.
Driving safety and precautions
Big Bear is accessible only via Highway 18, a two-lane road with sheer cliff drop-offs. Always check the California Department of Transportation's website for road conditions ahead of your travels. Snow chains may be required between November and March, but make certain you put them on your tires only in one of the highway's designated turnouts. Other possible travel disruptions along Highway 18 include rock slides, which are common during heavy rains in January and February, and forest fires which frequently occur from late July through October. Due to Big Bear's high altitude, fog is always a possibility from dusk to dawn.