How to Get to Crab Island
By Richard Corrigan

; Updated August 11, 2017
Float your way to sun and surf on Florida's underwater island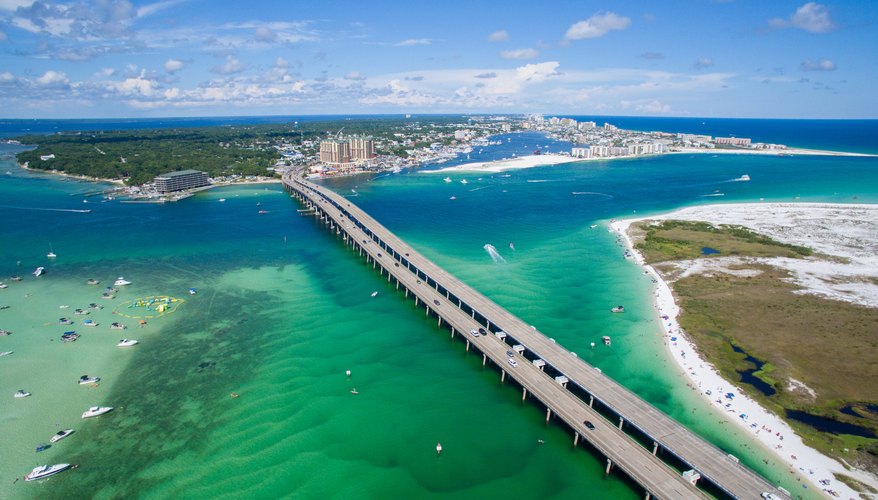 Looking out over the turquoise waters of Florida's Gulf coast, Crab Island is easy to miss. That's because this summer hot spot isn't really an island at all, but rather a shallow sand bar submerged under crystal-clear water that makes it a perfect aquatic playground. On any sunny day, this so-called island just outside Destin, Fla. is packed with swimmers and boaters having a ball in the waist-deep water, and you're more than welcome to join the party.
Finding your way
Crab Island might not be an actual "island" in the strictest sense, but just like a real island, the only way to get there is by boat. Located just north of the Destin Bridge near the mouth of Choctawhatchee Bay, Crab Island is tantalizingly close to the mainland, but the deep channel between the Island and the city of Destin has strong tidal currents that make swimming out to the island a dangerous proposition. If you have your own boat, getting out to Crab Island is no trouble at all. Boat launch facilities are available in Destin at several locations, including Destin Marina and Joe's Bayou, where you can launch motor boats, Jet Skis, sea kayaks and other craft for a fee.
Hitching a ride
For anyone without access to personal watercraft, a wide variety of options are available to get out to Crab Island. Several local companies offer rental boats ranging from two-seat ocean kayaks to pontoon boats that will carry up to 12 people. Guided excursions to Crab Island are also available in Destin.
Beating the crowds
Crab Island can often be a crowded spot on a hot summer day, and finding a place to anchor your boat can be tricky. Get there early in the day to secure a good location away from the strong currents that exist around the island. Holiday weekends like Memorial Day and Labor Day are usually the busiest times on Crab Island – not necessarily a bad thing if you're there to join in the party like everyone else – but you'll often find smaller crowds on weekdays.
Seasonal considerations
Crab Island is neither a park nor a business, so it's open 24 hours a day throughout the entire year. That said, different seasons offer a different experience. Summer is by far the busiest tourist season in the Destin area, but it also offers weather that's just about perfect for boating, swimming, snorkeling and any other water sport you may have in mind. Spring and fall are a bit cooler, but you'll find less competition for a spot on Crab Island, not to mention lower hotel rates back on the mainland. Winter can be a little chilly for swimming, with daytime temperatures in the 60s.