How to Get From Rome to Positano
By Ashley Friedman

; Updated September 26, 2017
From Italy's northern capital to its seaside south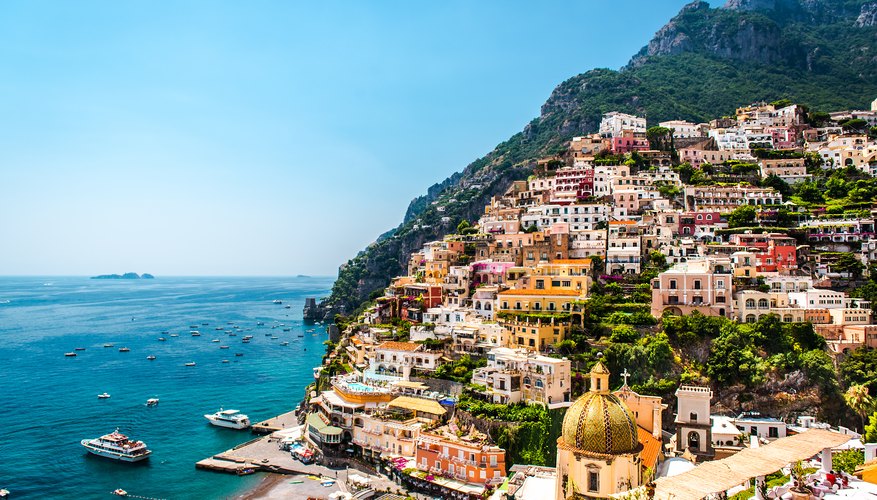 Though it's only slightly smaller than the state of California, Italy's various regions, from city center to rolling vineyards to seaside towns, are so unique and varied that traveling through the nation offers a diversity of experiences both cultural and culinary. Once weary of Rome's hustle and bustle, you can enjoy yet another side of Italy by heading to Positano on the Amalfi coast in the Campania region to relax and unwind beachside. The region lies in the southern part of the country, below Naples, with Rome situated about 170 miles to the north, and there are several methods for making the journey.
Transportation options
By car. Renting a car is probably the easiest way to get from Rome to Naples, with the added benefit of being able to go at your own pace and stop when and wherever you'd like to explore a city or town.
By train. Travelers hoping to take the train from Rome to Positano have two options. Trains leave from Rome going to Naples, a city just north of the Amalfi coast, and to Salerno, a city on the Amalfi coast itself. If you choose to take the train to Naples, you will need to get a secondary mode of transportation from Naples to Positano, such as a bus. You can also take the Circumvesuviana train that goes from Naples to Sorrento. Once in Sorrento you can take a bus or cab ride to Positano.
By ferry. Once you've arrived in Naples, you can head to the city's Marco Beverello port and catch the ferry to Positano after making a stop in Sorrento.
By bus. If you take the train to Sorrento you can take a SITA bus from there to Positano quite easily. Longer bus ride options are available from Naples to Sorrento, where you can connect to the Positano bus.
By hired car and driver. Hiring a car and driver is likely the most expensive way to get from Rome to Positano, but if you've got the cash and want a leisurely journey from north to south, this a pretty nice way to make the trip.
Recommended routes
If you're driving from Rome to Positano, the fastest way to travel is via the E45, which will lead to Naples where you can then take the coastal route to Positano. This route offers the opportunity to stop in Naples, a vibrant, lively and somewhat wild city that boasts some of the world's most delicious pizza. The coastal route also allows you to drive through the Italian countryside, making a stop at the Abbey of Monte Cassino in the town of Cassino.
Another option is a drive along the coastline, leaving directly from Rome and hugging the coast the entire way to Amalfi. Unlike the E45 route which takes you through countryside, this drive follows coastal highways the entire trip. This may double the length of your journey, but you'll have the opportunity to travel through a number of Italy's seaside towns, like Modragone and Sperlonga.
Best time to make the trip
The best time of year to make the trip from Rome to Positano is late spring. From April through June, the springtime weather in Italy is perfect with bright sunshine, warm balmy air, cool evenings and blooming orange blossoms and jasmine. Restaurants are open, the Mediterranean is warm enough for swimming and the tourist mania of July and August hasn't begun. Driving and outdoor conditions at this time of year are ideal, so whether you're taking a bus or ferry or driving yourself, traveling in the springtime means avoiding wet and slippery roads.
Things to keep in mind
Driving in Italy can be intimidating, especially to American drivers who are used to brightly lit highways with clear signage and traffic patterns. The country roads in Italy are more rugged, and traffic signals can be confusing to non-natives, so review driving rules before you get on the road – and proceed with caution. The roads along the Amalfi coast can seem treacherous and intimidating to the uninitiated. When you hit the Amalfi coast after driving inland for a while, the road is winding, with lots of twists and turns, so slow down when in doubt and take plenty of breaks to stretch your legs and gaze out at the view.