About the Weather in Corpus Christi
By Judy Wolfe

; Updated September 26, 2017
Corpus Christi, Texas weather: usually warm, seasonally wet and always windy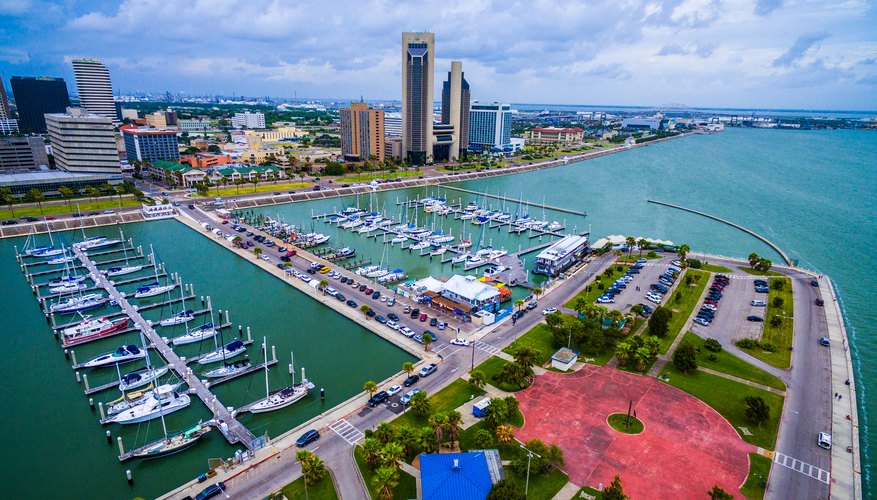 In Corpus Christi, being blown away by the weather is nothing new. This laid-back industrial seaport in the heart of South Texas' Coastal Bend hosts the annual U.S. Open Windsurfing Regatta and Kiteboarding National Championships, thanks to year-round Gulf breezes averaging 12 mph. Gusts frequently top 40 mph. As unavoidable as the city's mosquitoes, the wind is just one of several weather-related challenges awaiting you.
Summer, served sauna-style
Summertime in Corpus Christi is an oppressively steamy affair, with daytime temps in the low to mid-90s, nights in the 70s and humidity approaching 80 percent. The winds average between 11 and 12 mph., with gusts above 20 mph. Cool off by swimming, sailing, wind surfing or kayaking; the water is in the balmy 80-degree range. Pack moisture-wicking beachwear, shorts, pants and tops in lightweight cotton or rayon. Think flip-flops for the sand, sandals for dressier fun, sunglasses, sunscreen, bug repellent and a broad-brimmed, straw or mesh hat for all-day shade.
Know before you go:
Even with the sweltering heat, summer is Corpus Christi's peak tourist season with hotel prices to match.

Although the city's hurricane season runs from June 1 to November 1, major storms are most likely between August 24 and August 30. A tropical storm or hurricane brushes past CC about every 4.5 years and three hurricanes have caused significant damage.

Fall, from muggy to mild
Summerlike conditions continue through September. Highs flirt with 90 degrees F, accompanied by 75-percent humidity and more than 5 inches of rain. Relief comes with October days in the low 70s. The rain tapers off, the water drops to the mid-70s and the weather is generally at its best. Hotel rates decrease as the summer crowd heads home and bottom out in late fall and winter.
Know before you go: For one October weekend each year, 60,000 jazzophiles come to Corpus Christi to celebrate the Texas Jazz Festival. Plan your trip accordingly.
Winter, with layers and long, lonely walks
From December through February, CC's nights dip into the 40s following overcast days in the mid- to high 60s. Enjoy long walks and campfires on the (mostly) empty beaches without worrying about rain; the winter months see less than 6 total inches. Stay comfy in long-sleeved tops, long pants, a fuzzy hat and windbreaker.
Spring, and the return of the sunseekers
March days in the mid-70s give CC's spring-break crowds a comfortably warm welcome, but by May the highs are back in the mid-80s with sweltering humidity. In between comes April, the windiest – and 2nd rainiest – month. Pack for your visit as if it were summer, with the addition of a wind-resistant umbrella.
Know before you go: The two-day Fiesta de la Flor honoring Tejano superstar Selena typically draws 50,000 fans to the city each spring. Check the city's events calendar for dates.