How to Get From Athens to Mykonos
By Leah Rendon

; Updated August 11, 2017
Fun in the sun: arranging transportation for your island adventure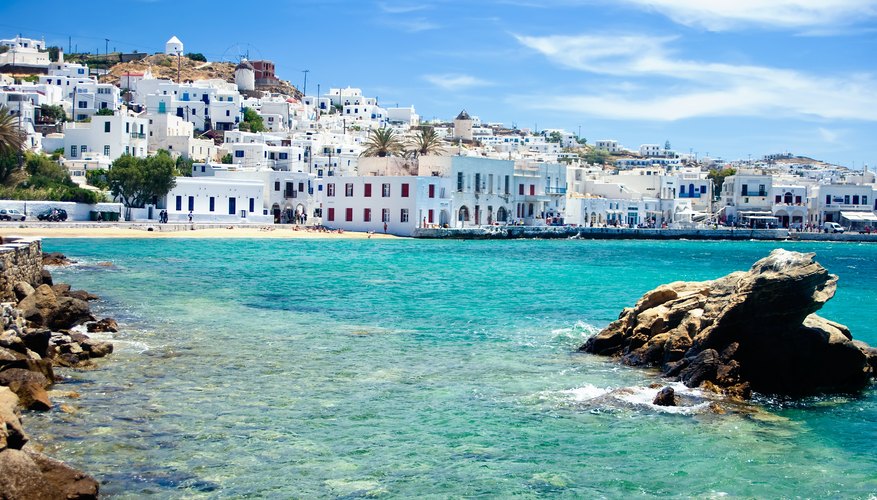 Set in the midst of the Aegean Sea, the island of Mykonos offers a drastic departure from Athens, Greece's sprawling capital city. The glitzy island destination is known for its lively nightclubs, trendy bars and beaches buzzing with activity. For a slower pace, visit quaint shops and galleries tucked away inside white-washed buildings topped with cobalt blue roofs or cozy waterfront cafes with panoramic views of Mykonos' iconic windmills. Before escaping for your island retreat, however, explore your options for traveling from Athens to Mykonos, from high-speed ferries to short domestic flights.
Reaching Athens' airport and ports
Ferries depart daily for Mykonos from Piraeus, Athens' main port, which you can reach in just 20 minutes from the city center via Metro Line 1. Taxis and city buses frequently run between the two points, but Athens' heavy traffic can cause major delays. Mykonos-bound ferries also leave daily from the smaller port of Rafina, which is about 70 minutes from Athens by city bus. Daily flights are also offered between Athens International Airport and Mykonos. The airport is accessible from the heart of Athens via Metro Line 3 and the Suburban Rail train. Regional buses connect the airport to Rafina in about 30 minutes, while taxis, although costlier, take only around 20 minutes.
Understanding different ferries
Most Greek ferry lines feature two types of vessels. Conventional large ferries are massive ships that typically offer cheap rates, smooth sailing, cafes and outdoor decks but charge an added fee for reserved seats. Large catamarans, also known as fast vessels because of their high-speed capabilities, are more expensive than conventional ferries but seating is reserved; however, travel can be rough, few facilities are offered and the deck is typically off-limits for safety purposes. Depending on the route and vessels, ferry rides from Piraeus to Mykonos average between three to six hours, while those sailing from Rafina take about three hours.
Flights to Mykonos
Mykonos International Airport receives flights from Athens International Airport year-round, with a daily increase during the summer. While flying is more expensive than traveling by ferry, the flight takes only 30 minutes. Domestic carriers, such as Olympic Air and Aegean Airlines, and budget airlines, like Ryanair and Volotea, provide service between the two destinations.
Battling crowds
Mykonos' peak season is summer, particularly from June to August. Ferries and flights fill up quickly during this period, so make sure you book months in advance. If you really want to escape the crowds, consider visiting the island during the spring or fall when crowds are significantly smaller.
The embarkation and disembarkation process on ferries is sometimes chaotic, particularly during the busy summer season. If you're not in a hurry during disembarkation, let the crowds clear out before you even attempt your exit but don't try this approach during embarkation ­– if you board too late, there's a chance you won't find a seat and you'll have to stand during the entire journey.
Seasonal considerations
Although the Aegean Sea is calm most of the year, sailings aboard fast vessels may be delayed during the high-wind season which occurs from mid-November through mid-January and mid-June through mid-July. Some ferry lines let you exchange your fast ferry ticket for a conventional ferry to avoid such a delay.
Making the most of your ferry ride: arriving prepared
Cut down on stress by arriving fully prepared for your ferry ride to Mykonos. For starters, when you book a ferry online, understand it's only a reservation – you'll still need to pick up your actual ticket from the line's port office or an electronic kiosk. Piraeus is massive, however, and it could take up to 15 minutes to walk from the port's entrance to your gate so make sure you arrive at least one hour prior to your departure.
There's no official check-in process for your luggage. Ferries have a reserved area for bags during cruises, and they're usually very safe – just make sure you keep your valuables with you at all times.
Area information on Mykonos
Fast ferries typically dock at the island's old port, about 15 minutes from the main town of Mykonos, while conventional ferries land at the new port, about 5 minutes from town. Travel from either port to the heart of Mykonos is available by taxi, bus or taxi boat. Certain hotels offer shuttle service, which comes in handy during the crowded summers. Some large ferries carry automobiles, but cars must be parked on the island's outskirts as they're not permitted in town.
Mykonos International Airport is about 10 minutes from town by taxi and public bus, the latter of which is often crowded but charges a nominal fee and runs late during peak season.