Best Places for Stargazing in the Grand Canyon
By Jodi "Jato" Thornton

; Updated August 11, 2017
Reaching for the stars: Stargazing at the Grand Canyon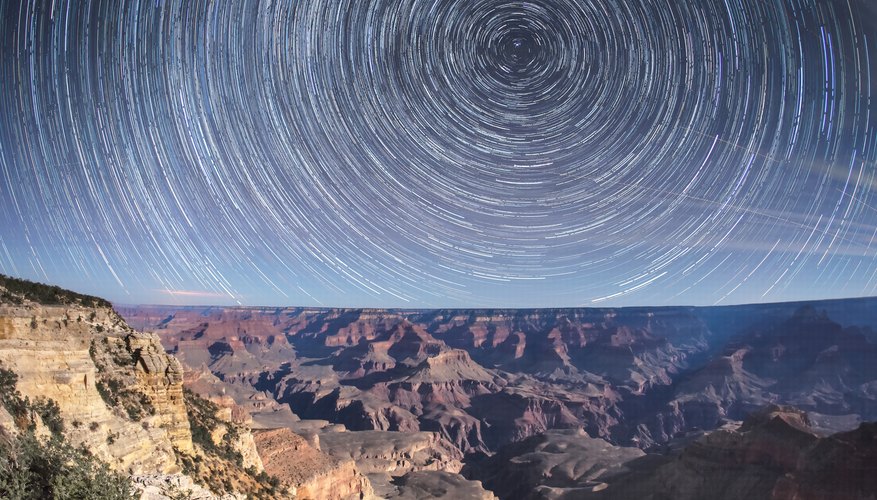 If you remember watching night skies filled with billions of stars when you were a kid, relive the experience with a night of stargazing at the Grand Canyon. The canyon's remote location away from major cities makes for dark skies, and unpolluted air gives clear, crisp viewing of celestial bodies. Grand Canyon National Park is a provisional International Dark Sky Park, making it one of the best places in the country for seeing stars.
Join the star party
Check out the annual Grand Canyon Star Party in June at Grand Canyon National Park. Both the South Rim and North Rim have nightly events that include a slide show and telescopes for viewing. South Rim shuttles run until 11 p.m. Check out solar viewing during daylight hours at the North Rim as well as spontaneous green laser tours after dark.
Tip
Make the most of your experience by bringing a red flashlight. Unlike the yellow or white light produced by most flashlights, red light allows your eyes to stay adjusted for optimal night viewing while helping you find your way. Easily convert your old flashlight using red cellophane, red nail polish or a red marker pen. Rangers disallow white flashlights at stargazing events.
Tweak your timing
If you want to sit under the stars away from crowds, you'll get the best view of the stars when the moon isn't in the sky. Check moonrise and moonset tables when planning your outing. You can sometimes catch the sunset, stargaze and watch the moon come up all within the space of a few hours.
Where to watch it
Grand Canyon National Park will be changing out park lighting by 2019 to attain permanent International Dark Sky Park status. However, there are plenty of prime spots for stargazing. Head to any of the viewpoints along the Grand Canyon Rim Trail or Desert View Drive at the South Rim to see the canyon by starlight and find unobstructed views of the sky. Be prepared to drive a car or hike, as the shuttle buses run only until an hour after sunset.
Warning
Summer monsoons bring dramatic sunset skies July through early September, but cloud cover can rain on stargazing plans. Stay off open rocky outcrops and away from lone trees to avoid being struck by lightning.
Gear up for gazing
April through June and November see the least rainfall at the Grand Canyon, so you're likely to be able to see the stars without much cloud cover during those times.
Bring along extra layers when you're heading out to see the stars. Temperatures drop quickly after the sun goes down. April temperatures dip to freezing at the South Rim, and summer nights range from the mid-40s to the mid-50s. January is the coldest month, with after-dark temperatures dipping into the teens. Expect temperatures 5 to 10 degrees colder at the North Rim.
The altitude ranges from 7,000 feet on the South Rim to 8,000 feet on the North Rim. Avoid over-exerting yourself, and drink plenty of water to avoid altitude sickness and dehydration.