A Guide to Helicopter Tours at the Grand Canyon
By Jodi "Jato" Thornton

; Updated September 26, 2017
Flying high: See the Grand Canyon from a bird's-eye perspective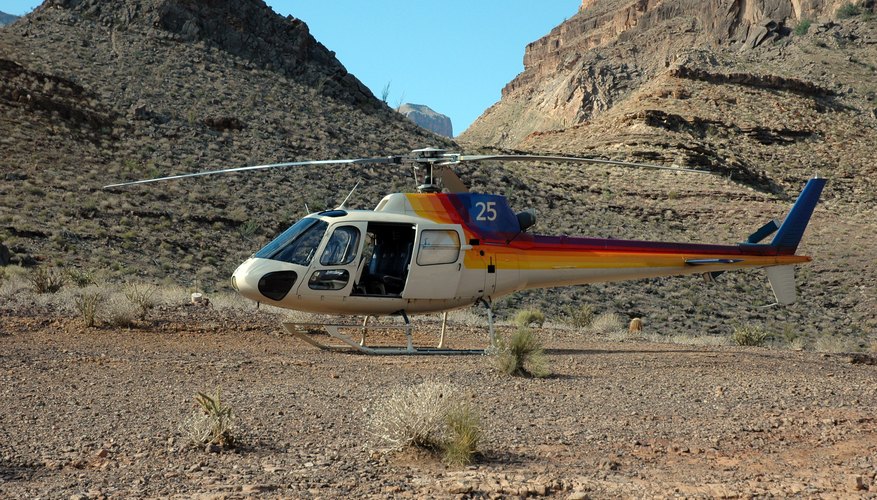 There's no better way to get a feeling for the immensity of the Grand Canyon than by seeing it from the air. The canyon stretches over 277 miles and covers more than 1.2 million acres in the state of Arizona. Booking a helicopter tour offers a more intimate way to get an aerial view of the canyon than just flying over it in a plane at the mandated altitude of 18,000 feet. Here's what you need to know to make sure this special journey is worth the price you'll pay.
Canyon flight options
One of the least expensive ways to see the Grand Canyon from above is with an air-only helicopter flight. Helicopters can fly 10,000 feet lower than airplanes in the canyon, giving you a closer look. Tours leave from the Grand Canyon Airport in Tusayan just south of the national park year-round, and all tourism helicopters must follow two designated flight paths in Grand Canyon National Park. Some companies charge more depending on the type of helicopter they fly.
Take a 20- to 25-minute tour traveling to the North Rim, Kaibab Plateau and back for less than $200 per person.
Enjoy a 45-minute flight that follows the South Rim east and returns via the North Rim for about $250 per person.
Leaving Las Vegas
You don't have to be at the Grand Canyon itself to experience it by helicopter. Tours leaving from Las Vegas let you see the canyon and return the same day.
Flights from Las Vegas offer more options for sightseeing as they fly into airspace controlled by the Hualapai Reservation where restrictions allow lower flights than in the national park.
Air only: When time is tight, you can be back in your hotel in four hours from the time you leave on the Visionary Tour by Grand Canyon Airlines. This less-expensive tour comes in at just over $200 per person and rolls out views of Hoover Dam and Lake Mead as well as the canyon itself.
Canyon bottom experience: You'll alight on the canyon floor and enjoy a light picnic before returning to Las Vegas. The trip lasts about 4.5 hours.
Skywalk and Hualapai Village: Land in Grand Canyon West and take a shuttle to the Hualapai Village where you can walk out on the glass-bottom skywalk. You'll spend nearly six hours on this excursion.
Fly, walk and float: Descend to the floor of the Grand Canyon and enjoy a smooth-water rafting journey. Visit the Grand Canyon Skywalk and Hualapai Village before returning to Vegas on the helicopter. The journey takes about 6.5 hours.
Drive, fly and float: The ultimate all-day adventure. Leave Las Vegas for a trek through the Mohave Desert on a Pink Jeep Tour luxury four-wheel-drive vehicle. You'll transfer to a helicopter once you reach Grand Canyon West and descend to the canyon floor for rafting. When you return to the rim, enjoy a barbecue lunch and step out on the glass-bottom skywalk.
Know before you go:
Book your helicopter tour as early as possible when planning your vacation. Summer is high season in the Grand Canyon, and flights can sell out quickly. Book summer flights during the morning if you have a choice: Afternoon monsoon storms from July through early September make for choppy rides and trip cancellations.
Include comfortable, layered clothing when you pack your bags. Bring a fleece jacket even in summer as breezes can make temperatures feel much cooler. Daytime temperatures can rise to more than 100 degrees in Grand Canyon West and higher on the canyon floor, so make sure you're prepared for both heat and cold. Hiking shoes or other footwear suitable for rugged terrain is necessary to navigate the rough, rocky ground at the Grand Canyon, so leave flip-flops and high heels behind.
A fleece hat, warm jacket, gloves and thick-soled shoes are good wardrobe additions for winter. Although daytime temperatures range from the 40s to 60s, chilly breezes and occasional snow can make you miserable if you're underdressed.
High altitude means you need to stay hydrated in every season. You can bring a bottle of water on your flight, but you won't be allowed to open it in the helicopter. Leave selfie sticks behind, but be sure to include your camera and plenty of storage space for snapping memorable vacation photos. To fly, you'll also need your government-issued ID, such as a driver's license or passport.