A Guide to Hop-On-Hop-Off in Los Angeles
By Hillary Jackson

; Updated September 26, 2017
Let a guided tour get you where you want to go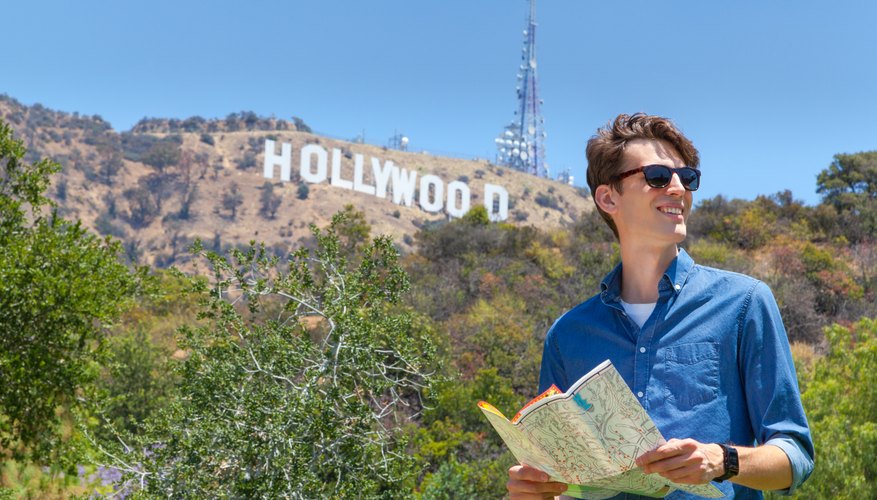 Los Angeles is a sprawling city chock-full of things to see and do. What better way to see the sights than through hop-on, hop-off tours? These guided experiences are more than just a means to explore the city. You and your travel companions will walk away with some extra knowledge while seeing the city on your own terms. Here's a guide to hop-on, hop-off tours in Los Angeles.
How to get around
While tours cover most of the city, most of the hop-on, hop-off tour buses use Hollywood as their hub. If your lodging accommodations are elsewhere in the city, don't worry; you can reach Hollywood easily by bus or metro, with two metro stops in the heart of the tourist district. Rideshare services are another option. If you drive to Hollywood, prepare to pay for all-day parking, which can range from $10 to $25.
Crowd considerations
Los Angeles is busy yearlong, so prepare to encounter crowds at a number of popular stops. When visiting Hollywood, for example, the area of Hollywood and Highland experiences more than 25 million visitors a year. If large crowds are problematic for you or your fellow travelers, try to pick an off time for a tour. Aim for a weekday in the middle of the week, or a Sunday morning.
Different tours cater to different crowds. Starline, the largest tour provider in the city, offers a variety of stops. From the base 24 Hour Hop-On Hop-Off Double Decker City tour that services 70 stops including Santa Monica, Downtown Los Angeles, Beverly Hills and Hollywood, you can add other items, such as a visit to Madame Tussauds wax museum or a Movie Stars' Homes tour. If 24 hours is not enough, 48 and 72-hour packages are also available.
Some of the other tour providers are affiliated with Starline in some way. Fantastic Race Los Angeles adds a competitive spin to the traditional Starline Red Line route. At 14 of the 16 stops, participants can hunt for clues that are each worth a number of points. At the end of the tour, the team with the highest number of points wins a prize.
Proper Sightseeing's Stars and Sights tour travels through Hollywood and Beverly Hills, and makes different stops depending on the riders. For a shorter tour, consider HIHO Tours, which offers tours that last from 90 minutes to two hours with one stop that changes with the tour.
Seasonal considerations
Los Angeles is known for its good weather, but there are times you'd probably rather not be sitting on the top deck of a two-story bus, exposed to the elements. Summers in Los Angeles typically run from June through August, with July and August experiencing occasional heat waves. Depending on where your tour goes, you can experience a wide range of temperatures in just one day. In the summer, the temperatures of the westside's beaches can often be 15 to 20 degrees cooler than the scorching heat inland during a heat wave, which you may experience if you visit Warner Brothers Studios in the San Fernando Valley. Outside of the Valley, inland temperatures in cities like Glendale or Pasadena can also reach hot temperatures in the summer months. While rain doesn't fall regularly in Los Angeles, it typically occurs in winter months, from November through February. A simple check of the weather on the local news or your smartphone app will be enough to help you gauge your travel forecast.
Buying tickets
When deciding on which tour to take in L.A., weigh the cost of transportation you'd spend without the tour and the experience you'd like to take away. Chances are, a tour will compete with the cost of sightseeing solo, paying for cab fare or metro passes or renting a car. To save more on tickets, be sure to book well in advance and scour discount websites like Groupon or Living Social for deals.
Making the most of the experience
To make the most of your hop-on, hop-off tour experience, be sure to select the tour that's right for you and your companions. If you're not interested in celebrities, consider a tour route focused on areas of the city that are known for scenery, like one with stops in Santa Monica, Venice or Marina del Rey instead of stops in Beverly Hills or Hollywood. Depending on the length of your stay, you might want to opt for a pass that gets you on the bus for 48 or 72 hours instead of the traditional 24.