About the Weather in Charlotte, North Carolina
By Kristen Geil

; Updated August 11, 2017
What to expect from Mother Nature in the Queen City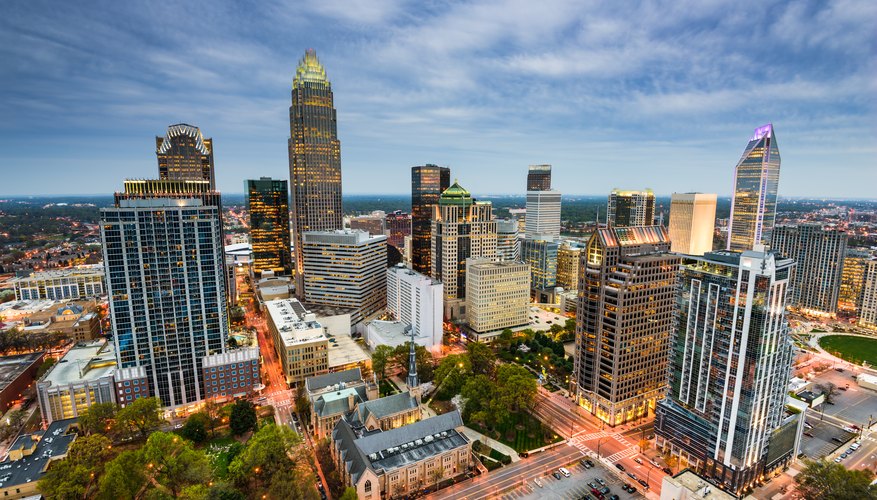 Charlotte, N.C. offers visitors outdoor adventures, al fresco dining, beautiful gardens and all the NASCAR activities a race car aficionado could ask for. Make your trip to the Queen City a success by learning what to expect from Charlotte's pleasant weather.
Seasonal weather variations
No matter what time of year you visit the Queen City, you're likely to encounter mild weather and plenty of sun. Summer in Charlotte is the warmest time of year, but the heat isn't nearly as overbearing as other Southern cities. Temperatures reach over 90 degrees F only about 36 days a year. You're also more likely to encounter a few rainstorms in the summer, although March experiences the most rainfall on average.
The air takes on a mild, crisp quality in the fall, offering a reprieve from the warm summer months. Temperatures range from the mid-50s to the mid-70s, giving you plenty of incentive to enjoy all the outdoor activities Charlotte has to offer, such as the U.S. National Whitewater Center.
In the winter, Charlotte's weather remains mostly mild, but there is a chance you'll experience some traditional winter weather. Lows can dip down into the 30s, making a medium-weight winter coat a necessity on your packing list. Snow is unlikely, since Charlotte accumulates an average of less than 6 inches per year.
Spring temperatures bounce back up into the 60s and 70s, with the occasional unexpected heat wave that brings locals and tourists alike outdoors. Carry your umbrella with you in March, as that's the rainiest month, and bring layers in case it's chillier in the shade.
Moderate weather for year-round travel
For those who love the changing of the seasons, Charlotte offers the best of both worlds. Yes, the seasons experience distinct changes from spring to winter, and you'll have hot, sunny days in the summer and occasional freezing temperatures in the winter. However, the seasons are much more mild than in other parts of the country, meaning you can skip the knee-length winter parkas and get by with just a regular warm coat, or possibly even a heavy sweater. Moderate seasons make it possible to visit Charlotte year-round and still enjoy some outdoor activities.
Packing for the seasons
Because Charlotte does experience changing seasons, your packing list will be determined by the time of year you visit.
Spring and autumn. In spring and autumn, temperatures range from the 50s to the 70s. Layers are key to staying comfortable as you transition from warm days to cooler evenings. March is the rainiest month, so pack an umbrella and a rain jacket if you're visiting then.
Summer. July and August get much hotter, with temperatures consistently in the 80s. Lightweight, breathable clothes will keep you cool. Plan on spending most of your time in shorts, T-shirts or sundresses. Sunscreen, hats and sunglasses are must-packs as well to protect your skin from the sun.
Winter. Temperatures can get down to the 30s in the wintertime. A lightweight down jacket will fit easily into your suitcase and keep you warm. Heavy snow boots are probably unnecessary, but bring a scarf and hat just in case (bonus: the scarf can double as a cozy wrap on a chilly plane).
Locals tend to dress casually year-round, so no need to worry about getting all glammed up if you don't feel like it. Make sure to include a pair of closed-toe athletic shoes for any outdoor activities.
Best times to avoid the crowds
Summer is by far the busiest time to visit Charlotte, thanks to hot temperatures and extended hours offered at many popular attractions. For smaller crowds, visit during either shoulder season: March through May or September through November. Temperatures are still pleasant enough for plenty of time outdoors – maybe even more pleasant, if you're not a fan of the heat. Extended hours at attractions are typically available in May and sometimes through September, and you can likely score a good deal on a hotel during this time as well.