How to Get From Las Vegas to the Grand Canyon
By Jodi "Jato" Thornton

; Updated August 11, 2017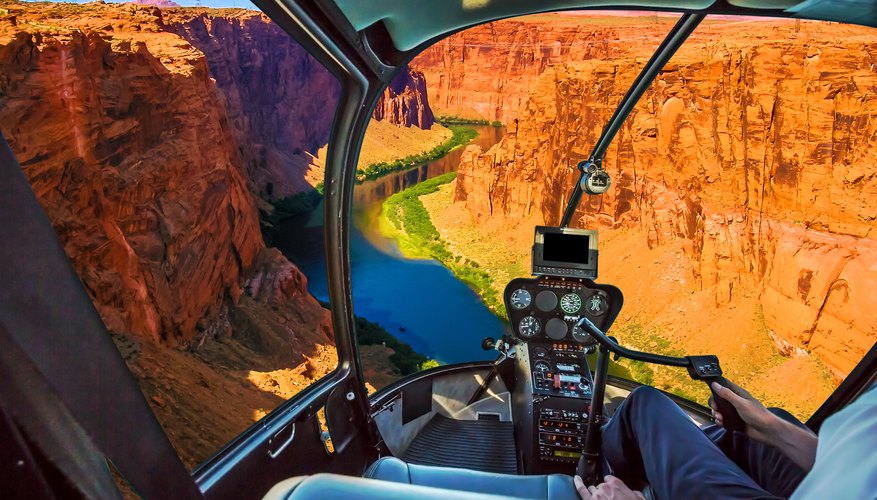 Las Vegas rolls out enough attractions to keep you busy for weeks on end, but when you need a break from city lights, head to the Grand Canyon. This natural wonder is perfectly positioned for a day trip just a few hours' drive away. Sure, you could drive a rental car. After all, the South Rim is just 278 miles away and the North Rim is even closer at 275 miles. But why spend four to five hours behind the wheel if you don't have to? Here are some alternative ideas that will make your trip to the Grand Canyon from Vegas extra-special.
Ride, fly and float
The best way to get to the Grand Canyon from Sin City is to kick back and enjoy the ride from the comfort of a luxury seat while a professional tour guide whisks you to a canyon adventure. Several companies offer trips to Grand Canyon West or the South Rim.
Experience the canyon from every perspective on Pink Jeep Tours' Drive, Fly and Float tour. Travel to the canyon's west rim aboard a luxury Tour Trekker, then ascend to the skies in a helicopter for a bird's eye view of the canyon. You'll touch down on the canyon floor and then enjoy gazing up at the towering canyon walls from a smooth-water boat excursion. Take the bonus opportunity to walk out on the glass-bottomed Grand Canyon Skywalk if you dare, and then pick up authentic tribal crafts at the Hualapai Village and Market. A stop at Hoover Dam caps off your journey before your return to Vegas.
Feel the wind in your hair
If you've ever fantasized about hitting the open road on a cross-country motorcycle journey, this one's for you. Vegas Valley Motorcycle Tours' trips to the North Rim are particularly scenic during spring and autumn. Enjoy fields of springtime wildflowers or book your tour from mid-September to mid-October to enjoy colorful vistas of golden aspen trees.
Fly the scenic skies
Don't have all day? Take a trip to the Grand Canyon and back in as little as four hours via Grand Canyon Scenic Airlines. Marvel at aerial views of the Colorado River, Hoover Dam and Lake Mead as you wing your way to Grand Canyon West. The trip picks you up and drops you at your hotel within the four-hour timeframe. Longer trips let you experience the Skywalk and shuttle to viewpoints in Grand Canyon West.
Grab a shuttle
Shuttle services from Las Vegas are an ideal way to spend a day or two at a canyon motel without having to rent a car. Grand Canyon Shuttles and Grand Canyon by OneDayTours offer one-way shuttles which allow you to return to Las Vegas on the same day or a different day. Be sure to secure a motel room in advance as accommodations frequently fill up, especially during summer months.
Wardrobe considerations
Vegas clubs and restaurants might have a dress code that includes high heels, but don't wear them on even the most luxurious tour. Closed-toe footwear that will give you support and stability on the canyon's rugged terrain is a must.
As for the rest of your outfit, dress in layers. The weather at the bottom of the Grand Canyon can vary by 20 degrees or more from the rim. Prep for 20 to 60 degrees F during winter months and 70 to more than 100 degrees F in summer. Bring a light jacket in summer as after-dark temps can feel chilly, especially after a summer storm.