About the Weather in Santa Fe
By Teo Spengler

; Updated August 11, 2017
Getting a natural high in Santa Fe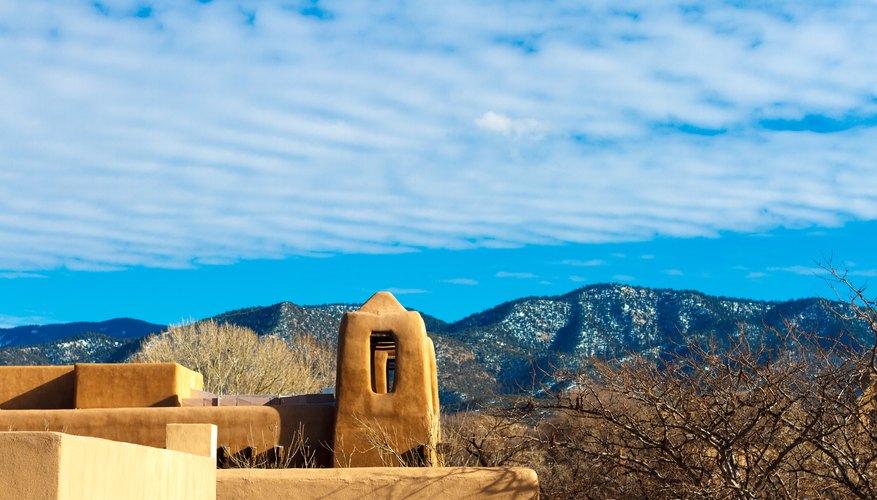 Santa Fe is an exciting arts mecca set high in the Sangre de Cristo foothills. At 7,000 feet above sea level, its winding streets and Pueblo-style buildings are closer to the sun than most cities. To have the best possible Santa Fe adventure, you'll need to pack and prepare for the intense rays as well as the inevitable temperature swings. Sun protection and layered clothing are essentials. Read on for tips about surviving and thriving while you explore this desert city.
Nothing's quite as sure as change
The only thing you can say for sure about Santa Fe weather is that, no matter what's going on at any given moment, it's sure to change soon. From summer day to summer night, expect a plunge of some 30 degrees.
Santa Fe generally has a very arid, high-desert climate. Sunshine is intense in every season. Temperatures can swing from highs of above 90 degrees F in the summer to winter lows of below 10 degrees F. Rainfall is usually minimal, averaging less than 14 inches a year, but it gets its share of monsoon rains that flood the highways and byways. And over 2 feet of snow fall in Santa Fe every winter.
A season to every purpose under heaven
If you come to Santa Fe in December, January or February, you'll experience the city's cold season. High temperatures in these winter months are pretty chilly, averaging between 42 and 48 degrees F. Average lows dip well below freezing. This is mountainous ski country, so don't be surprised if there are eight major snows in winter. If you are coming for the white stuff, arrive in December. It's the month most likely to see snow.
Spring may technically arrive in March, but Santa Fe March weather averages highs to lows of 55 to 28 degrees F. April and May are considerably warmer. Although snowfalls can hit as late as April, May to June is when the Santa Fe sky has the fewest clouds. Fall temperatures mirror spring temperatures, but also offer the blaze of changing leaves.
Summer months are hot and dry. June and August top out at an average high of 83 degrees F, while July has an average high of 86 degrees F. Average lows also rise, to between 51 and 54 degrees F. August claims the most likely chance of rain.
Far from the madding crowds
If you want Santa Fe to yourself, don't show up in summer, which is when most visitors arrive. If you do decide to go in summer, reserve early , especially around the wildly popular Indian Market in August. It's the largest native arts show on the planet, attracting over 100,000 visitors. Rooms are booked up a full year in advance.
Fall has the advantage of thinner crowds, cooler weather and other fun festivals like the Santa Fe Festival that has been rocking the streets annually in September for over 300 years. In September, look for the Native Treasures Indian Arts Festival and the Santa Fe Wine and Cheese Fiesta, and in October check out the Santa Fe Film Festival.
Hit the road, Jack
What do you pack when you hit the road to Santa Fe? Given the fluid weather, layer is the word of the day. Choose the types and warmth of the layers according to the season of your trip and the activities you have planned. In winter, long underwear is a must, while sleeveless tops and shorts are must-packs in summer.
Santa Fe offers unparalleled opportunities for outdoor activities and adventures, including downhill and cross-country skiing, golf, river rafting and biking. Pack appropriate clothing for whichever sports you intend to indulge in.
Remember that Santa Fe is a very sophisticated city with lots of artistic and cultural activities. It has excellent, fine restaurants and lots of opportunities to dress up, if that suits your fancy. Otherwise, simple traveling clothes will take you almost anywhere.